SMU team shines at 2022 Asia Investment & Banking Conference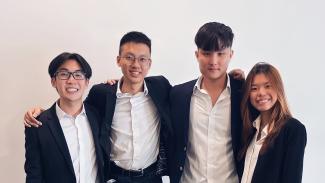 A team of four second-year undergraduates from SMU's EYE Investment Club has beaten 18 other university teams to take the 1st Runner-up position at the Asia Investment & Banking Conference (AIBC) 2022 held in September 2022.
Team Bencoolen Capital, as they call themselves, comprised second-year undergraduates Shawn Lee (BAcc), Gerald Teng (BBM), Alex Ching (BAcc & BBM) and Chloe Loo (BBM & BSc(Econs)). They took part in the Asset Management competition, which was co-organised with leading hedge fund, Point72.
Initiated by students from the London School of Economics and Political Science (LSE), the AIBC is the largest student-run conference in Asia focused on corporate advisory and financial services. It was launched over a decade ago as a platform for vibrant exchange of ideas and perspectives amongst established professionals and students from leading universities worldwide. With a focus on the swift-ascending investment and banking landscape in Asia, the Conference focused on the core thematic pillars of Mergers & Acquisitions, Sales & Trading, and Asset Management.
The theme for this year's AIBC-Point72 Asset Management Case Competition revolved around disruptive technologies with the potential to transform lives, businesses and the global economy for the better. Teams were given seven equities and tasked to present a buy call on one of them using qualitative and quantitative analysis to a panel of esteemed judges from Point72.
SMU's Team Bencoolen Capital was proud that they had triumphed over teams from leading universities including London School of Economics, NYU Stern School of Business and University of Hong Kong, winning for themselves HKD$3,000 and a chance to be selected for a fast-tracked process for the 2022 Internship and Graduate programmes.
"The biggest motivation to take part in this competition was for us to enhance our learning while pushing our limits. We wanted to challenge ourselves by solving real-life case studies in a high-pressure environment. We are glad that despite on-going classes and internships, we have managed to make SMU and our CCA – EYE Investment Club – proud with our achievements," shared the squad.
Congratulations to Team Bencoolen Capital for their achievement; the accolade is indeed yet another testament to SMU's excellent pedagogy and our students' mettle. We also wish the team all the best as they participate in a series of rigorous interviews for the coveted internship opportunity with Point72.
- End -