SMU Wins Third Championship in International Moot Court Competitions This Year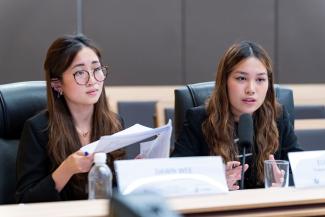 SMU's Yong Pung How School of Law (YPHSL) brought home the Championship at the 19th Vis East Moot Competition, held between 27 March and 3 April 2022.
The Vis East Moot Competition is the sister competition to the Willem C. Vis International Commercial Arbitration Moot in Vienna. With the economic expansion in Asia, the competition was initially established to provide law students, academics, and professionals based in Asia with a similar exposure to international arbitration and trade law as the Vis Moot in Vienna. Today the moot has gone fully international, and with 150 teams worldwide participating, it is one of the Grand Slam moots, being the world's third largest after the Philip C. Jessup and Vis International moots.
Among this year's prominent judges were Prasad Sandosham Abraham (Deputy Director of the Asian International Arbitration Centre), Jane Willems (Associate Professor of Law and the Associate Director of the International Arbitration and Dispute Settlement Programme at Tsinghua University School of Law in Beijing), and Glenn Haley, who is considered one of the most pre-eminent dispute resolution practitioners, as recognised by Who's Who of Construction Lawyers, Asia Pacific Legal 500, Chambers Asia and Asia Law.
The YPHSL team was represented by Year 3 students Dawn Wee, Elizabeth Wee, Samuel Tay, Jeremy Chai, Brandon Chew, Elias Khong, Jane See and Year 4 student, Aaron Tan. From October 2021, they started training with coaches (YPHSL alumni) Deya Shankar Dubey(2014), Andre Soh(2017), Suryanaraynan Jayakumar(2020), Andrea Seet (2020), Iris Ng(2017), Soh Kian Peng(2021) and Chai Wen Min(2021).
The team faced intense competition over 9 rounds before emerging as champions. This year's moot problem revolved around a contract for the sale of palm oil. What was in dispute was whether certain terms were properly included in the contract, as well as whether the parties had reached any agreement over the governing law.
On top of winning the championship (the Eric Bergsten Award), the team also won:
Neil Kaplan Award: Honorary Mention for Best Oralist: Dawn Wee
Neil Kaplan Award: Honorary Mention for Best Oralist: Elizabeth Wee
David Hunter Award: Honorary Mention for Best Claimant Memorandum
David Hunter Award: Honorary Mention for Best Respondent Memorandum
SMU had previously won the Vis East in 2015 and reached the championship final in 2016. Winning this title gave SMU the best track record in the tournament for most wins. Coach Suryanaraynan Jayakumar said, "I am proud of every member of the team and grateful for the privilege to work with them. Everyone was motivating one another and found ways to help each other. That is how we should all operate when it comes to practice - you will make everyone's lives easier if you can all take care of yourselves and the people around you. That is why there is strength in unity."