SMU to launch Singapore's first-ever full certificate InsurTech course in partnership with TechFin Consulting
The programme aims to enhance InsurTech knowledge in working professionals and undergraduates, tapping on homegrown experts from Singapore's FinTech community and PolicyPal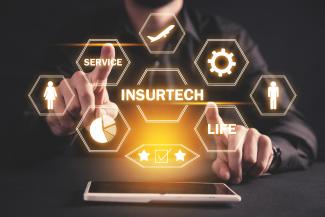 Singapore, 17 June (Thursday), 2021 - Singapore Management University (SMU) has launched Singapore's pioneer advanced full certificate programme in InsurTech with TechFin Consulting today to upskill working professionals and undergraduates. With trainers hailing from Singapore's FinTech community and homegrown leading InsurTech firm PolicyPal, SMU's professional training arm SMU Academy will roll out the course from July 2021.
With the global pandemic reshaping human interaction and an increased demand for digital-first experience, knowledge in InsurTech is ever more crucial to stay ahead in the workforce. InsurTech is a subset of financial technology, aimed to digitalise the insurance industry by capitalising on new technologies such as artificial intelligence and data analytics. Designed to empower working professionals and undergraduates, the programme aims to equip participants with the right frameworks and capabilities to navigate the rapid technological disruptions and developments in the insurance industry.
With a combined industry experience of over 40 years, expert trainers will focus on imparting a big picture understanding, breaking down jargon and leveraging real-world case studies to help participants glean insights into the complex InsurTech landscape. The programme will include an introduction of the InsurTech industry, discuss the problems solved in the traditional insurance market through technology and the latest trends and outlook. This would bring participants up to speed on the worldwide adoption of InsurTech and how it will shape their respective industries, as more companies move towards smart business models locally and globally.
The programme will follow SMU's unique teaching pedagogy, with strong trainer-participant seminar style interaction to foster open discussion. The conducive learning environment will encourage participants to share and discover different industry-related perspectives. In the process, participants will gain granular insights and networking opportunities that books or websites cannot offer.
Author of 'Singapore - The FinTech Nation', Mr Varun Mittal, said, "I am honoured to be on board as a trainer and advisor to Singapore's first-ever InsurTech full certificate programme. With the increasing intersectionality of digital business and financial services in global emerging markets, having a foundational understanding enhanced by cross-industry perspectives is key to achieving success in today's world."
"We are pleased to work with TechFin Consulting for this first-of-its-kind certificate programme on insurance technology," said Mr Jack Lim, Executive Director, SMU Academy. "Social and technological trends which have shifted customer needs and expectations are a source of opportunity for tech-savvy insurers. This certificate programme which comprises of five modules is designed to help professionals navigate the complex world of insurance and understand how insurance technology plays a role in the future of the industry."
Ms Val Yap, Founder and CEO of PolicyPal, said, "The pandemic and its unparalleled impact on the world has expedited the finance and insurance industry's move to digitalise as a means to continue delivering quality services to the community. As such, the programme will be paramount to individuals who wish to develop the necessary framework and skill sets to elevate and prepare themselves for the new normal."
"We also hope to bring expertise on finance and technology to enhance the course offerings and establish a community with past and present participants who are passionate about InsurTech starting from Singapore," she added.
SMU Academy will roll out the InsurTech programme in two alternatives: those interested can sign up for a 1-day introductory course or a more in-depth 12-day full certificate programme. Upon successful completion of the latter, an advanced certificate would be jointly issued by SMU Academy and TechFin Consulting.
Both the 1-day course and 12-day certificate programme are funded by SkillsFuture Singapore, with up to 90% subsidy on course fees.
More details about the SMU InsurTech programme can be found in the links below
InsurTech 101: The Drivers of Innovation in Insurance
Advanced Certificate in InsurTech