SMU expands city campus footprint with new sustainable development named Tahir Foundation Connexion
New building designed to support innovative SMU-X pedagogy and cultivate entrepreneurship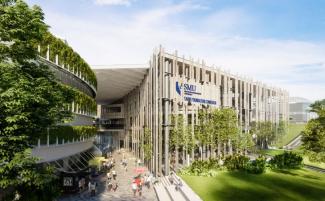 Singapore, 27 August 2018 (Monday) – Singapore Management University (SMU) held a ground-breaking ceremony today for its latest development – a five-storey green building in the heart of the city designed to support the University's innovative SMU-X pedagogy, as well as cultivate innovation and entrepreneurship.  The S$70 million development has been made possible by a donation from the Tahir Foundation and a grant from the Building and Construction Authority under the Public Sector Construction Productivity Fund (PSCPF).
SMU has named the building Tahir Foundation Connexion in appreciation of the Foundation's contribution.  The donation, the amount of which is undisclosed, is the second largest gift received by the University to-date.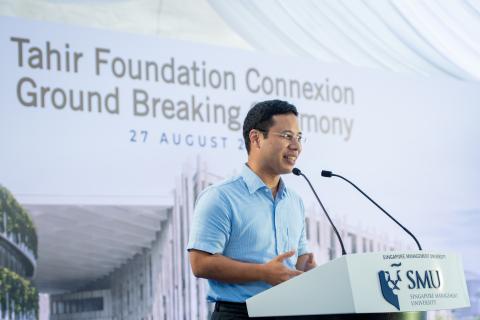 [Photo: In his address, Minister Desmond Lee, said: "On the whole, when completed, more people will get to enjoy this city campus.  The injection of more student life will also add to the vitality of Bras Basah.Bugis as an arts, cultural and educational district."]
The ceremony was officiated this morning by Guest-of-Honour Mr Desmond Lee, Minister for Social and Family Development and Second Minister for National Development, in the presence of 150 guests, comprising SMU's Board of Trustees, partners, as well as faculty, staff and student leaders.
Located between SMU's School of Accountancy and School of Law, the new building will add over 8,600 square metres (sqm) of teaching-and-learning space to SMU's city campus.  It will enable seamless connectivity through the entire SMU city campus, as well as provide a sheltered link (aboveground and underground) from Bras Basah Road leading to Fort Canning and Armenian Street.  Besides enhancing convenience for the SMU community, it will also benefit members of the public, who will have better access to the lush greenery at Fort Canning Park.  With some of the new building's spaces and facilities being open 24/7, it will also add vibrancy to the Bras Basah precinct.
To support the University's SMU-X pedagogy, which focuses on experiential learning through real-world projects, the Tahir Foundation Connexion is designed to provide new-generation learning spaces that boast flexibility and future adaptability.  These include active learning classrooms, brainstorming hubs, collaborative zones, a dining commons, integrated learning studios, makerspace and student lounges.  The ample active learning spaces will enable students' meetings with industry practitioners and faculty, as well as promote socialising.  About 500 sqm will also be set aside as incubation spaces for start-ups to provide an environment that fosters innovation and entrepreneurship among SMU students and alumni.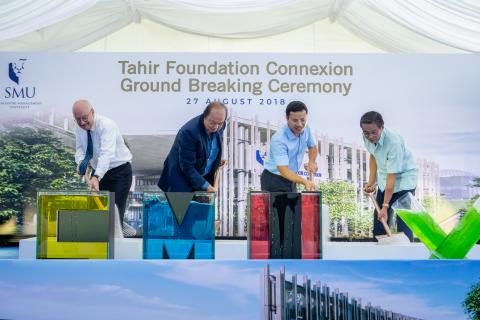 [Photo: Ground-breaking of the Tahir Foundation Connexion by (L-R) Professor Arnoud De Meyer, Dr Tahir, Minister Desmond Lee and Mr Ho Kwong Ping.]
In line with SMU's commitment towards developing a smart, green and sustainable campus, the Tahir Foundation Connexion is designed to meet the Building and Construction Authority (BCA) Green Mark Platinum certification and the international WELL Building Standard.  Aside from being the city centre's first large-scale Mass Engineered Timber (MET) development, the building is also its first On-site Net Zero Energy Building, being self-sustainable with its own power generated from a photovoltaic system located within the same building.  The building also boasts many green features and technologies, including an advanced passive displacement cooling, smart LED lighting and predictive smart building control systems.
SMU Chairman, Mr Ho Kwon Ping, said, "SMU is very fortunate to receive our second largest gift in the University's history from the Tahir Foundation, and we are honoured to name our latest development the Tahir Foundation Connexion in appreciation of this generosity.  Since 2014, the Foundation has provided needy Singaporean, Singapore PR and Indonesian students with financial assistance so that they can focus on their studies and enjoy a fulfilling university life without worry.  In 2016, the Foundation extended its support to a collaboration between SMU and Indonesia's Universitas Gadjah Mada in Indonesia that covers academic, student and faculty exchanges and study missions.  This year, Dr Tahir also agreed to chair SMU's International Advisory Council for Indonesia, which was launched in April 2018.  These are testament of the Foundation's commitment to education, and SMU is grateful for its long-standing support."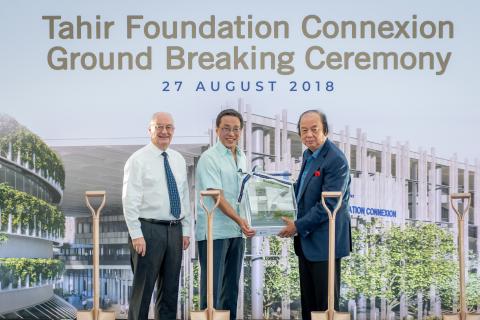 [Photo: (L-R) Prof De Meyer and Mr Ho presenting a token of appreciation to Dr Tahir.]
Commenting on the gift, Co-Chair of the Tahir Foundation, Dato Sri Prof Dr (H.C) Tahir, MBA, said, "I am delighted to be a part of a cause that I hold dearly to my heart.  Education is the basis for a better life and it gives me great joy to help lay the foundation of what I believe will be a remarkable hub for student experiences.  SMU is renowned for its cutting-edge research and transformative education, and it is my wish that this gift will contribute to SMU's overall efforts to scale new heights of excellence in educating future generations of leaders."
President, Professor Arnoud De Meyer, said, "The SMU-X initiative has been lauded by the Association to Advance Collegiate Schools of Business (AACSB) as an 'innovation that inspires'; the Tahir Foundation Connexion will literally help us build on this success, where industry partners, students and faculty all play an active role in collaborating to tackle real-world challenges.  Slated to be a key co-study/work/learning hub, the new building, with its myriad of new-generation learning spaces, is envisaged to be a lively and conducive environment for meaningful, multi-disciplinary experiential learning and to nurture innovation."
"With its many 'firsts', and the advanced green features and technology integrated into its design, this distinctive building also represents SMU's commitment towards building a smart, green and sustainable campus.  These efforts stand true to the essence of SMU's ethos and is yet another way through which we give back to the community," he added.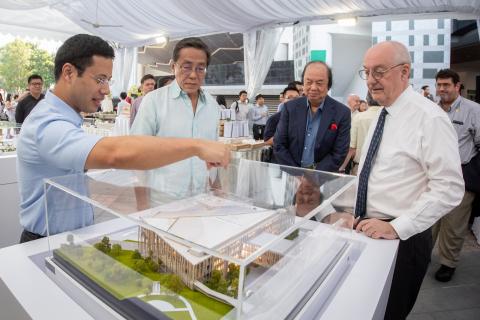 [Photo: (L-R) Minister Desmond Lee viewing a model of the Tahir Foundation Connexion with Mr Ho, Dr Tahir and Prof De Meyer.]
The Tahir Foundation Connexion is designed to be experimental in architectural expression, while tastefully and seamlessly blending in with the existing SMU campus, the lush Fort Canning Park and the historical buildings in its vicinity.  Construction will begin this month and the building is slated to be completed before the end of 2019.
The Public Sector Construction Productivity Fund helps public sector organisations to procure innovative and productive building solutions, which may come with an initial cost premium, so that these solutions can enter and gain traction in the market.  In particular, for Tahir Foundation Connexion, the Fund supports the adoption of structural steel and MET.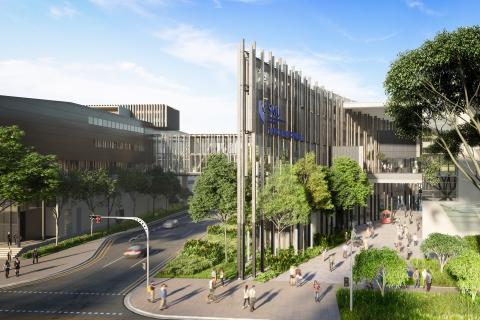 [Artist's impression: View of Tahir Foundation Connexion from the junction of Fort Canning and Stamford Road.]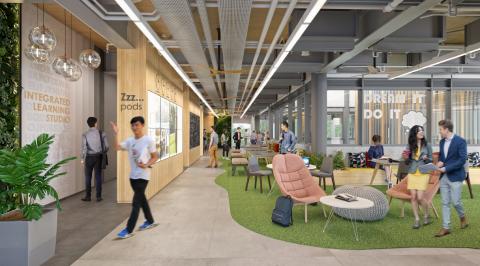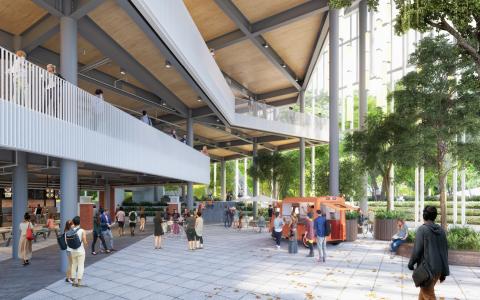 [Artist's impressions: (L) Integrated Learning Studio; (R) The North Plaza.]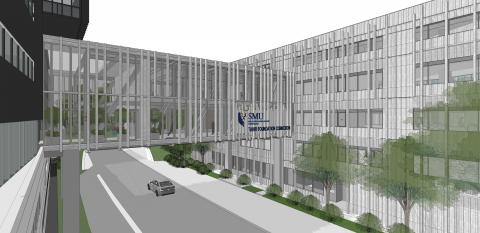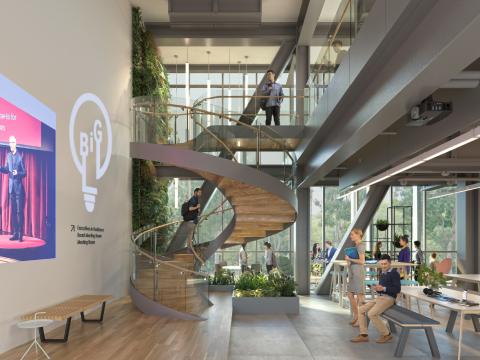 [Artist's impressions: (L) Innovation Bridge @ Fort Canning; (R) SMU Institute of Innovation and Entrepreneurship's Business Innovation Generator.]
- End -
Enclosures:
Annex 1 –  Fact Sheet: Tahir Foundation and SMU
Annex 2 –  Fact Sheet: About SMU-X
Annex 3 –  Fact Sheet: About the Business Innovation Generator located at Innovation Bridge @ Fort Canning
Annex 4 –  Fact Sheet: Sustainability Features of Tahir Foundation Connexion
Annex 5 –  Artist's impressions (with captions)
_____________________________________________________________
Media Contact:
Huang Peiling
Senior Assistant Director, Corporate Communications
Office of Corporate Communications & Marketing, SMU
6828-0964 / 9845-3361 / plhuang [at] smu.edu.sg