SMU Academy and SST to partner in new technopreneurship programme
First-of-its kind programme to be offered to secondary three students at SST from this year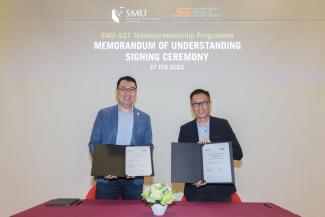 Singapore, 27 February 2023 (Monday) - SMU Academy, the professional training arm of Singapore Management University (SMU), and the School of Science and Technology, Singapore (SST) today signed a memorandum of understanding (MoU) to partner in a new SMU-SST Technopreneurship Programme, to be offered later this year to SST's students. This is the first time SMU Academy is partnering with a local secondary school in its curriculum, a testament to SMU Academy's commitment to supporting lifelong learning.
A first of its kind, the SMU-SST Technopreneurship Programme introduces technopreneurship concepts to secondary school students. It is designed to equip them with the necessary skills and knowledge to develop their innovative spirit and nurture their entrepreneurial aspirations from a young age. It will be offered to the entire cohort of secondary three SST students from July 2023 and further extended to a select group of students who are placed in the SST-Ngee Ann Polytechnic (NP) Integrated Diploma Programme (IDP) from 2024.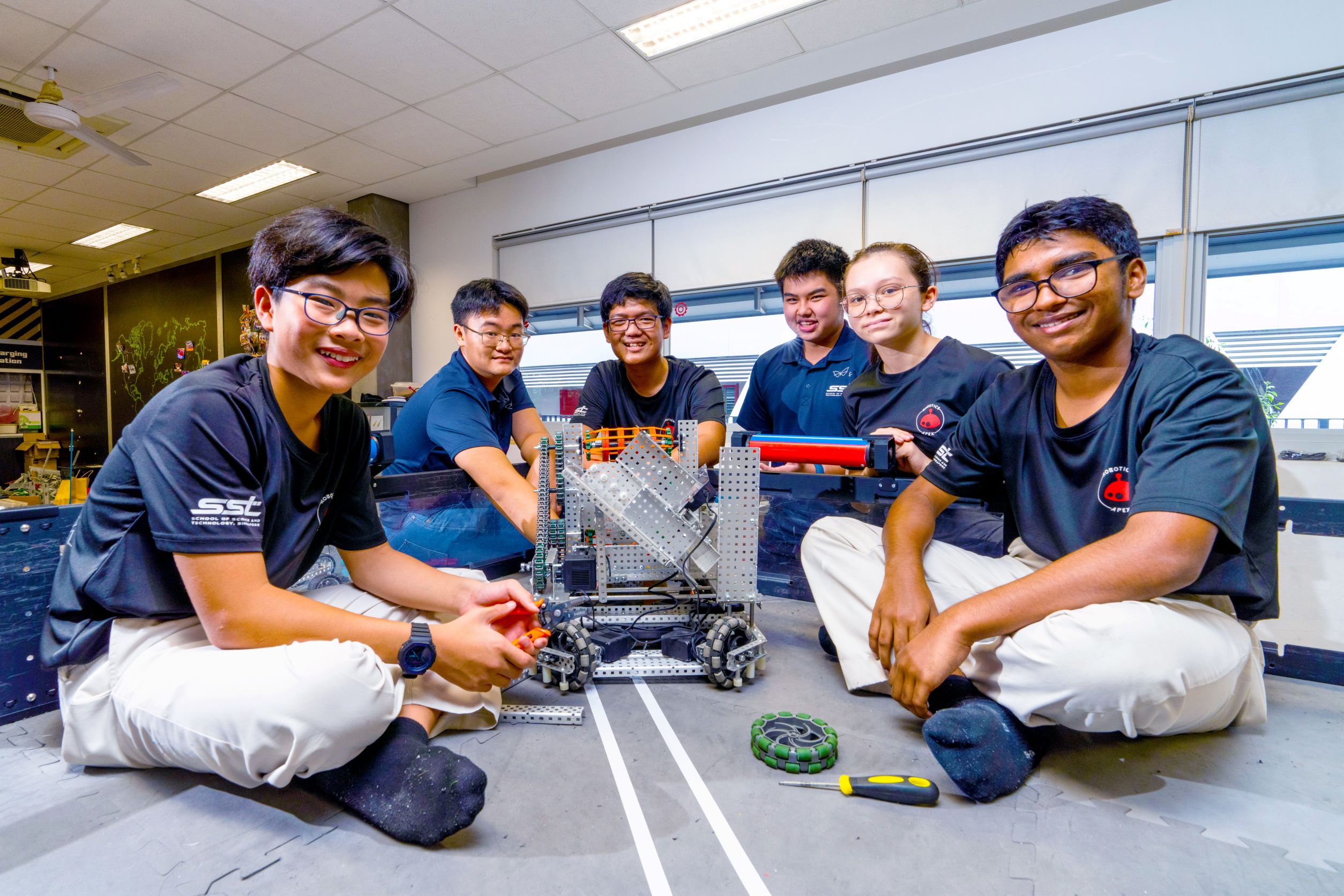 Under the SST-NP IDP, students from SST progress directly to a STEM (science, technology, engineering and mathematics) course in NP without having to sit the Singapore-Cambridge General Certificate of Examination Ordinary Level (GCE O–Level) examination. The key goal of the IDP is to provide an extended applied and integrated learning experience for students who have thrived in SST and would have made a clear choice to progress to NP.
The 10-week SMU-SST Technopreneurship Programme comprises specially designed modules taught by industry experts. Esteemed Singapore entrepreneurs, some of whom are SMU alumni, will also be on board as guest lecturers to introduce the principles and practices of technopreneurship. They include Benjamin Wong of Kinobi; Derrick Lee and Quah Zheng Wei of Accredify; Karen Cheah of AlterPacks; and Ng Yi Ming of StackUp (please see Annex 1 for more details). The programme will also include learning journeys to local startups and culminate in a hackathon, thus providing a holistic and experiential learning experience to students.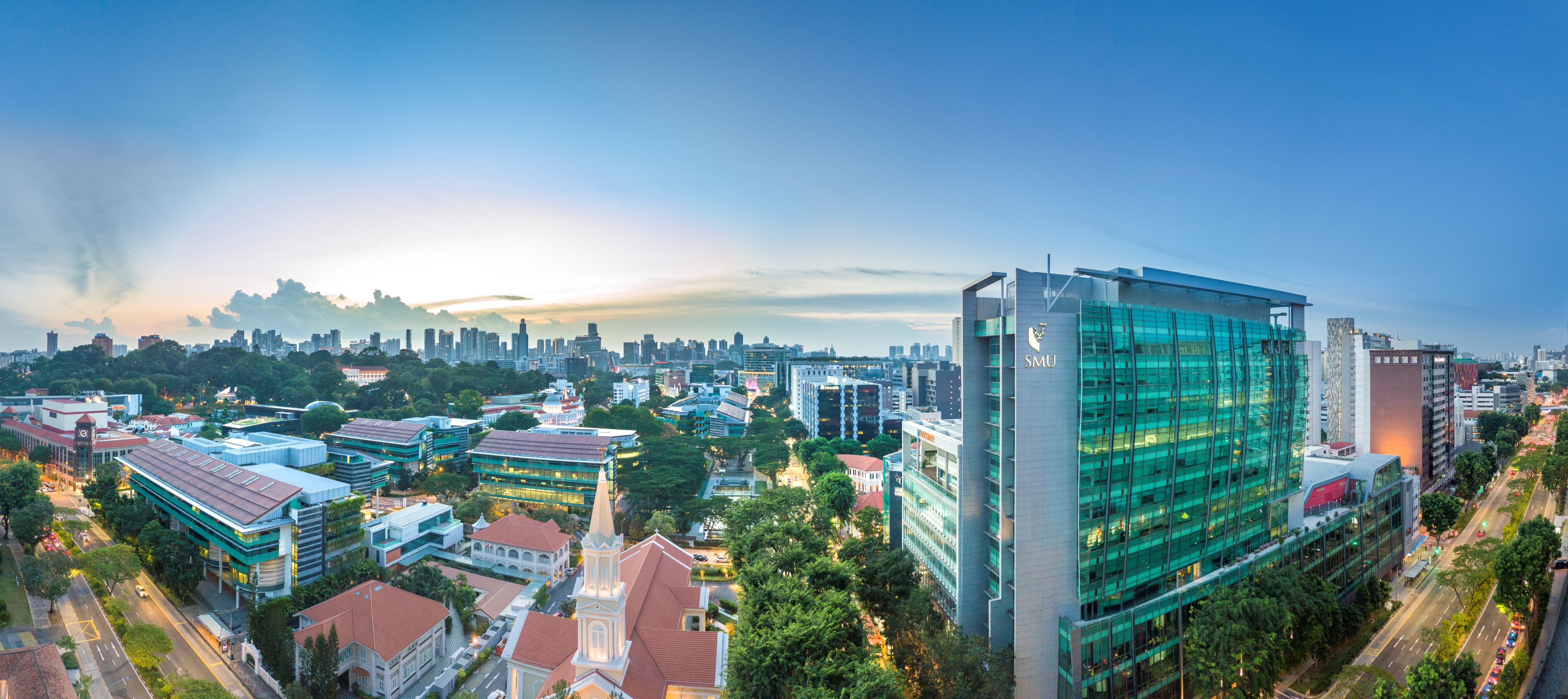 Jack Lim, Executive Director of SMU Academy, said, "SMU Academy has been augmenting educational opportunities in the adult learning space and contributing to the growth of Singapore's talent pool. This partnership with SST is our first foray into the secondary education space and illustrates our commitment to supporting lifelong learning. Through the SMU-SST Technopreneurship Programme, we are delighted to be creating a unique curriculum that will deepen secondary students' interest in and understanding of the technological landscape and equipping young, aspiring technopreneurs with strong foundational skill sets. In time to come, we hope some of them will join the pool of tech talents and tech business owners in Singapore."
Nick Chan, Principal of SST, said, "We are excited to partner with SMU Academy in this programme to provide opportunities for our students to enhance their STEM knowledge and skills in an extended applied and integrated learning approach. By cultivating an innovative and technopreneurial mindset through this programme, we hope to build a strong foundation for our students to join the industry in the future."
- End -
Enclosure:
Annex 1 - Guest lecturers of the SMU-SST Technopreneurship Programme