SMU profs named Poets&Quant's 50 Best Undergraduate Business School Professors in 2022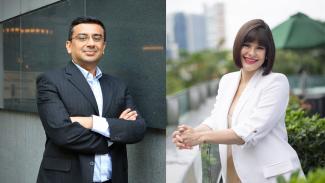 Two of SMU's faculty members from the Lee Kong Chian School of Business – Associate Professor Abhijeet K. Vadera and Assistant Professor Christilene du Plessis – are amongst Poets&Quant's 50 Best Undergraduate Business School Professors. The award, which is in its 5th edition, received over 500 global nominations from students, alumni, colleagues, and school deans of 50 business schools, all of whom had taken the time to highlight what these outstanding professors meant to themselves, their students, their departments, and the business community-at-large.
Associate Prof Vadera was thrilled about the award. "I am truly honoured and grateful to my students for this recognition. To be honest, I have always wanted to be on the Poets&Quants list, but assumed that few in Asia knew about it, so I was truly surprised and overjoyed to be nominated by my students at SMU! They have put a lot of trust in me as an educator and this award motivates me to work harder for my students and make their learning experience more enriching and exciting," he said.
Equally delighted was Assistant Prof Plessis, who is one of 30 women to be featured in the list – the most that P&Q has ever honoured. "The students at SMU are truly amazing – their enthusiasm for learning and their dedication to excelling in their studies has made teaching them a joy. The positive work environment at SMU, which supports faculty and fosters collaborations among faculty members, has played an integral role in two of our faculty being recognised on this year's Poets & Quants Top 50 Undergraduate Business Professors list. I am truly grateful to be part of such a dynamic and supportive community," she said.
This year's list features 50 winners who hail from 39 different schools, including 8 schools that had two professors on the list – SMU Lee Kong Chian School of Business being one of them.
On its evaluation methodology, P&Q said, "The editorial team at Poets&Quants individually evaluated every nomination. Each professor was assigned a 1-to-10 score based on their research and teaching accolades. Research was given a 30% weight and teaching a 70% weight, with the average making up the final score. For research, P&Q considered the volume of a professor's Google Scholar citations, how much major media attention they received along with research and writing awards. For teaching, we considered all nominations, teaching awards, and impacts on their schools and departments."
Read about how Associate Prof Vadera and Assistant Prof Plessis became business professors, who inspired them and what keeps them busy in school and in their free-time:
Our heartiest congratulations to Abhijeet and Christilene!