Eminent industrialist Haryanto Adikoesoemo establishes first postgraduate scholarship at SMU for Indonesian students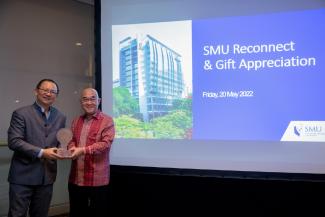 Jakarta, 18 May 2022 (Wednesday) – Mr Haryanto Adikoesoemo, President Director of PT. AKR Corporindo Tbk, a publicly listed company in logistics and supply chain that is engaged in petroleum, chemical distribution and energy in Indonesia, has made a generous contribution of S$630,000 to set up the Haryanto Adikoesoemo Postgraduate Scholarship at the Singapore Management University ("SMU"). The Scholarship, a first of its kind, aims to motivate outstanding individuals who are citizens of Indonesia aspiring to pursue their postgraduate studies in the areas of innovation, human capital and business transformation at SMU, spur them to greater heights of academic excellence, and accord them recognition for their accomplishments.
Mr Haryanto Adikoesoemo, who is also a member of SMU's International Advisory Council in Indonesia, said, "I am delighted to extend my partnership with SMU through this postgraduate scholarship. We need to build a generation of innovative and entrepreneurial leaders. My wish is for this contribution to support my fellow Indonesians who want to make an impact towards our country. I strongly believe this scholarship programme will help inspire and develop the requisite skillsets of many talented professionals, sparking new leaders in the field of technology, entrepreneurship and innovation. My hope is for them to also return to Indonesia, to contribute back to the development of our national economy."
Associate Professor Themin Suwardy, Associate Provost (Postgraduate Professional Education) at SMU said, "We see many talented Indonesians expressing interest in our postgraduate education each year. Unfortunately, not all of them are able to pursue a professional programme with SMU due to financial constraints. This generous contribution will provide passionate Indonesians with the support required to pursue their goals. This gift is also the first time that a scholarship programme has been made available solely to postgraduate Indonesian students studying at SMU, which reflects the strong confidence Mr Haryanto Adikoesoemo has in our programmes."
The contribution will fund three new Scholarships annually for a period of three years, commencing in Academic Year 2022/2023. Each Scholarship will support one Indonesian student enrolling into each of the following postgraduate programmes (see Annex A for more info):
Master of Science in Innovation, Lee Kong Chian School of Business
Master of Human Capital Leadership, Lee Kong Chian School of Business
Master of IT in Business, School of Computing and Information Systems
Each Scholarship is valued at S$70,000 and is tenable for the duration of the recipient's studies at SMU. It will offer financial support towards a recipient's annual tuition fees and/or study-related expenses, as well as living expenses in Singapore.
Applicants of the Scholarship have to be full-time incoming postgraduate student of SMU who are citizens of Indonesia. Candidates must demonstrate academic excellence, and the intention of returning to Indonesia within two years of their graduation from SMU.
The SMU Admissions team are traveling between Bandung and Jakarta between 19 to 21 May to hold its first in-person undergraduate engagement and postgraduate roadshow since the COVID pandemic began. Various sessions will be held to share more about SMU programmes for prospective Indonesian students who are considering an undergraduate and/or postgraduate education at SMU. Interested parties can head down to Courtyard by Marriott Bandung on 19 May, Pullman Thamrin CBD on 20 May, or Pullman Central Park Jakarta on 21 May.
*** END ***