SMU President Professor Lily Kong Inducted into prestigious Singapore Women's Hall of Fame
Professor Lily Kong honoured for significant contributions and achievements in education and society.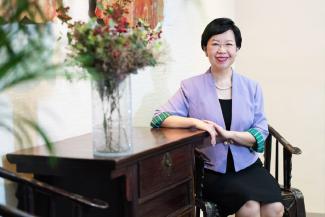 On this International Women's Day, the entire SMU Community would like to congratulate our President Professor Lily Kong for her induction into the Singapore Women's Hall of Fame (SWHF).
Professor Lily Kong made history in 2015 when she was appointed as Singapore Management University's (SMU) Provost, as this made her the first woman university Provost in Singapore. Three years later, she made history again when she was appointed as SMU's fifth President, making her the first Singaporean to helm the 22-year-old university.
In her tenure at SMU, she has driven many projects that have enhanced the quality of SMU's students and faculty, and its educational offerings and research. Among her numerous initiatives were a major revamp of the university's undergraduate core curriculum, the introduction of new interdisciplinary majors and tracks, and the establishment of the SMU Academy, which offers skills upgrading programmes for working adults.
As SMU President, she reviewed the university's strategy to achieve Vision 2025, which is 'to be a world-renowned global city university, tackling the world's complexities, and impacting humanity positively' and identified the three strategic priority areas to focus on – Digital Transformation, Sustainable living, and Growth in Asia – so that SMU could do better to serve the community and the region.
Prof Kong is internationally known for her research on urban transformations in Asian cities, with particular focus on social and cultural change. She has written extensively about communal relations, particularly, the intersection of religion and secularity in cities, creative industries/cities, urban heritage conservation, and smart cities. She is an award-winning researcher and teacher locally and internationally. She is on the editorial boards of more than 15 international journals in her field and is frequently featured as a keynote speaker or a moderator at conferences. She has co/authored or co/edited over 20 books, published over 100 refereed journal articles, and contributed over 60 book chapters.
Prof Kong shared that she is currently co-editing two books, one that will be published later this year, on higher education in the Asia-Pacific region, and another is just being conceptualised and developed on an authoritative state of the art review of geographical approaches to the study of religion, as well as intersections with other disciplinary approaches. At the same time, she is working on research and writing on religion and migration, and smart cities.
Prof Kong also sits on various Committees and Boards such as Housing Development Board, and the Public Service Commission, and was conferred the Public Administration Medal (Silver) in 2006 and the Public Service Star in 2020. In a global study by Stanford University (2020), Prof Kong was identified as among the world's top 1% of scientists in the field of Geography. She was included in the Forbes Inaugural 50 over 50 (Asia 2022), recognised in Kompasiana Online (2021) as one of the 10 most influential women in Asia, and in Forbes Asia's Power Businesswomen list (2020).
Given the numerous and significant contributions she has made in her multiple roles as an academic, educator and university administrator, it is of no surprise that she has been inducted into the Singapore Women's Hall of Fame this year.
"I'm honoured to be thus recognised, especially given how some of the truly outstanding women pioneers of Singapore have been thus acknowledged in the Singapore Women's Hall of Fame," says Prof Kong about being inducted into the SWHF.
The Singapore Women's Hall of Fame is an expansion of the Wall of Fame by the Singapore Council of Women's Organisations (SCWO). Launched on 14 March 2014, it aims to recognise and salute the outstanding women of Singapore in all fields of endeavour. It is a celebration of the women who have made, or are making, an impact on our nation – the boundary breakers and record holders, the risk-takers and change makers, the role models and the standard setters. It is also a recognition for women who are shaping society with their vision and passion, their enterprise and leadership, their talent and creativity, their humanity, and they serve as an inspiration to others.
Prof Kong has received a trophy called the "Flame" from Singapore President Halimah Yacob at The Hall of Fame induction ceremony at the Istana on 8 March. The Flame symbolises the vitality of the women in the Hall of Fame, and the torch of inspiration that is passed from one generation to another.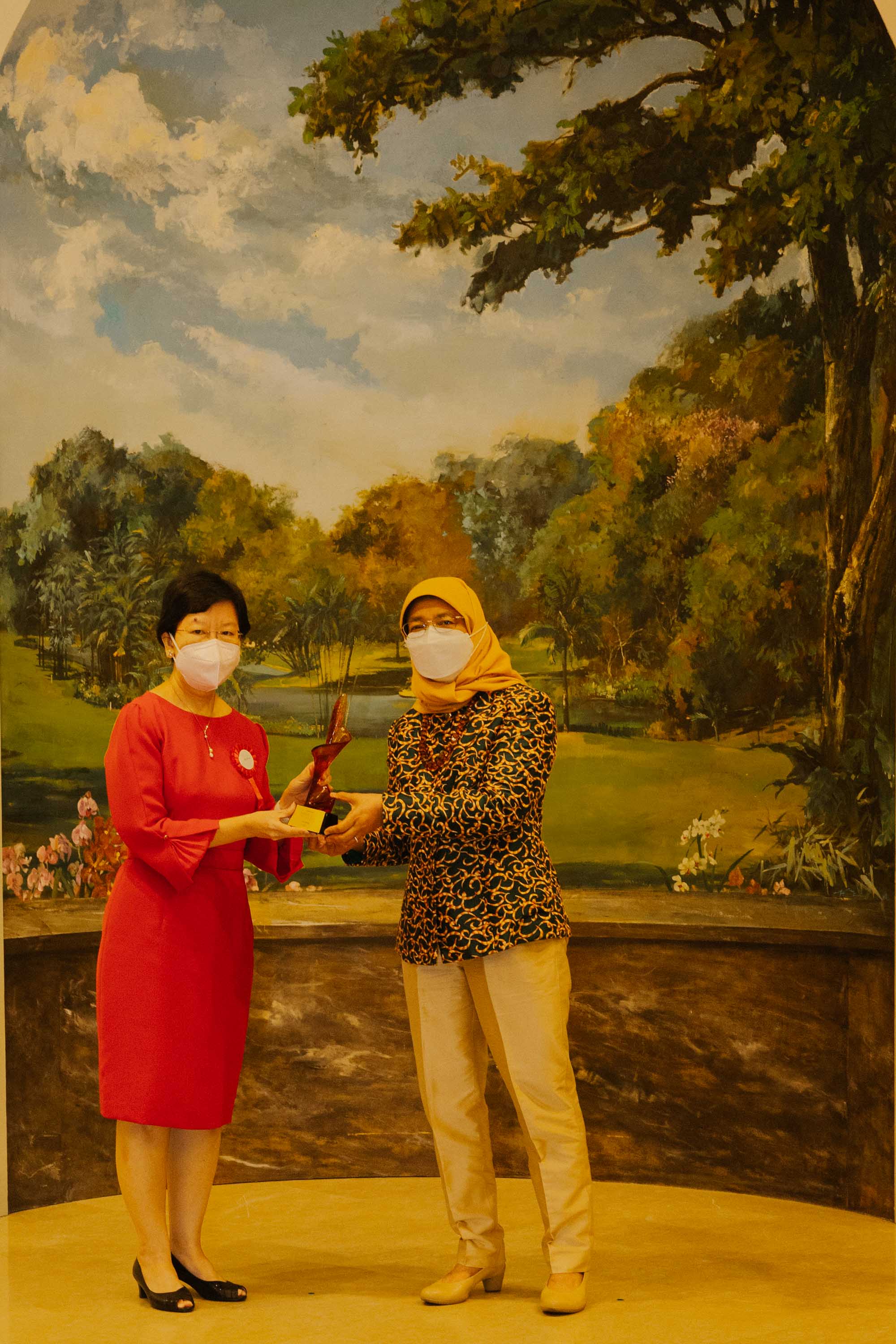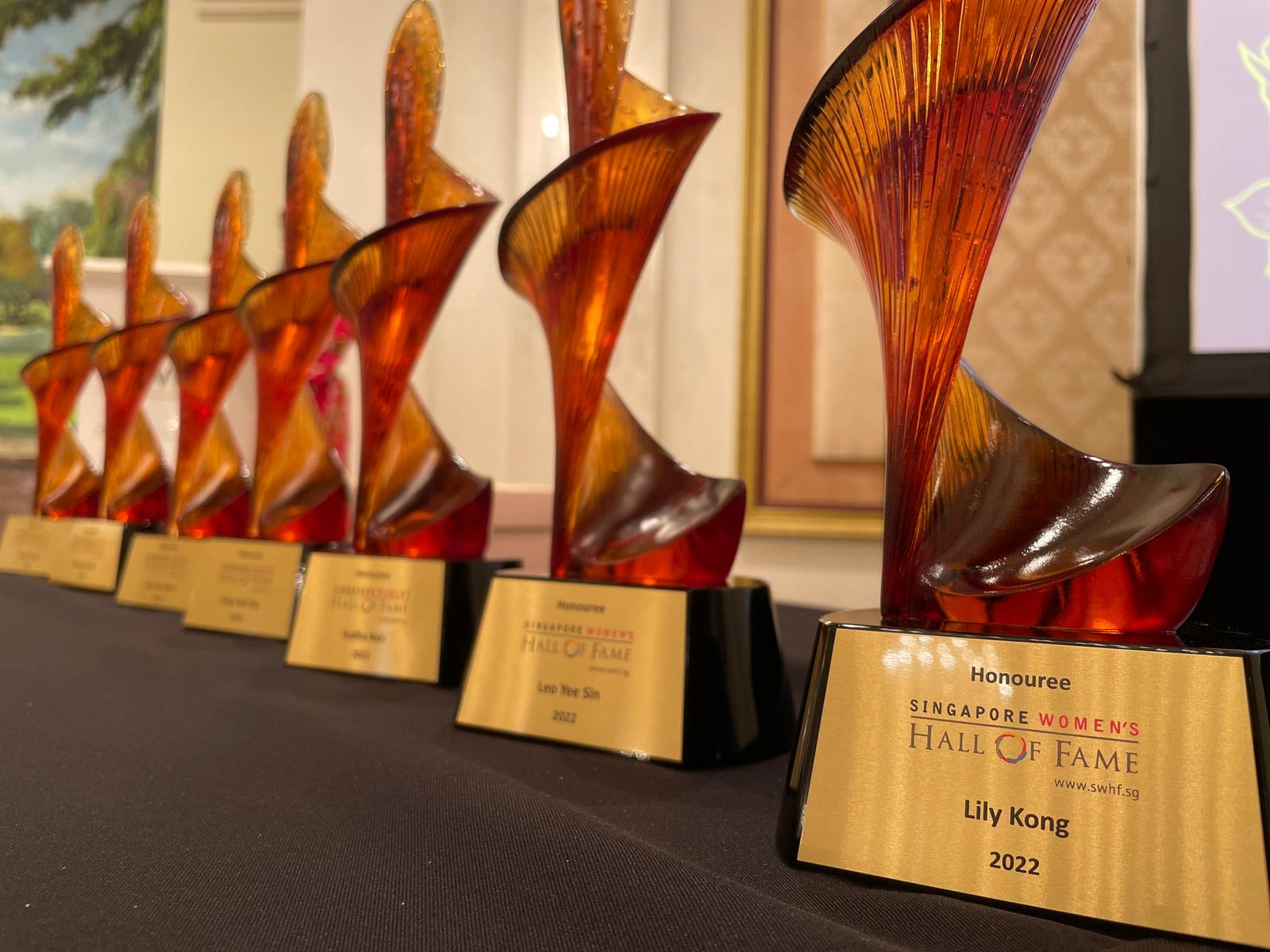 When asked what advice she would give to young people today, she says she would tell them to "be intentional, be curious, and be adventurous".
Well said Prof Kong, and we hope more people, in particular young women will be inspired to make significant contributions to Singapore and beyond just as you have done. Our heartiest congratulations once again!
Read more in The Straits Times.