SMU President Professor Lily Kong recognised as a top business leader by Forbes Asia's Power Businesswomen 2020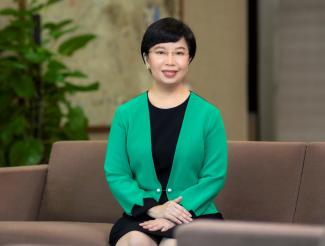 SMU's fifth president, Professor Lily Kong, has been named among the 25 business leaders on the 2020 Forbes Asia's Power Businesswomen list who have risen to the challenges posed by the global pandemic and are demonstrating their mettle in these difficult times. A common trait among these business leaders is resilient leadership and vision to adapt to the new normal and spot opportunities where others see challenges.
Prof Kong has been recognised as an outstanding leader who is making remarkable strides in traditionally male-dominated roles and industries.
She is the first Singaporean to lead SMU, and is also the first Singaporean woman to head a university in Singapore. Internationally known for her research on social and cultural change in Asian cities, Prof Kong had previously held senior management positions as the Vice Provost and Vice President at the National University of Singapore (in various portfolios), and Executive Vice President (Academic) of Yale-NUS College.
Since taking the helm of SMU in January 2019, Prof Kong has sharpened the University's Vision 2025, and laid out a roadmap to achieve this vision by identifying the University's priorities, strategies and enablers. Amid the evolving pandemic, she has provided strong and confident leadership in guiding the University to adapt to new conditions.
Prof Kong said, ""I am deeply honoured to receive this recognition from Forbes Asia. Universities have an important role to play in preparing students for an increasingly volatile and complex world. At the Singapore Management University, we are deliberate in ensuring that students combine learning from the world of academia and practice. We ensure that we bring practitioners into the classroom, offer students different opportunities for real-world exposure to industry, innovation and entrepreneurship, within and beyond Singapore.
"We are poised to roll out new plans to expose students to Asia, including the leading innovation hubs and the established business centres. We are committed to imbue and develop in our students the qualities of innovation, resilience and adaptability so that they will thrive in the rapidly changing world."
Prof Kong has continued to expand SMU's entrepreneurship capacity for students since becoming SMU President. The SMU Connexion which opened in January 2020, is a five-storey building that includes 700sqm of innovation facility named The Greenhouse. It is envisioned as a vibrant and dynamic learning facility that reflects SMU's spirit of innovation and collaboration. "Innovation and entrepreneurship are something that we have greatly invested in, and the new building is a big part of it. Just in the last 20 months, we had very good success," Prof Kong added.
Since the beginning of 2019, SMU through its Institute of Innovation and Entrepreneurship (IIE), has continued to achieve notable progress in the innovation and entrepreneurship space. These include:
Start-ups incubated by SMU incubator have collectively raised more than $100 million from 2011 to 2019, with 2019 alone accounting for more than $54 million of total funding raised.
Global Innovation Immersion, a 3-month overseas internship programme that trains and prepares students for a career in the start-up and innovation ecosystem witnessed an exponential growth in its applications, from 70 in 2018 to over 400 in 2020.
Protégé Ventures, Southeast Asia's first student-run venture fund programme which is supported by the Singapore government, has been drawing increasing interest since its inception in 2017 and witnessed a 38% year-on-year increase in applications in 2019.
P.A.K. Challenge, the largest student-led business plan competition in Singapore for aspiring student entrepreneurs, has seen its number of submissions increased by 3.5 times from 20 in 2016 when it held its inaugural competition, to 70 in 2020. The competition, with prizes worth up to $70,000, is supported by P.A.K Entrepreneurship Fund with a total endowed gift of $2 million from SMU Lee Kong Chian School of Business alumni Jeff Tung and Benjamin Twoon.
The 10th Lee Kuan Yew Global Business Plan Competition (LKYGBPC) has received an unprecedented record of over 850 submissions from 650 universities across 60 countries. More than 70% of the top 100 universities in the world are represented in this competition.
The Greenhouse aims to become Southeast Asia's leading sustainable urban innovation labs, lending support to and providing opportunities for innovators and entrepreneurs to test-bed their urban technologies in Singapore and beyond. The Greenhouse also aspires to be an active tech research innovation hub, where IIE work with researchers in SMU and in the region to commercialize smart cities and urban technologies.
Our heartiest congratulations to Prof Kong on this well-deserved recognition!