SMU Lee Kong Chian School of Business moves up 7 notches; Ranks 6th in Financial Times' 2018 Asia-Pacific Business Schools Ranking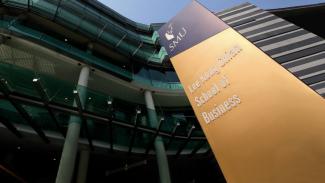 Singapore, 3 December 2018 (Monday) – Singapore Management University's (SMU) Lee Kong Chian School of Business (LKCSB) has been ranked sixth place in the Financial Times' (FT) 2018 ranking of top business schools in the Asia-Pacific, moving up seven notches from the 13th position in the 2017 rankings. 
This is the second time the FT has published a ranking specifically of Asia-Pacific business schools. According to FT, the rankings are 'based on the quality and breadth of business schools' postgraduate programmes'. The Asia-Pacific ranking is a composite measure of the combined performance across the five main rankings published by FT in 2018: MBA, Executive MBA, Masters in Management (MiM) and both customised and open-enrolment Executive Education programmes.
Professor Gerard George, Dean of SMU LKCSB and Lee Kong Chian Chair Professor of Innovation and Entrepreneurship, said, "I am delighted that in a short span of 10 years, our business school has achieved overall sixth position in the Asia-Pacific for our postgraduate business programmes. The powerful combination of world class thought leadership from our faculty and our central location within Singapore helps us connect and engage with the business community to deliver an impactful education. Our rankings reflect our commitment to preparing students with right skills, knowledge and networks to succeed in Asia's growing and dynamic business environment."
Notably, earlier this year, LKCSB's MBA programme was ranked 30th globally and first in Singapore in the 2018 Top MBAs for Finance ranking by FT; LKCSB's Executive MBA programme has also steadily risen up the ranks and has achieved 22nd position globally in FT's Executive MBA Ranking 2018 within a short span of seven years.
- End -