SMU team clinches third spot at Facebook Global Hackathon Finals!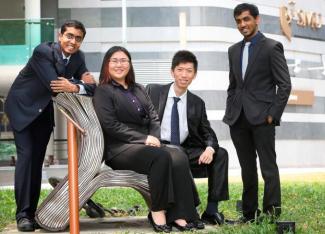 ·        17 teams from around the world competed in the Finals at Facebook HQ.
·        SMU team developed a smart chat assistant to enable users enhance their conversation by providing them with additional information about the topic being discussed in a timely manner.
The SMU team from the School of Information Systems (SIS) which won the Asia Pacific Facebook Hackathon in March 2014 has kept up their winning run.
Representing the Asia Pacific region at the Facebook Global Hackathon Finals 2014 which was held on 13-14 November at Facebook HQ in Menlo Park, California, USA, the team, comprising Suresh Subramaniam, Alayne Pang Hui Xian, Xu Mengxiang, and Abhilash Murthy, performed commendably to emerge third amongst a strong field of 17 teams from around the world.
A hackathon is a competition that encourages intense collaborative computer programming to create a working prototype from an idea within a limited period of time. In this case, the competing teams were given 24 hours to brainstorm and create new solutions to solve a problem of their choice.
The team's winning idea was Telepathy, a smart chat assistant that provides useful information to chat participants in a messaging application. Telepathy aims to enhance conversations with minimal effort and distraction by saving users the hassle of repeatedly switching between apps to search for information during a conversation.
For example, while talking about a movie, participants of the conversation are unable to recall the name of the movie at that moment, but are able to describe certain details about it, such as the actors featuring in it or even if it is based on a book by a certain author. Telepathy is able to deduce the movie they are talking about and provide additional information as the conversation progresses.
Said Suresh, "The experience at the Finals was fantastic. It was our first opportunity to visit Silicon Valley and we were amazed by the sheer energy and ecosystem of the Bay Area. We had a great time interacting with the other teams and the engineers from Facebook. The discussions and friendships that we took away from the event were more valuable than the victory itself!"
All four have graduated in May last year. Suresh and Alayne are currently working as software engineers, Abhilash is a technology analyst, while Mengxiang is pursuing his Masters at SIS. Mengxiang is also a heading a startup, GraphPaper, which is the finished product from the prototype demonstrated at the Asia Pacific round of the Hackathon.
[Featured photo: The SMU team from the School of Information Systems which came in second runner-up at the Facebook Global Hackathon Finals 2014 are (from left) Suresh, Alayne, Mengxiang and Abhilash.]