Mr S R Nathan launches his latest book at SMU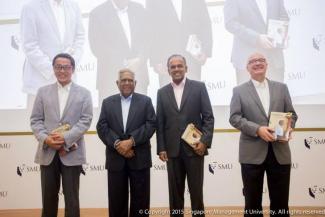 Over 300 eminent guests celebrate publication of

S R Nathan In Conversation
Mr K Shanmugam, Minister for Foreign Affairs and Minister for Law, is Guest of Honour

Mr Nathan thanks SMU for being his "dearest friend, long-time supporter and valued partner"
When SMU Chairman Mr Ho Kwon Ping first learned that Mr S R Nathan had written a new book, he immediately proposed that the Sixth President of Singapore and Distinguished Senior Fellow at the SMU School of Social Sciences hold the official launch at the University. Mr Nathan graciously accepted the invitation and on 19 January 2015, over 300 eminent guests filled the Mochtar Riady Auditorium to celebrate the publication of S R Nathan: In Conversation. These guests included his family members and close friends, as well as Ambassadors, senior government officials, his colleagues and supporters.
The 208 page hardback book contains a series of wide-ranging interviews where Mr Nathan reflects on modern Singapore, its history and significant achievements. He also recalls encounters with some of Singapore's pioneer nation builders, and warns of the challenges that the country faces today.
In his address, Mr Nathan said, "I want to thank Mr Ho Kwon Ping, Chairman of Singapore Management University and my dear friend, for so kindly offering to host the event at SMU – my home these last three years, since I stepped down from the office of President. His generosity and his show of affection have somewhat overwhelmed me and my wife. I have no way to reciprocate his kindness, other than to publicly acknowledge our debt to him and Claire."
Mr Ho had earlier, in his speech of welcome highlighted that Mr Nathan had accepted an Honorary Doctorate from SMU in 2014, in recognition of his many years of distinguished public service to Singapore, including his two illustrious terms as the sixth and longest-serving President of Singapore. "He also provided inspiring leadership and invaluable guidance as Patron of SMU from 1999 to 2011, enabling the University to establish its high standing in Singapore, the region and around the world."
The Guest of Honour at the book launch was Mr K Shanmugam, Minister for Foreign Affairs and Minister for Law. Minister Shanmugam commented that Mr Nathan has shared his thoughts from the vantage point of someone who has not only been the head of state for 12 years, but who has also drawn on wisdom accumulated over decades of experience as a civil servant, diplomat, community worker, and fellow Singaporean.
To mark the official launch of the book, Mr Nathan, Mr Shanmugam, Mr Ho and SMU President Professor Arnoud De Meyer signed via a tablet computer a commemorative memorandum in which Mr Nathan wrote the dedication, "To SMU – my dearest friend, long-time supporter and valued partner – my heartfelt thanks and gratitude." Below this, Mr Ho and Professor De Meyer reciprocated with the words, "It has been SMU's honour to partner Mr Nathan throughout his illustrious career and we will continue to be a staunch supporter for all his endeavours."
After the formal proceedings, a long queue formed at the desk where Mr Nathan signed more than 200 copies of his book for over an hour, while guests also mingled and enjoyed a sumptuous buffet dinner.
Main photograph (left to right): SMU Chairman Mr Ho Kwon Ping, Sixth President of Singapore Mr S R Nathan, Minister for Foreign Affairs and Minister for Law Mr K Shanmugam, and SMU President Professor Arnoud De Meyer.
Above: Mr S R Nathan signs a copy of his book for Former SMU President Professor Howard Hunter and his wife. Looking on is SMU Chairman Mr Ho Kwon Ping and taking a photograph from the stage is SMU Vice President of Corporate Communications and Marketing Mr Alan Goh.
More photos of the event are available here.