Hatching unicorns: Buddying up with student startup founders for the journey to success
SMU's student-run venture fund coaches and supports student startups as they grow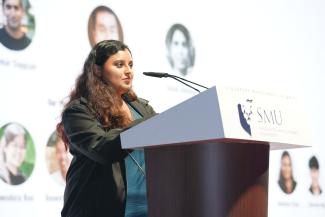 Marina & David Su Protégé Ventures Fund II, a new fund worth S$500,000 to help enterprising youth in Singapore polytechnics and autonomous universities grow their startups in Singapore, was launched today (11 September) at the opening ceremony of the 11th edition of the Lee Kuan Yew Global Business Plan Competition (LKYGBPC), a biennial university startup competition organised by the Institute of Innovation and Entrepreneurship (IIE) of Singapore Management University (SMU).
The fund was made possible by Matrix Partners China's founding managing partner David Su, who presented the cheque to Protégé Ventures today (11 September). Matrix Partners China is a leading venture capital firm focused on early stage and early growth deals. The launch was witnessed by Deputy Prime Minister (DPM) and Coordinating Minister for Economic Policies, Mr Heng Swee Keat, the guest-of-honour at the opening ceremony of LKYGBPC.
"This funding will provide trained student investors with real capital to invest in early-stage technology startups founded by students or recent graduates," says Ms Anaanya Bijay the Managing Partner of Protégé Ventures (PV), the first and only student fund in Singapore and Southeast Asia. "We are very honoured and we believe this will help propel student entrepreneurship forward," she adds.
PV has invested in a portfolio of 10 student-founded startups in industries such as artificial intelligence, human resource, agri-tech, consumer products, food & beverage and more. These 10 startups have gone on to raise S$35m from institutional investors.
The work of Protégé Ventures
PV was created in 2017 by SMU's Institute of Innovation and Entrepreneurship and Kairos ASEAN. It provides training on what it means to be a venture capitalist, offering guidance on how to source deals, analyse them and invest in technology Southeast Asian startups from Singapore institutes of higher learning.
PV caters specifically to student startups, says Ms Bijay, who is also a fourth year SMU business student majoring in Finance and Financial Forensics. "PV is different from conventional VC funds in that it operates at the seed and early stages, which do not typically see participation from institutional investors."
Additionally, unlike typical corporate VC teams, PV supports founders on a case-by-case basis rather than as a cohort. "The fundamental value-add of PV is that it is more focused on assessing the startup's potential for investment and corporate venture-building."
Before joining PV, Ms Bijay had started her own venture and worked as an investment analyst. She joined PV because it offered her "a safe way" to stay in the ecosystem. "Having once been in the hot seat as a founder, it is an eye-opening experience being on the other side of the table as a VC, evaluating deals and having a say on those life-changing cheques."
Ms Bijay works with a team of associates and analysts from SMU as well as other Singapore institutions of higher learning.
Industry-agnostic, PV typically invests between $25,000 and $50,000 in early-stage startups founded by students – whose qualifications range from diploma to PhD levels. They could also be alumni of Singapore polytechnics and autonomous universities who have graduated within the past five years and who are seeking pre-seed to seed funding.
Finding the right fit in the startup ecosystem
PV is only one part of the student startup ecosystem in Singapore. The ecosystem consists of multiple stakeholders, from innovation and entrepreneurship programmes, student clubs and competitions at tertiary institutions, early-stage venture capital funds, to incubator and accelerator programmes, and government agencies such as Enterprise SG.

At the initial ideation stage, students join student clubs, hackathons and entrepreneurship modules designed to help them gain a basic understanding of fundamentals, such as market sizing, product-market fit and crafting that initial pitch deck/business plan. When students have a minimum viable product (MVP), they typically explore accelerator programmes and entrepreneurship competitions and seek grants to attend accelerator programmes. At this stage, PV talks to startups from a peer coach perspective to help them identify blind spots.
"Beyond this stage, startups would typically try to achieve product-market fit by, for instance, onboarding their first few customers and building traction for their business, as well as sourcing for their initial pre-seed or seed-stage round of equity investments," shares Ms Bijay.
"As early-stage investors, we in PV help promising student startups close this crucial round of funding and also offer support to startups as peer consultants by providing referrals and deal-sharing initiatives with our network of VC investors who may want to support these startups."
It is rare to find student startups in the growth-stage to expansion-stage but the few that exist would now actively seek support from their investors and institutional bodies to fuel their growth into new markets or find ways to forge partnerships with other companies. PV is less active at this stage but it can connect startups to its network of partners."
Education for budding entrepreneurs
PV is also involved in the education process for aspiring VCs and student founders.
Ms Bijay and her team at PV run the annual Protégé Ventures Academy programme, which includes student-run masterclasses, workshops and networking events.
This programme gives student founders/VCs a taste of how early-stage VCs think, namely the types of questions investors often ask, or what VCs look out for in pitch decks (a seed-stage fundraising cycle at a fund). PV also helps students deepen their exposure to the international youth startup ecosystems. For instance, some get to work with the biennial LKYGBPC Organising Committee to organise local and international roadshows. Successful graduates of Protégé Ventures Academy programme may be invited to join the PV fund itself as analysts.
Ms Bijay also reached out to like-minded young people overseas, namely in Sydney, Brisbane and Melbourne, to build partnerships to raise the startup ecosystem in Singapore. Additionally, she and her team help to screen applications submitted for the SMU's Business Innovations Generator (BIG) incubation programme which runs twice a year. They also produce the annual Singapore Student Startup Ecosystem Report, the only report of its kind in the region, on youth startup trends.
The power of being connected
Whether it is as coaches or as organisers of PV academy programmes, Ms Bijay says PV's role is to build strong and enduring relationships with PV's portfolio companies, and with companies that PV sometimes chooses not to invest in. "Our goal has always been to support the best young founders, regardless of whether we are on their capitalisation table or not," she says. "The point is to be an interested buddy that has the founders' back, so to speak. It's like a journey with fellow young I&E enthusiasts and it is a difficult journey. In my position with PV, I can also support other young women to encourage them as it is not common to see women founders or women working in VC."
"We try not to be hands-on, but we constantly remind them that we are there to support them. By keeping in regular contact, we learn about their progress through thick and thin to see where we can help them on the journey of realising their dreams of enterprise."