SMU Growth-X students crowned Champions in Circles.Life Business Case Challenge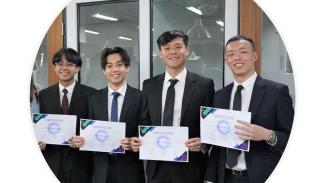 Circles.Life, a multinational mobile virtual telecommunications network operator organised a Business Case Challenge in December 2022, with the aim of engaging youths – the next generation growth drivers of the telco industry. Through the challenge, the company hopes to familiarise students with the industry's challenges and opportunities and impart knowledge on managing a telco business. The invitation to the inaugural competition was extended exclusively to university consulting clubs in Singapore, and saw a participation of 15 teams.
Growth-X, a student consulting club managed by SMU-X emerged champions at the end of the week -long competition. The winning team comprised of Lee Kong Chian School of Business Year 2 students Darren Chan, Marc Ong, Sue Chew, and Lim Kai Jun, and Year 1 student Timothy Tan.
For the competition, students were challenged to develop solutions to grow Circle.Life's business and improve their industry standing in Singapore. The Growth-X team stood out for their innovative recommendations of using blockchain networks to create customer profiles, and their proposed rewards and loyalty programme. Judges scored them well on research done, practicality, feasibility and relevance of their target segment. The judging panel included Circle.Life's Hanny Kusumawardhani (Head of Strategy and Implementation, CTO Office), Richard Lesmana (Chief of Staff, Founder's Office), and Jeanette Wong (Singapore Growth Lead).
Team leader, Lim Kai Jun said, "The main challenge we faced was the wide scope of the project, as we were not limited by any kind of solutions for the business case. Growth-X prepared us well for this situation, as we were taught to analyse problems critically by breaking them down and finding out root causes, as well as to think out of the box to come up with creative solutions. As such, we were able to broaden our perspectives through extensive research to explore new avenues of growth."
As winners, each team member will receive a 3-month personal mentorship from a Circles.Life senior leader with a background in relevant roles and a fast-tracked application process for internship positions in Circles.Life.