New SMU and JHU Collaboration Gives Business Students a Competitive Edge in the Global Economy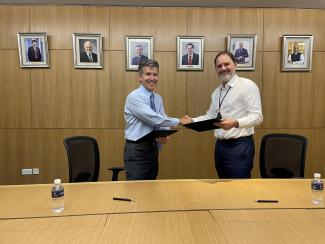 In a first, the Singapore Management University (SMU) and Johns Hopkins Carey Business School (JHU) are collaborating to allow students and alumni from both universities to take up the exciting opportunity to receive a new degree at a partner university, in tandem with a new learning experience in the United States of America (USA) and in Singapore.
This partnership between SMU and JHU was officially formalised on 21 November 2022 with the inking of a Memorandum of Understanding (MoU). Professor Bert De Reyck, Dean of SMU's Lee Kong Chian School of Business (LKCSB) and Professor Rick Smith, Vice Dean, Education and Partnerships at Johns Hopkins Carey Business School (JHU Carey), signed the new pact at SMU.
With this new partnership between SMU and JHU, SMU business school students and alumni who had completed their Master in Management, MSc in Applied Finance, and Master of Quantitative Finance programmes within the past three years now have the option to pursue a MS in Business Analytics and Risk Management (BARM) or the MS in Health Care Management at the Johns Hopkins Carey Business School. Both full-time programmes offered by JHU take place over a span of 12 to 15 months, with students studying in-person on campus in the USA.
"SMU aims to equip our graduates in interdisciplinary areas such as Sustainable Living and Digital Transformation. This valued collaboration with JHU represents our commitment towards harnessing our common priorities to enhance the global learning experience and credentialing of our graduates. The opportunity to dive into the fields of healthcare management or business analytics and risk management, both burgeoning areas of growth, will stand our graduates in good stead to flourish in their future careers," said Professor Bert De Reyck.
JHU's Business Analytics & Risk Management (BARM) will provide SMU students an exposure to the data analysis and delivery from all angles — retail, operations, social media, and more. Through a rigorous curriculum, students will hone their abilities to quantify multiple dimensions of business problems, uncover potential approaches, as well as to create and implement business solutions.
JHU's MS in Healthcare Management programme harnesses the resources, reputation, and experience of Johns Hopkins University and its top-ranked schools of Medicine, Nursing, and Public Health. SMU students enrolled in the programme will be able to gain hands-on experience managing analytic, economic, political, and technological factors in a fast changing and complex health care landscape.
Upon graduation from JHU, SMU graduates can pursue the Optional Practical Training (OPT) in the United States of America and will join the large alumni JHU community with more than 250,000 Johns Hopkins alumni around the world.
JHU Carey students and alumni likewise have the opportunity to pursue one of the selected Master's programmes at SMU LKCSB, gaining a valuable academic experience in Singapore. Both business schools see this partnership as a solid opportunity to strengthen their relationship, as well as to enhance the breadth of their educational offerings in a global economy and multi-cultural world.
"SMU pedagogy is recognised for its capacity to pair classroom learning with real-world issues, where students get to experience a nuanced curriculum that is rigorous, multifaceted and experiential. Students benefit from interacting with LKCSB faculty members, many of whom are thought leaders who bring rich industry expertise. We are delighted to be partnering with SMU to enhance the learning experiences of our graduates through exposure to Singapore and Asia," said Professor Rick Smith.
SMU students and alumni can enrol in the Fall 2023 intake with JHU, with applications opening in December 2022. For more information, please contact mim [at] smu.edu.sg