SMU President Professor Lily Kong makes the list of women leaders on Asia's Most Influential 2022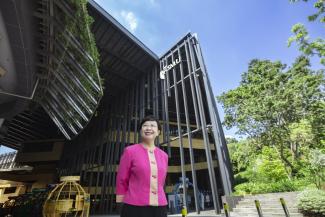 Singapore Management University (SMU) President Professor Lily Kong has been named as "Asia's Most Influential 2022" by Tatler magazine. The list brings together changemakers, industry titans, and powerful individuals who are shaping the region today, and making a positive impact in Asia and beyond.
As the first Singaporean woman to helm SMU, she has made waves in the Singapore education scene, and leads the charge of inspiring more women to take on leadership roles and create equitable opportunities.
A social, cultural and urban geographer, Prof Kong is highly regarded as a thought leader in the study of urban transformations, and social and cultural change in Asian cities. She has written extensively about communal relations, particularly, the intersection of religion and secularity in cities, creative industries/cities, urban heritage conservation, and smart cities. She is also an award-winning researcher and teacher locally and internationally.
Prof Kong was conferred the Singapore Public Service Star (BBM) in 2020 and Singapore Public Administration Medal (Silver) in 2006. In a global study by Stanford University (2020), Professor Kong was identified as among the world's top 1% of scientists in the field of Geography. She has been recognised on Forbes Asia's Power Businesswomen list 2020, Forbes inaugural 50 over 50 (Asia 2022), and was inducted into the Singapore Women's Hall of Fame on 8 March 2022.
Along with women leaders on the list, Prof Kong is indeed making significant achievements, inspiring women and paving the way for a better and more equitable world.
Tatler's list also boasts notable leaders such as Singapore Prime Minister Lee Hsien Loong and SMU Chairman Ho Kwon Ping.
Read more about Prof Kong's achievements on Tatler.