SMU and NCS to nurture software engineering talent through the University's first SkillsFuture Work-Study Degree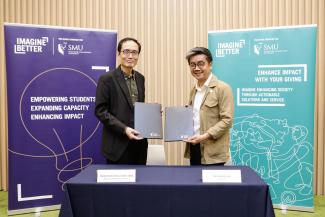 SMU's School of Computing and Information Systems (SCIS) and NCS Pte Ltd, a leading technology services firm with presence in Asia Pacific, have signed a Memorandum of Understanding (MOU) to collaborate in the Bachelor of Science (Software Engineering) SkillsFuture Work-Study Degree. The degree aims to train a pipeline of talent with the necessary knowledge and skills to meet the demand for software engineering talent.
Both parties also signed an agreement to establish the NCS Scholarship and NCS Awards to confer recognition to outstanding students at SCIS.
Professor Pang Hwee Hwa, Dean of SCIS, and Mr Howie Lau, Managing Partner, Corporate Development and Partnerships, NCS Pte Ltd, formalised the collaboration and the gift at a signing ceremony at SMU on 4 July 2022.
Professor Pang said, "SCIS has been expanding our computing offerings and undergraduate admission steadily to help meet Singapore's demand for ICT talent. We have, and continues to, partner likeminded agencies and companies to bring practical relevance to our students' learning journey, and to show prospective students the exciting pathways awaiting them when they graduate with a computing degree. The NCS Scholarship and Awards that we are launching today, along with NCS' partnership in our BSc (Software Engineering) SkillsFuture Work-Study Degree, will further encourage our students to scale new heights of academic excellence, and provide them with the opportunities to experience first-hand the exciting careers at NCS and the larger IT industry. We are delighted that NCS has chosen to partner us, and I look forward to a successful and enduring partnership."
Mr Howie Lau said, "At NCS, we are committed to building a great place for talent to grow and thrive professionally. Our partnership with SMU on the University's first SkillsFuture Work-Study Degree reflects our commitment to nurture tech talents and build future-ready skills, by providing software engineering talents with opportunities to be involved in exciting and impactful work at NCS."
Collaboration in Bachelor of Science (Software Engineering) SkillsFuture Work-Study Degree
Subject matter experts from NCS will be appointed to provide feedback on the BSc (Software Engineering) SkillsFuture Work-Study Degree, co-teach software engineering courses either in the capacity of SMU's adjunct faculty or guest speakers, and jointly co-brand and co-certify a "Certificate of Accomplishment" to undergraduates who have completed an apprenticeship with NCS.
Each apprenticeship will be a 10- to 52-week stint in a software engineering role, with the SMU student working in a software engineering team. NCS will appoint at least one practising software engineer or someone in the equal capacity as a mentor to each apprentice. The mentor will, among other things, be responsible for the technical and professional development of the apprentice during the apprenticeship period, and conduct regular feedback sessions to help the apprentice understand their work performance.
NCS Scholarship and NCS Awards
NCS will be establishing the NCS Scholarship and Awards at SCIS with the objective of motivating undergraduates at the University to achieve academic excellence.
"We are delighted to have NCS support the NCS Scholarship and Awards at SCIS. The NCS Scholarship and Awards are a testament of the organisation's commitment towards this partnership and their support towards building a pipeline of talent for the nation," said Professor Pang.
The NCS Scholarship will be awarded to outstanding year-three students enrolled into the Work-Study programme; the NCS Awards will be given to the top SCIS students in "Introduction to Programming", "Digital Business Technologies and Transformation" and "Computational Thinking" courses.
About the BSc (Software Engineering) SkillsFuture Work-Study Degree
Launched in March this year, the BSc (Software Engineering) SkillsFuture Work-Study Degree is SMU's first work-study degree. It is a full-time, four-year undergraduate degree programme which combines classroom-learning with structured on-the-job training. It features a rigorous 52-week apprenticeship where students work in development teams under the mentorship of professional software engineers. SCIS will welcome its inaugural batch of 40 students from Academic Year 2022-2023 (which begins in August 2022).
Strong industry collaboration: The degree's curriculum is drawn up after extensive consultation with practising software engineers in Singapore and will be updated regularly to adhere to market trends. The courses will be co-developed and co-taught by SCIS faculty and practising software engineers from our anchor partners. In addition to GovTech and NCS, SCIS is looking to collaborate with other industry partners as well.
One-year apprenticeship: Undergraduates of the BSc (Software Engineering) SkillsFuture Work-Study Degree will embark on a one-year apprenticeship, which is credit-bearing, after completing a suite of 12 compulsory courses covering essential software engineering skills. The courses are organised in three clusters: Computing Foundations, Software Development, and Solution Management.
The apprenticeship aims to meet demand from prospective students who seek an applied IT degree with a significantly longer apprenticeship period than what a typical internship offers.
The apprenticeship will allow them to learn industry best practices from subject matter experts and give them a head-start in their career. Working in development teams, the students will innovate software solutions under the mentorship of professional software engineers. They will be able to strengthen and broaden their technical and soft skills with hands-on experience, familiarise themselves with organisational work culture, and enhance their career opportunities with deep industry knowledge and personal professional network.
Term-in/term-out model: At any given time, a student is either a full-time apprentice at work, or a full-time student taking courses at SMU.
Co-design of curriculum with anchor partner companies: SCIS will work very closely with a few anchor partner companies. Besides taking in the bulk of the apprentices, the School will work with senior software engineers from its partners to refine and evolve the curriculum.
The core courses can be slightly tailored to the partner company's specific needs. For example, if a partner company is a financial institution, in-course projects can be contextualised with banking scenarios in order to familiarise students with domain knowledge.
Co-delivery of courses with anchor partner companies: Partner companies will be invited to nominate senior software engineers to teach selected core courses as adjunct faculty.
Outcome of programme: The curriculum has been designed so as to nurture well-rounded graduates equipped with full-stack development skills and software engineering principles for the design, development, testing and maintenance of software systems. Graduates are also expected to be well-versed in cybersecurity, clean coding, DevOps and modern agile software development methodologies, while possessing strong communication skills and ability to work productively in a software development team.
Prospective job roles: Software engineer, software developer, software/IT analyst, programmer, software tester, DevOps engineer, software designer, IT solution architect, software architect.
For more information about BSc (Software Engineering) SkillsFuture Work-Study Degree, please visit https://scis.smu.edu.sg/bsc-software-engineering