$1.4 million to improve access to law schools
SAL expands its scholarship programme for local law schools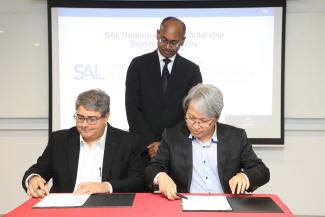 Jointly issued by Singapore Academy of Law, National University of Singapore, Singapore Management of Singapore, Singapore University of Social Sciences
Singapore, 23 May 2022 (Monday) — As part of efforts to nurture its future professionals regardless of their financial means, the Singapore Academy of Law ("SAL") has set aside more than $1.4 million over the next five years (2022 to 2027) to provide scholarships to students from Singapore's three law schools. These scholarships ensure that no student is deprived of an opportunity to study law because they cannot finance their studies.
In a ceremony held this afternoon, Mr Rama Tiwari, Chief Executive of SAL signed agreements with deans from the National University of Singapore (NUS)'s Faculty of Law, Singapore Management University (SMU)'s Yong Pung How School of Law and the Singapore University of Social Sciences (SUSS)'s School of Law. The signing was witnessed by Justice Kannan Ramesh, a member of the SAL Awards and Prizes Committee.
Started in 2017, the SAL Undergraduate Scholarship programme has benefited 10 students from NUS and SMU (read some of their stories in Appendix A). From this year, it will be extended to students from SUSS as well.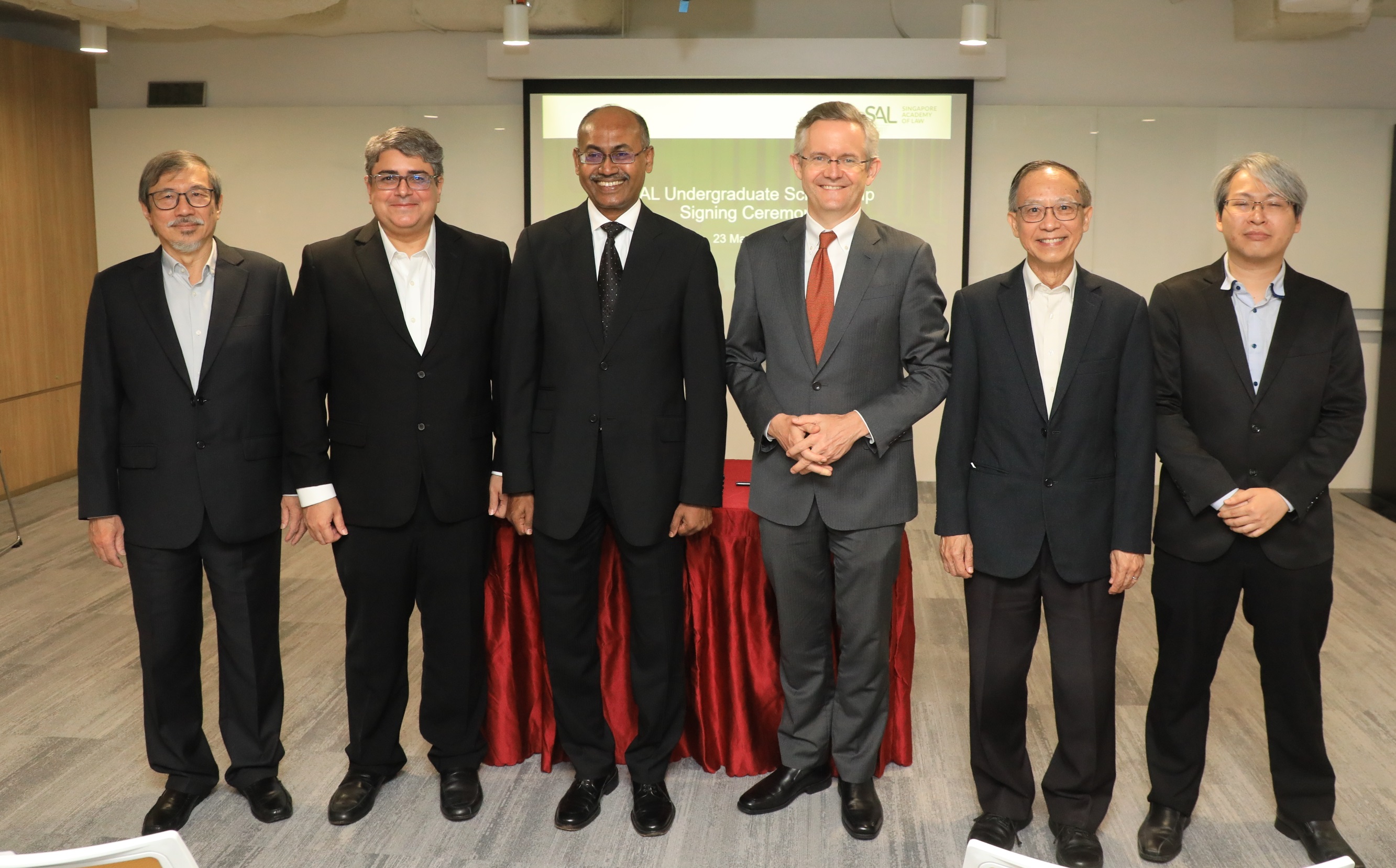 "The SAL Undergraduate Scholarship is a lifeline for bright students who do not have the financial means to access an education at Singapore law schools, which are among the best in Asia," said Mr Tiwari. "We are pleased to extend our scholarship to students from SUSS, many of whom are mid-career adults. SUSS focuses on the areas of criminal law, family law and community justice—which are 'bread and butter' issues for Singaporeans."
At the start of each academic year, the scholarship will be awarded to up to three students, one from each university. Recipients receive full tuition fees coverage for their law education and a sum for living expenses, working out to $23,000 a year for each NUS and SMU student and $21,610 for each SUSS student.
Recipients will also be given the option to participate in an internship programme at SAL, allowing them to contribute to its mission of enabling future-ready and trusted legal professionals. The experience allows them to forge meaningful networks with SAL members, who represent every segment of the profession.
Eligible candidates can apply through their respective universities during an annual exercise. Shortlisted candidates will be interviewed and selected by judges from the SAL Awards, Prizes and Scholarships Committee, comprising a panel of High Court judges.
Professor Simon Chesterman, Dean of National University of Singapore Faculty of Law, said, "Access to justice begins with access to law school. We're deeply grateful to the Academy for its ongoing commitment to ensuring that a legal education is available to everyone – regardless of financial means. This support enables students who might otherwise not have received a legal education to realise their potential and, in many cases, give back to the community when they join the profession."
Associate Professor Alvin See Wei Liang, Associate Dean (Undergraduate Teaching & Curriculum), Yong Pung How School of Law at SMU, said, "We are grateful to SAL for their encouragement of and commitment towards financially challenged law undergraduates at SMU. The Scholarship has and will continue to enable deserving students to enjoy a fulfilling university education free from financial burden and distractions, and motivate them to pursue all-rounded excellence. Moreover, the practical exposure they receive through the SAL internship programme certainly complements their academic learning in preparing them for the future of legal practice. We are also confident that SAL's generosity will inspire them to pay it forward when they begin their legal career in the near future."
Professor Leslie Chew, SUSS School of Law's Dean, said, "At SUSS, a significant proportion of our law students are working adults, juggling work, family responsibilities and school. About one-third of them do not qualify for government subsidy and pay their school fees using their savings. This scholarship programme from SAL will help ease the burden of our students who are training to become socially-conscious family or criminal lawyers to contribute back to the community."

APPENDIX A
Motivated by the faith that the scholarship selection committee had in her, Charmaine Sng, a fourth-year NUS Law student who has been supported by the scholarship since year one, poured her energies into honing her advocacy skills through mooting and other competitions. Her hard work paid off, and her team emerged Champions at the International Bar Association-Vienna International Arbitral Centre Mediation and Negotiation Competition, held virtually in July 2021. She said, "As graduation approaches and I reflect on my journey in law school, I am incredibly grateful for all the support SAL has given me, allowing me the peace of mind to enjoy my studies and the freedom to pursue meaningful extracurricular activities."
Yuan Yang, a first-year NUS Law student, has been inspired by the scholarship to pay it forward by volunteering with ItsRainingRaincoats and with the Humanitarian Organisation for Migration Economics (HOME) to meet the needs of the migrant community in Singapore. "COVID-19 has brought a lot of uncertainties to my family's financial position this year, and I am truly grateful to be granted the opportunity to put aside financial concerns and focus on my studies as well as giving back to the community", shared Yuan Yang.
Ysabel Tan, who graduated from the SMU Yong Pung How School of Law in 2021, was one of the first recipients of the SAL Undergraduate Scholarship. The 24-year-old, who will be called to the Bar later this year, is now an apprentice at Taxise Asia, a boutique law firm specialising in international tax and international trade law. She recalled how the scholarship had enabled her to fulfil a childhood passion to do law without having to worry about putting a financial strain on her family. "I'm the oldest of three children, so there was always a worry that if my father had to pay for my education, there wouldn't be anything left for the other two. Receiving the scholarship was a huge relief as it allowed me to focus on my studies. This opportunity to go to law school has opened my eyes to how vital law is to the community and has strengthened my conviction to help more people access justice."
Sasiy Krishnan is a freshman at SMU Yong Pung How School of Law. Having overcome multiple hurdles throughout his educational journey, Sasiy is grateful for this scholarship as it provides him with the opportunity to pursue a law degree on equal financial footing with his peers, despite his underprivileged background. "Both of my parents are low wage labourers, and are in their sixties. Their monthly salaries are barely sufficient for our daily expenses. They are also suffering from chronic medical conditions, which gives rise to concerns around their long-term employability. This scholarship would greatly alleviate our family's financial burdens and allow us to cast aside worries of being unable to afford my tuition fees and living expenses."