Living and Thinking Through The Pandemic : The Local, the Global and the Planetary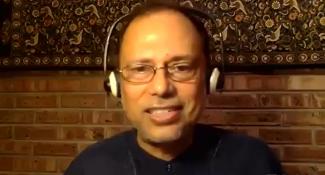 The sixth Annual Ikeda Peace and Harmony Lecture was held virtually on 24 September, with an attendance of more than 1,000 guests that included the academic community, students, alumni and public.
Organised by SMU's Wee Kim Wee Centre (WKWC), the lecture series is supported by the Singapore Soka Association and aimed at enhancing understanding of peace and harmony through greater conversations in society.
Mr. Michael Yap, Vice General Director of the Singapore Soka Association opened the session with a welcome speech, which was followed by an insightful dialogue by Professor Dipesh Chakrabarty. Professor Chakrabarty is the Lawrence A. Kimpton Distinguished Service Professor of History and South Asian Studies at the University of Chicago. He was a founding member of the Subaltern Studies collective, and recipient of the 2014 Toynbee Memorial Prize, which recognises social scientists for significant academic and public contributions to humanity. He was also awarded the Tagore Memorial Prize in 2019 by the Government of West Bengal, India, for his book The Crises of Civilization (2018).
The lecture proposed that situating the current pandemic requires us to think through two connected but distinct sets of worldwide processes that today impact human lives everywhere, that may be called "the global" and "the planetary." Professor Chakrabarty opined that while we celebrate human progress, social scientists have not looked at the environmental impact on the globe until recent years. The current COVID pandemic is a result of environmental problems and show how the global and local intertwines to affect our lives. It is therefore important that we examine what we make of modernisation, economic growth and the sometimes negative impact they have on the planet.
In his closing, Professor Chakrabarty surmised that in order to have change happen, humans need to evaluate what is really essential in the long term. He believes that parents have a responsibility to nurture their children with the right mindsets from young. This, in tandem with the role of governments and other agencies, would preserve the balance between the local, the global, and the planetary.