School of Information Systems don wins outstanding educator award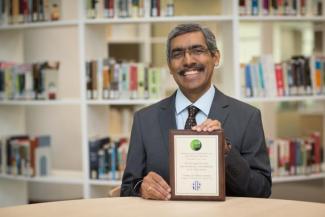 ·        Award by Association for Information Systems (AIS) recognises a faculty who has made outstanding contributions to information systems (IS) education.
·        Prof Venky is the first academic outside USA to win this award, which was established in 2012.
Professor Venky Shankararaman, Professor of Information Systems (Education), Associate Dean (Education) at SMU's School of Information Systems (SIS), has won the Award for Outstanding Contribution to IS Education.
The award was presented by the Association for Information Systems (AIS) to Prof Venky at the AIS International Conference on Information Systems held in New Zealand on 14-17 December 2014. AIS is the premier professional association for individuals and organizations who lead the research, teaching, practice, and study of information systems worldwide.
Said Prof Venky, "I see this award as recognition and outcome of the efforts that we have put into the continuous improvement of the curriculum and pedagogy for the Bachelor of Science (IS Management) program. Furthermore, it is a testimony to the high quality of our program".
"We recognise that Prof Venky Shankararaman of SMU School of Information Systems has made significant contributions to IS Education over the past years.  He has shown outstanding achievements both in developing IS curricula as well as delivering innovative pedagogical concepts. The "Award for Outstanding Contribution to IS Education" recognises these achievements to our field," said Dr Jan vom Brocke, AIS Vice President for Education, and Professor, Hilti Chair of Business Process Management, University of Liechtenstein.
Prof Venky joined SIS in 2005. His areas of specialisation include business process management and analytics, enterprise systems and integration, and information systems pedagogy. Over the last nine years, he has been experimenting with various approaches to develop both the content and methodologies for effectively delivering courses that are focused on enterprise technology. In 2010, he won the SMU Distinguished Teacher Award which recognises faculty members who go above and beyond the call of duty to promote a first-rate learning experience for SMU students and colleagues.
As a programme administrator, Prof Venky has been leading the curriculum design and renewal effort of the Bachelor of Science (IS Management) program. Working with other faculty in SIS, Prof Venky has been driving the School's initiative on outcome-based education. This initiative is focused on studying how competencies defined at the course level and learning outcomes established at the programme level can become the focal point of the teaching and learning process, and how those concepts can effectively drive the design of the program curriculum.
Prof Venky has been researching and publishing papers in the area of developing innovative and effective teaching methodologies and content for enterprise systems technology centred university-level courses. Most recently, he co-authored a paper which won the Best Paper Award at the IEEE Global Engineering Education Conference (EDUCON 2013) in Berlin, Germany, in the category "Knowledge and Competencies in Engineering Education.
He has also contributed significantly to IS education to both in Singapore and internationally. In Singapore and the region, he has been consistently contributing to the wider IS community by volunteering as an advisor to some of the education institutions. He has also been appointed as a subject matter expert and reviewer for the Accreditation panel of the Singapore Government, National Infocomm Competency Framework, and the Singapore Workforce Development Authority.
In the Southeast Asian region, Prof Venky has been playing a pivotal role in promoting enterprise systems education. In 2014, he was awarded the SAP Outstanding Academic Award for Southeast Asia, awarded by SAP to recognise his contributions to enterprise systems education.
[Featured photo: Prof Venky's outstanding contributions to IS education, including curriculum design and pedagogy research, have seen him garner the AIS Award for Outstanding Contribution to IS Education 2014.]