Office of Research Conducts Information Session on MOE Tier 2 Grant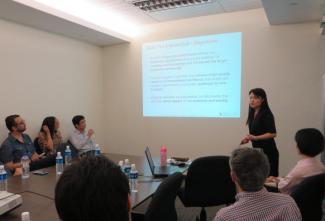 The Office of Research (ORe) conducted a grants information session (click here for slides) on the Ministry of Education (MOE) Tier 2 grant on 12 November 2014 for SMU faculty. The aim of the session was to enhance their understanding of the funding objectives and guidelines so as to help them prepare successful grant proposals.
The MOE Tier 2 Grant, which funds projects on a competitive basis across Singapore-based universities, conducts two grant calls per year in February and August. The objectives of the programme are:
1.       To support Singapore-based research that has academic significance and a good potential for creating new knowledge that will benefit the larger academic community;
2.       To support research outcomes that advance high-quality research of international excellence that challenges current understanding or provides pathways to new frontiers; and
3.       To support research as a foundation for discoveries that will have a direct impact on the economy and society.   
Apart from the grant application and evaluation process, participants were briefed on the common pitfalls of unsuccessful applications and merits of awarded proposals. Attendees were also advised on how to structure their project budget according to broad categories such as manpower, equipment and other operating expenses, as well as what constituted fundable and non-fundable items. 
The question-and-answer segment elicited lively participation from the attendees, whose questions were fielded by the grants administration team. The session attracted 13 faculty members from various Schools, including Lee Kong Chian School of Business, School of Economics, Law and Social Sciences. Attendees who provided feedback commended the session for being well-structured and informative.
Office of Research, Singapore Management University