Light on the feet and ready to soar
A footwear brand known for style and comfort for older women reinvents itself for Gen Zs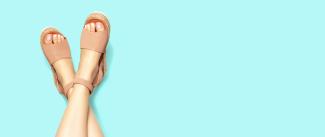 DMK, a Singaporean brand, was established in 2000 by Wendy Ng and her husband Peter Goh. It was initially known among mature women as a brand that provides comfortable and stylish shoes while also helping them feel and look good. Wendy's inspiration for creating DMK was to address a common problem of wide feet and bunions that many Asian women faced. She believed that wearing comfortable and fashionable shoes could have a positive impact on a woman's self-image, and it did not have to be an expensive habit.
For the real woman
Peter and Wendy had been in the original design manufacturing (ODM) business of footwear since 1983. They utilised their relationships, knowledge, and resources to launch DMK. To keep costs low, the couple managed functions such as design, retailing, human resources and logistics in-house. Wendy's approach involved incorporating vibrant and contemporary hues into comfortable designs, all priced at less than S$39. This stood in stark contrast to the prevailing trend at the time, which featured snug-fitting footwear that posed challenges for many Asian women.
Each pair of shoes was hand-sewn based on real feet measurements, rather than industry standards. They were designed to be comfortable and in line with the latest trends. The couple focused on using word-of-mouth to promote their products. The business saw steady growth, and the first DMK store opened in a mall in Singapore's shopping precinct in 2000, breaking even within three years.
New leaders, new aspirations
DMK is a family-owned business, with the couple's two daughters becoming part of the company in 2014 and 2016. Sophia, the older sibling, assumed the role of Chief Operating Officer, while Eileen took on the position of Chief Creative Officer.
As the second-generation leaders of DMK, they realised that they could do more to grow the business and revitalise the brand's image. DMK had primarily catered to the Gen X and baby boomers who were approaching retirement age, missing out on new market opportunities from the millennials and Gen Z segments.
However, Wendy and Peter were not very supportive of their daughters' aspirations to grow the brand as they believed it was doing well enough despite minimal marketing. It wasn't until the COVID-19 pandemic disrupted the business that they realised the need to expand the business digitally and to new consumer segments.
The COVID-19 disruption
In 2020, DMK's earnings fell by 30 per cent compared to the previous year due to the decline in business. As more office workers began working from home, there was less demand for office footwear. To combat this, the sisters embarked on a rebranding campaign that focused on shoes supporting a woman's journey throughout her life, rather than just providing comfort and style.
This led to the development of new shoe lines, including sneakers and casual wear for various occasions. Eileen aimed to create an emotional appeal for the brand, and establish an emotional connection beyond the functional aspects of the brand such as fit, style, and comfort. The team utilised influencer marketing, new store concepts, and customer engagement tactics to build a rapport with the newly acquired millennial and Gen Z consumers.
In March 2022, the sisters expanded on the rebranding initiative, moving from the original brand mission of "Look Good, Feel Good" to "Look Good, Feel Good, Do Good." The latter involved DMK playing a more significant role in the life journey of women by supporting victims of domestic violence, breast cancer survivors and the LGBTQ+ community.
In addition, DMK expanded its product line to include shoes for different occasions, such as boots, sandals, pumps and moccasins, as well as bags for both fashion and work. The company also took a more focused approach towards sustainability by curating products with minimal waste. Stores were renovated with a greater sense of modernity and warmth, and Fit Stylists were trained to assist customers in selecting the best shoes and shoe accessories for the occasion.
The new chapter of DMK
Digital analytics played a significant role in boosting sales for DMK. For instance, the company utilised the SME Go Digital Programme offered by the Singapore government to leverage video analytics to monitor foot traffic and changes in customer behaviour in real time, specifically in response to product displays in their stores.
When working from home became the norm during the COVID-19 pandemic, DMK started an Instagram channel to share lifestyle tips and showcase their evolving visual identity. It also collaborated with local social influencers like Sonia Asyira, Eileen Mak, and Rachel Ng to increase their following and ventured into TikTok, garnering over half a million views on some of their videos.
DMK's innovative approach during the COVID-19 crisis has transformed the company's identity and resulted in significant progress. In 2022, Enterprise Singapore selected DMK to feature in the Little Red Dot: Singapore Showcase at Snowfields in New York, which is a testament to how the footwear brand, which initially targeted Asian women, has successfully reinvented itself and now appeals to a broader audience.
The case "DMK: Rebranding a Footwear Brand to Connect with Millennials and Gen Z" is written by Dr Patricia Lui, Senior Lecturer of Marketing at Lee Kong Chian School of Business, Dr Jovina Ang, Case Writer, and Lipika Bhattacharya, Assistant Director, from the Centre for Management Practice at Singapore Management University. To read it in full, please visit the CMP website by clicking here.