SMU's Team Cognitare triumphed over 19 teams to become 26th Global Champion at the Thammasat Undergraduate Business Challenge 2023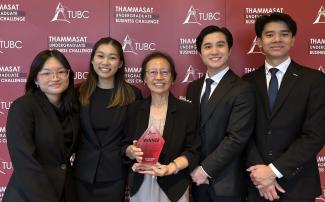 Team Cognitare, SMU's business case club, has clinched the title of Global Champions at the prestigious Thammasat Undergraduate Business Challenge (TUBC), organised by Thammasat University in Bangkok, Thailand. They competed against 19 other teams hailing from universities across Asia, Australia, Europe and North America at this year's competition, which took place from 11 to 16 October 2023.
The team, comprising undergraduates Megan Teo (Year 3, BBM), Yew Jing Zheng (Year 3, BBM), Ng Ding Xian (Year 2, BBM) and Veronica Wong (Year 2, BBM), faced the challenging task of devising innovative store formats for Better Vision with the goal of targeting previously untapped customer segments for rapid growth.
Their journey to victory was far from easy, involving an intense 28-hour case cracking session that pushed their problem-solving skills to the limit. In the preliminary round, the team stood out with their dedication and ingenuity, and topped their division to progress to the finals. Despite facing technical difficulties during the final round, the team powered on, ultimately securing the title of overall Global Champions, beating out heavyweights such as Erasmus University and University of California, Berkeley.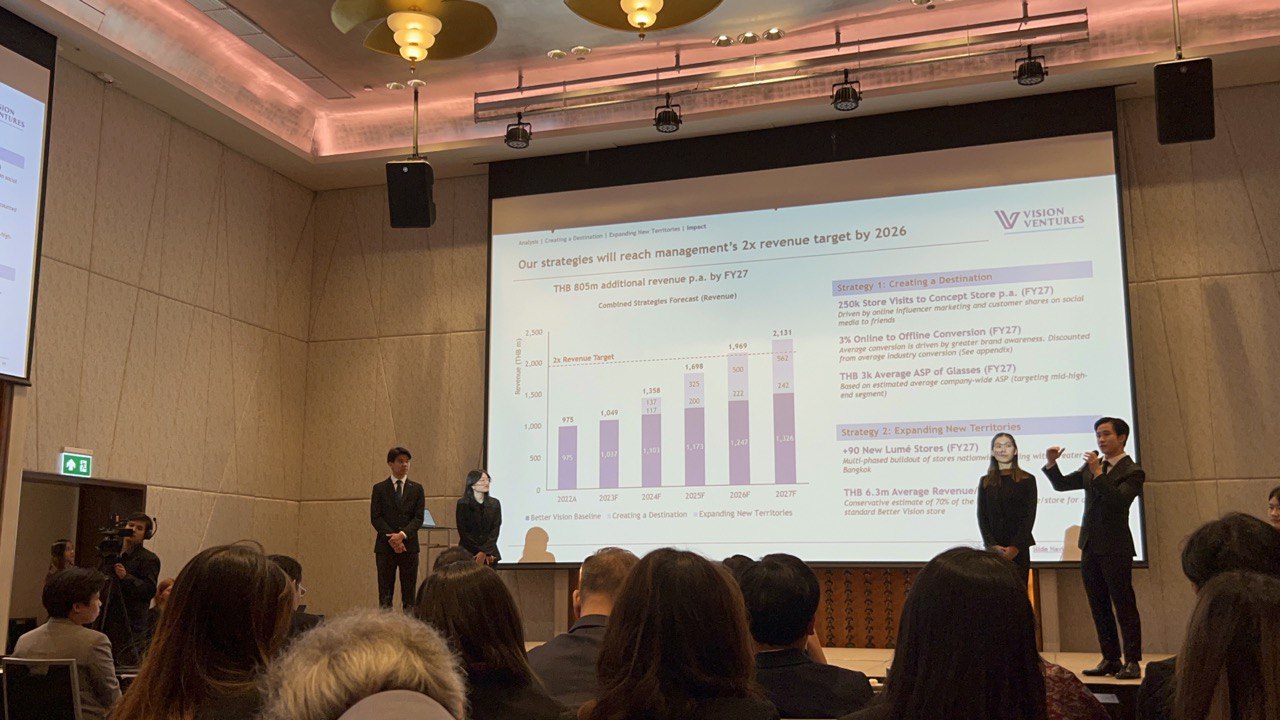 The team's winning proposal was a brand-new concept store to capture the rising trend of mid-price fashion enthusiasts seeking variety in their eyewear. Additionally, the team recognised the need to cater to practical, price-conscious customers who value transparency in their purchases. For this segment, they proposed a store format where customers could easily discern the final price of frames and lenses, and a range of cost-effective, budget-friendly frames were made available.
The judging panel, made up of C-suite executives from the case company, consultants and investment bankers, were impressed by Team Cognitare's ability to craft feasible yet highly creative strategies that envisioned Better Vision's potential to target customers at various price points. In addition to their insightful recommendations, the judges also commended the team for their strong display of teamwork and exemplary presentation skills.
This victory gave SMU a second podium finish in two consecutive years, a significant achievement particularly since Cognitare had fielded a junior team this year.
Commenting on the win, team leader, Megan Teo, said, "I am proud of our team for the unwavering dedication and resilience in representing our University and School. We would like to express our immense gratitude for the generous support of LKCSB, our faculty advisor, Dr Ma Kheng Min, and senior members of Cognitare, for their steadfast support and guidance in our training. We deeply appreciate the invaluable advice and encouragement from everyone!"