Reinventing the sweet taste of nostalgia, sustainably
How a fourth-generation owner of a 133-year-old Taiwanese pastry shop saved it from oblivion as consumers shifted to Western confectionery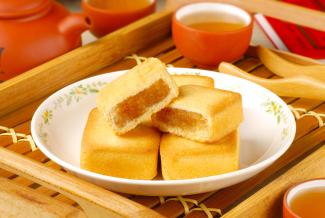 When Eric Lee took over his family's pastry business by buying over the company's shares from his uncle in 1995, it was not in good shape. Its branding was weak, and it suffered from a lack of diversification at a time when consumers were switching to buying Western pastries en masse. But for Lee, the fourth-generation owner and now the Chairman of the company, the traditional Chinese pastries by Jiu Zhen Nan were not just a family business, but a historical and cultural treasure that he wanted to preserve as a deeply personal mission. Though he was trained in real estate investment, he pursued an EMBA at the National Sun Yat-sen University in Taiwan to arm himself with business and management skills to save Jiu Zhen Nan.
Jiu Zhen Nan was founded in 1890 during the Qing Dynasty, with its first store in Tainan, in southern Taiwan. It then moved to Kaohsiung, another Taiwanese city further south, where Zhen Nan Pastry Shop was officially registered as a business in the 1920s. Jiu Zhen Nan's specialty product is traditional Chinese Han pastry (汉饼), popular during major festivals, weddings and religious celebrations.
The pastries of Jiu Zhen Nan go back a long way. The Hans are the dominant ethnic group in China and Han pastry supposedly dates back to the time of the Three Kingdoms (220 to 280 AD), when pastries were distributed to announce the nuptials of Liu Bei, a famous warlord.
Focus on heritage
Underpinning Lee's strategy to turn the family business around was his focus on tradition and history. Under his leadership, the business pulled out of crisis mode, thanks to improved operations management, sales channel cultivation, enhanced products and better packaging.
For instance, he understood the consumers' preference for healthier snacks and reduced the amount of oil and sugar used in the manufacturing of pastries without affecting their taste and texture. To appeal to the young, he introduced a product image that projected the Chinese identity in a modern and stylish manner, featuring Chinese calligraphy, papercuts, poetry and embroidery.
To ensure increased brand exposure, Lee opened shops at upscale department stores, high-speed rail stations and airports both in Taiwan and Hong Kong. In addition to bolstering operation efficiency and inventory control, he implemented an Enterprise Resource Planning system at Jiu Zhen Nan headquarters and central kitchen. A cloud-based customer relationship management system was also launched.
According to figures for 2019, Jiu Zhen Nan employed 210 employees and generated US$13 million in income, with a profit of US$645,000. But Lee had bigger ambitions.
Embarking on sustainability
Lee firmly believed that a business must give back and do better for society. In 2015, he initiated Jiu Zhen Nan's corporate social responsibility (CSR) journey. In recent years, the company has integrated sustainability into its business strategy and sought to implement these beliefs through the Environmental, Social, and Governance (ESG) framework. Lee commented, "Our promotion of the Han pastry culture is an important aspect of social participation. In terms of environmental sustainability, our headquarters and factories are green buildings."
To understand what CSR means and how it applied to Jiu Zhen Nan, Lee had discussions with department heads as well as other employees on the way forward for the company. To begin with, the focus was on food safety and a slew of certifications were obtained, including vital ones for Safe Quality Food, ISO 22000 (Food Safety Management), and HACCP, or Hazard Analysis Critical Control Point. The company also took action to ensure energy conservation and to cut carbon emissions. It was committed to sustainable sourcing and sustainable water management in its business practices.
At the community level, it reached out to residents by helping minority groups and promoting arts and culture through social and cultural activities. Sustainability targets were incorporated into its annual work plan, and Jiu Zhen Nan has been voluntarily reporting its CSR initiatives despite being a non-listed company.
In addition, the firm engaged an ESG instructor from Sun Yat-sen University and the Leadership Enterprise Management Professional Advisory Group to review the company's performance indicators, based on the Global Reporting Initiative standard, which was derived from an independent organisation that provides a structured way for businesses and companies to report the impact of their activities.
Communicating to stakeholders
Getting buy-in from internal stakeholders during a journey of culture change was crucial. On a weekly and monthly basis, the management shared updates on the company's current and future operation plans.
Lee has also been preparing to hand over the business to the fifth generation, namely his sons Richard and William, and all three have been working hand in hand to implement ESG initiatives effectively. Both Richard and William see opportunities to introduce practices that enhance operations. Richard focuses on sales pipeline management while William works on integrating the supply chain with the firm's corporate ESG strategy. Arising from this ESG strategy, the firm even holds an annual supplier conference to share the latest ways to improve supply chain sustainability, such as better wastewater treatment to ensure food quality and safety for the whole supply chain for Jiu Zhen Nan.
Despite the increasingly challenging economic landscape in the 2020s, Jiu Zhen Nan's leadership is committed to sustainability as the cornerstone of their strategy to thrive in the next 100 years. The brand's next chapter will be written by the new generation who will navigate the delicate balance between people, planet, and profit as they continue to promote the traditional Chinese food culture from Taiwan.
This case "The Sustainability Sweet Spot at Jiu Zhen Nan Taiwan Pastry" is written by Associate Professor of Organisational Behaviour & Human Resources Tan Hwee Hoon of Lee Kong Chian School of Business, Assistant Director of the Centre for Management Practice Dr Cheah Sin Mei, Deputy Director of Business Families Institute@SMU Esther Kong and Professor Chung Hsi-Mei at I-Shou University, Taiwan. To read it in full, please visit the CMP website by clicking here.