Winners of the CIS Core Curriculum Teaching Excellence Awards Honoured for Igniting Learning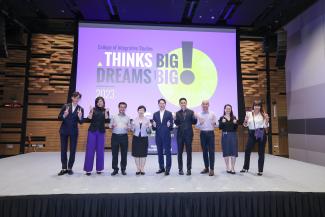 Faculty members were lauded at the Singapore Management University (SMU) College of Integrative Studies (CIS) Core Curriculum Teaching Excellence Awards, for going the extra mile in delivering innovative and exceptional learning experiences for their students. Held in-person for the first time at SMU Yong Pung How School of Law on 25 August 2023, the award ceremony recognises the importance of teaching as a complex and multidimensional endeavour and celebrates the efforts of faculty who have created an outstanding impact on students and their fellow educators.
The CIS Core Curriculum Teaching Excellence Awards were announced at the inaugural CIS Thinks Big Dreams Big event. This event marked the start of a new academic year and served as an opportunity to bring together the CIS community, connecting the College's very first cohort of students, with leaders in business and the CIS faculty.
The evening event was attended by more than 100 faculty, staff and students of SMU, as well as industry members. CIS Advisory Board Chairperson, Mr Edmund Lin, highlighted that Singapore's educational has matured and is now at a stage where students deserve greater latitude and control over their learning experience. He stated that CIS plays a crucial role in curating and facilitating student learning with real industry needs and social challenges. Mr Lin underscored how the CIS individualised major programme will redefine specialisation by cultivating vanguard specialists not constrained to the disciplines of existing schools and programmes.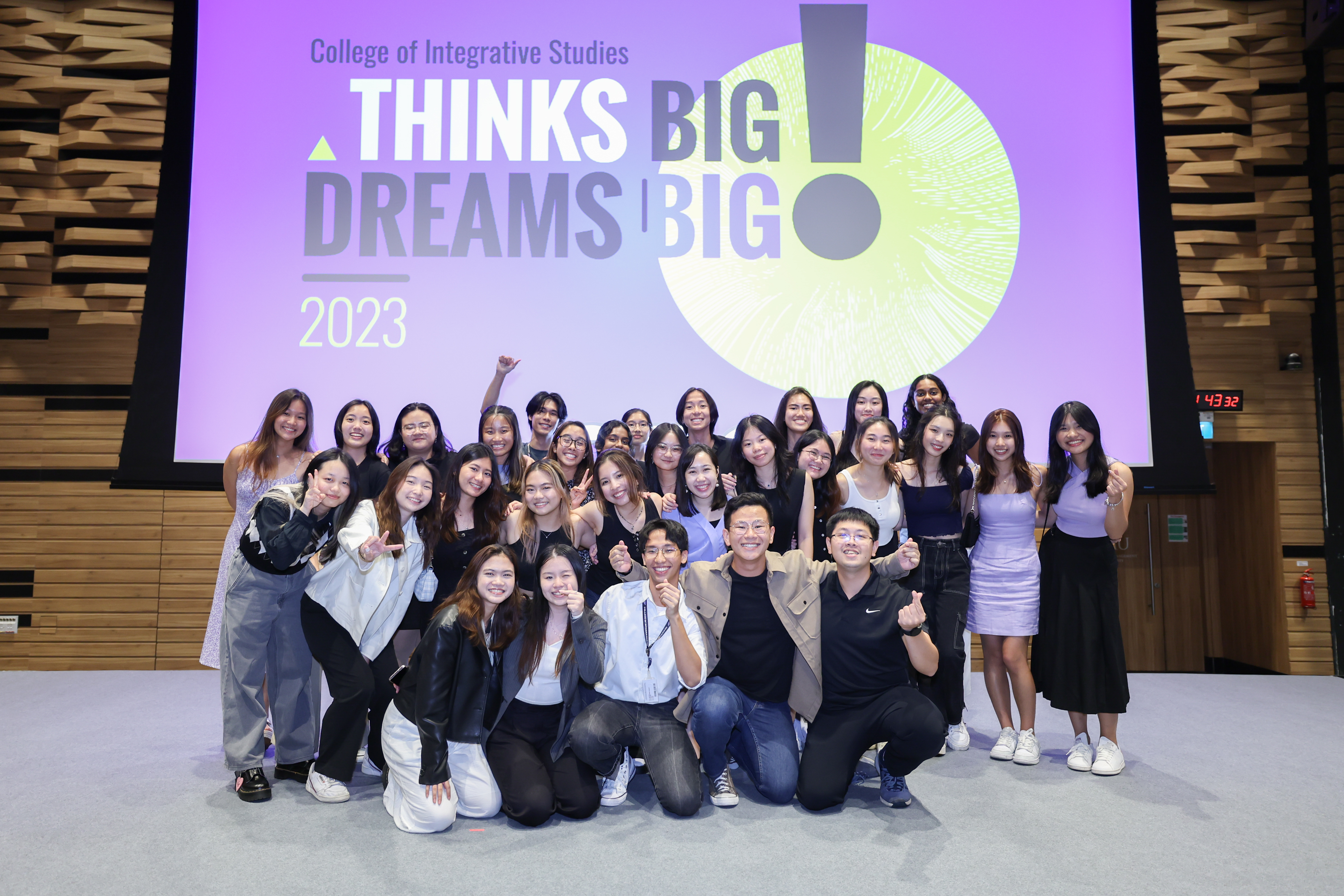 In her opening remarks, SMU President Prof Lily Kong said, "CIS's mission is to really chart a different way of educating students so that they take charge of their education." She commended the CIS students for their courage and gumption in charting their own path, rather than following the tried and tested pathways taken by those before them.
Prof Kong elaborated that CIS will help students pursue a purpose driven education, where students can discover causes they want to make difference to and are passionate in. She noted that CIS grants students the space to craft their education journey in areas that that are not catered to by conventional majors, with mentorship from faculty and industry professionals.
Such mentorship served as valuable guidance for students. Amongst the faculty members attending the evening event, the six instructors who received recognition for their excellent teaching and classroom contributions in academic year 2022/23 were:
For the first time, the Hall of Fame Award was also presented to Assoc Prof Yuanto Kusnadi, Asst Prof Aidan Wong, and Dr Emily Soon for having won the Core Curriculum Teaching Excellence Award for three consecutive years. This bore testament to their exceptional dedication and outstanding contributions to teaching excellence.
The recipients had been evaluated by an Awards Committee comprising a group of Course and Basket Coordinators of the Core Curriculum, who subsequently made their recommendations to the Dean of the College of Integrative Studies.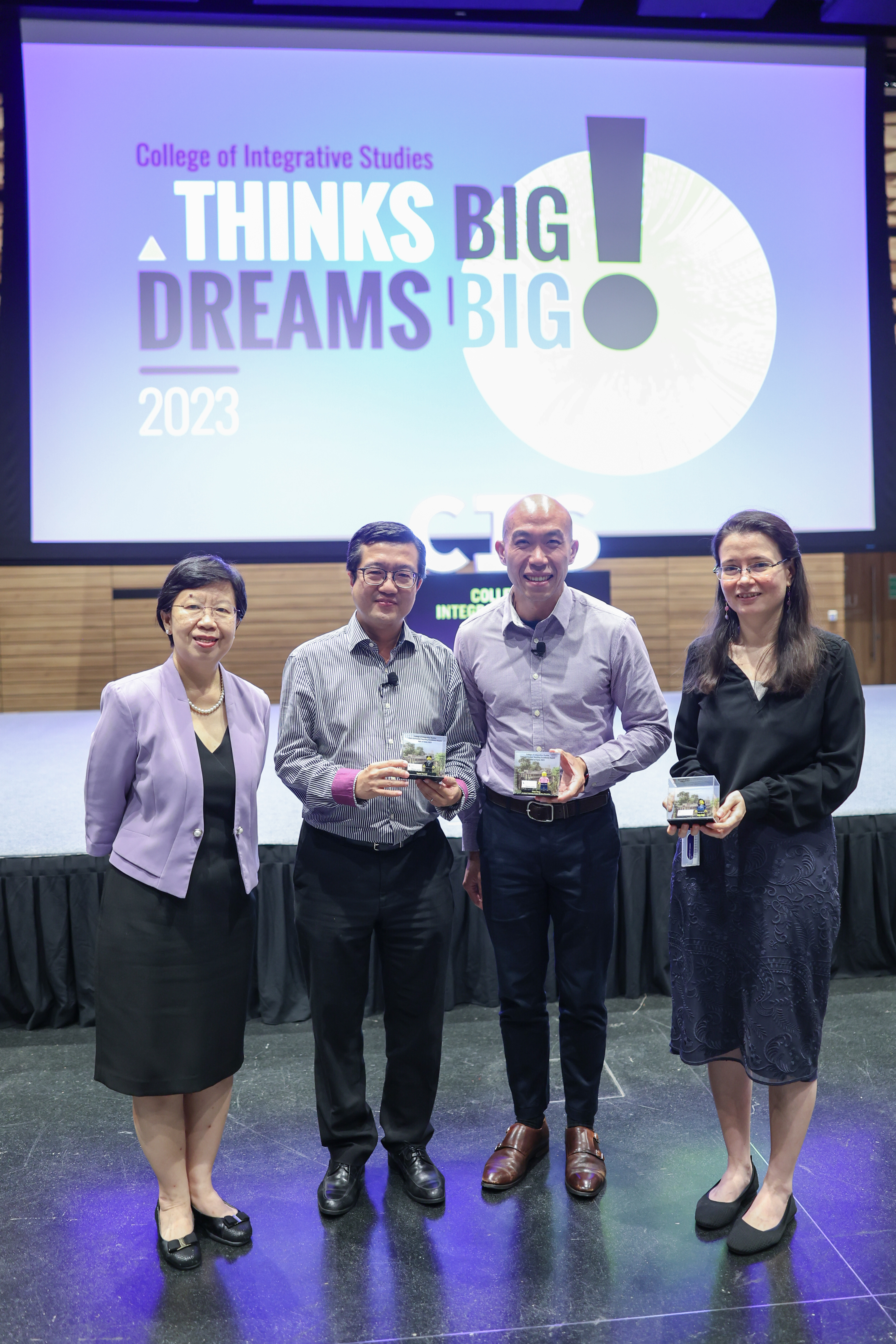 "Excellent teachers inspire their students, not simply equipping them with knowledge but igniting their curiosity and passion for learning. The winners of this year's CIS Core Curriculum Teaching Excellence Awards have all gone that extra mile to provide an exceptional classroom experience to their students, and even more importantly, to spark their students' desire to continue and deepen their learning journeys beyond the classroom," said Christine Henderson, CIS Assoc Prof of Political Science, Chair of the Awards Committee.
"All awardees had glowing feedback and comments showing that the extra effort - such as in the novelty of classroom instruction, and in engagement and in enthusiasm - resonated with students consistently and made sure that their learning experiences don't just stay in class but go beyond it. And to make a lasting impression when teaching Core Curriculum courses for SMU students across different schools - the winners all showed an "x-factor" in their teaching," added CIS Assoc Prof of Urban Climate and Lee Kong Chian Fellow Winston Chow, a member of the Awards Committee.
Heartiest congratulations to all recipients for their significant contributions and achievements in enabling a topnotch learning experience for students!
Photo credits: CIS