SMU Assistant Professor Seulki Lee bags two prestigious awards by the Journal of Public Administration Research and Theory
Dr Seulki Lee has been given the 2023 Beryl Radin Award and the Outstanding Reviewer Award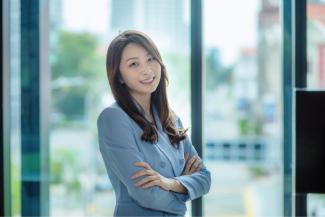 Singapore Management University (SMU) School of Social Sciences (SOSS) Assistant Professor of Public Policy and Lee Kong Chian Fellow Seulki Lee has been awarded the 2023 Beryl Radin Award for her article titled "When Tensions Become Opportunities: Managing Accountability Demands in Collaborative Governance," in the Journal of Public Administration Research and Theory (JPART). JPART stands as one of the leading journals in the field of public administration and publishes top-tier theoretical and empirical research within the field.
The Beryl Radin Award is presented annually to recognise the best article published in JPART, celebrating researchers who make significant contributions to the study of public administration.
According to the Award Committee, Asst Prof Lee's article "provides JPART readers with an elegant, well-constructed, theoretically and practically significant article, and is a prime example of how qualitative research can be leveraged to advance compelling theory. The paper combines empirical analysis with extant theory to build a rich theoretical model and offer propositions that explain how conflicting accountability demands are best managed. Perhaps more importantly, Lee pushes theory to make an important contribution about how these conflicts can be used to improve collaborative governance. Implications for practitioners seem immediately useful."
About Collaborative Governance
Asst Prof Lee's research unveils the intricacies of accountability challenges that manifest in emerging governance contexts, specifically focusing on collaborative governance. Over the last several decades, governance models have shifted from unilateral, bureaucratic models to multilateral, polycentric, and participatory ones. Diverse societal entities, spanning the public, private, and nonprofit sectors, as well as various levels of government, collaboratively engage in policy decision-making and management. This collaboration across boundaries is characteristic of an emerging trend known as collaborative governance.
About the study, its rationale and findings
The study conceptualised accountability tensions in the context of collaborative governance and identifies response strategies that collaborative governance participants use to cope with these tensions. Based on a qualitative case study of a Korean interorganisational network dedicated to enhancing tourist safety through joint efforts, the analysis reveals that accountability tensions vary across the sources of the demand, and they are more likely to emerge when procedural and institutional arrangements display gaps, or when collaborators' levels of commitment diverge.
The findings suggest that accountability tensions, when harnessed and actively managed, may be viewed as opportunities for advancing the whole network's mission and enhancing its accountability. This study proposes a novel framework for comprehending accountability tensions in collaborative governance with propositions that elucidate the mechanisms through which accountability tensions emerge and are managed.
Regarding the impetus behind this study, Assistant Professor Lee conveyed, "Collaborative governance is increasingly being embraced across diverse policy domains to tackle complex, intractable issues and public dilemmas that conventional policy approaches struggle to resolve. While collaborative governance has the potential to incubate innovative policy solutions and create public value, it concurrently presents intricate challenges related to accountability. My research aims to address a critical gap in the public management literature on accountability in emerging governance contexts by unraveling the complexities entailed in maintaining accountability within cross-sector, multi-stakeholder networks."
She further elaborated, "My aspiration is to continually advance and broaden my research on multifaceted accountability matters within emerging governance contexts, contributing fresh insights toward accountable governance."
The article also garnered recognition at the Public Management Research Association Conference. A list of previous awardees can be accessed here.
Asst Prof Lee also received the JPART Outstanding Reviewer Award which honours a selection of outstanding referees who continually provide thoughtful, timely, developmental reviews.
Congratulations Asst Prof Seulki Lee for your achievements and winning these two awards.