SMU redefines lifelong learning with innovative stackable, applied Industry Practice Master
Industry Practice Master of Digital Economy to welcome its first cohort in January 2024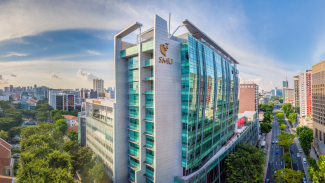 Singapore, 3 August 2023 (Thursday) – Singapore Management University (SMU) will soon introduce a new educational offering – Industry Practice Master programme (行业实践硕士课程) – through its professional training arm, SMU Academy. For a start, SMU Academy will offer the Industry Practice Master of Digital Economy with two track specialisations - Data Protection and Data Governance, and Digital Supply Chain and Intelligence.
SMU is the first university in Singapore to launch a stackable postgraduate programme that focuses on practical application. The programme also stands out for its emphasis on flexible learning, personalised learning, integrated SMU-employer partnership, and experiential and work-based learning; furthermore, lifelong learning coaches will also support students' learning experience and career development.
This is also the first data protection programme in Singapore to be offered at the Master's level. These 'firsts' put the Industry Practice Master programme at the forefront of adult learning offerings nationwide.
Designed to cater to the unique needs of adult learners, the key features of the SMU Industry Practice Master are as follows:
Flexible learning where learners can 'stack' relevant skills-based courses offered at SMU Academy.
Personalised learning through the recognition of relevant industry certifications or 'design your own module' option.
Work-based learning through SMU-XL, an experiential learning framework where learners will either work on a project for their employer or be involved in a consultancy project which focuses on problem-solving, digital solutions and streamlining business processes through active mentoring from organisations.
Integrated SMU-employer partnership which ensures industry relevance and alignment with the job market. Industry experts contribute to the curriculum design and provide insights through guest lectures, case studies, and industry projects.
Lifelong learning coaching which maximises students' learning outcomes. Coaches provide personalised advice, career guidance, and facilitate networking opportunities.
Mr Jack Lim, Executive Director of SMU Academy, said, "Since its inception in 2017, SMU Academy has been supporting lifelong learning by championing skills development and mastery by offering interdisciplinary and industry-focused programmes to support individuals and organisations in their upskilling and reskilling goals. SMU's new Industry Practice Master strengthens CET offerings in Singapore by leveraging strategic partnerships with employers to establish a new collaborative ecosystem for lifelong learning, one that integrates learning with work projects, work deliverables and career goals. It also ensures that learners stay competitive by acquiring the skills and competencies demanded by the evolving job market."
"The emphasis on skills development represents a paradigm shift in SMU Academy's focus in lifelong learning. It ensures that individuals and organisations can effectively achieve their upskilling and reskilling goals while staying competitive in the digital economy," he added.
Professor Gary Pan, SMU's Academic Director (Lifelong Learning), said, "Tailored for adult-learning, our approach fosters a holistic value proposition for learners, as it equips them with in-depth expertise in high-demand domains. By forging partnerships with employers and aligning with industry requirements, the programme ensures that learners possess the knowledge and practical capabilities to succeed in the digital economy. The Industry Practice Master epitomises our commitment to lifelong learning and heralds a transformative shift in advancing individuals' careers in today's dynamic job market."
On why SMU is kicking off the programme with the tracks in Data Protection and Data Governance and Digital Supply Chain and Intelligence, Mr Lim explained, "These specialisations align with high-growth areas and priority skills identified by SkillsFuture Singapore (SSG). Moreover, we have observed significant interest in digital economy and digital transformation courses offered at SMUA."
SMU Academy is excited to lead the way in redefining continuing education and training. The launch of the Industry Practice Master reinforces its position as a thought leader in innovative adult learning offerings. This initiative aligns with SMU's strategic plan for lifelong learning and its commitment to bridging the gap between pre-employment training and continuing education.
About the Industry Practice Master of Digital Economy
The inaugural programme is now open for registration and will welcome its first cohort in January 2024. All learners are required to take six Programme Core modules including Robotic Process Automation, Internet of Things: Technology and Applications, Applied Design Thinking: The Role of AI and Machine Learning, and The Metaverse and Web 3.0; as well as 10 Track Core modules and six Track Electives modules.
The programme comprises skills-based modules which are mapped to the Technical Skills Competencies in the SSG Skills Framework. It will enable the upskilling of professionals working in industries such as technology, finance, healthcare, marketing, social media management, and logistics.
The recommended duration of the programme is three years, however, learners have the flexibility to complete the programme in up to four years. Upon successful completion, graduates will receive an Industry Practice Master's degree certificate issued by SMU.
To be admitted into the programme, learners must have a Bachelor's degree with at least four years of working experience, or a Diploma with at least 10 years of relevant working experience. SMU Academy expects that the first intake will attract approximately 60 students per track. They will benefit from the University's strong industry partnerships and the high-demand skills taught throughout the curriculum.
For more information, please visit: https://academy.smu.edu.sg/industry-practice-master
​​- End -
Enclosures:
Annex 1 – Quotes from industry
Annex 2 – Three main components of the curriculum structure of the Industry Practice Master
Annex 3 – Industry Practice Master of Digital Economy curriculum structure & modules
Annex 4 – Industry Practice Master of Digital Economy assessment framework & principles