Empowering Learners through Technology Enhanced Personalised Learning
Senior leaders from the ASEAN University Network convene in person at SMU for the first time since the Covid-19 pandemic to share insights and project collaboration plans around personalised learning enhanced by technology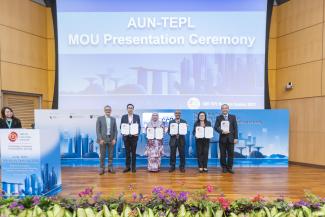 While 2020 was known as the year of the Covid-19 pandemic, 2023 might well be one that is dominated by discussions of artificial intelligence (AI) and ChatGPT. With AI and ChatGPT upending much of the way in which students learn, how will the nature of higher education be impacted? Within this context, the Singapore Management University (SMU) hosted the ASEAN University Network Technology Enhanced Personalised Learning (AUN-TEPL) Workplan Seminar on 25 and 26 May 2023, for key opinion leaders to exchange insights, connect with university change agents and explore the implementation of collaborative projects.
Themed "Charting New Frontiers: Empowering Learners through Technology Enhanced Personalised Learning", the hybrid event organised by SMU Centre for Teaching Excellence took place at Ngee Ann Kongsi Auditorium at the SMU School of Accountancy building. Co-organised by Mahidol University (MU) and Universiti Malaya (UM), the event was attended by academics and industry practitioners from universities in the ASEAN region,including Malaysia, Thailand, Philippines, Brunei, Vietnam and Singapore. This included 60 like-minded senior leaders and key personnel participating in person and the rest tuning in virtually to the many segments of the two-day event.
In his welcome remarks, Professor Venky Shankararaman, SMU Vice-Provost (Education) commented on the pleasure of being able to meet in person for the first time after three years of virtual discussions. Highlighting the key focus of the partnership among ASEAN universities, he said: "The AUN-TEPL network exists, because, we believe learning experiences customised to the individual needs, abilities and interests of students best support their success; we believe in doing so efficiently, effectively, and at scale, by leveraging the affordances of technology; and, above all, we believe that all this is best done collaboratively, by synergising and building up the collective wisdom and resources of member universities across our region."
According to Prof Shankararaman, the scale and growth of AUN-TEPL presented solid opportunities for collaboration and the sharing of insights to benefit students. Commenting on the recommitment of network members with the signing of a Memorandum of Understanding (MOU) he said, "On 1 May 2020, the AUN-TEPL thematic network was formalised with a 3-year MOU. Since then, our ASEAN+3 University Network universities has grown in many ways. And, as a testament to our growth, this morning, the renewed 3-year MOU will be presented to the lead and co-leading universities, including Universiti Brunei Darussalam, who are strengthening their involvement as our newest co-lead."
"We believe that learning experiences customised to individual learning needs best support our students' success. However, there is still an important need to ensure a level of standardisation and quality control. Leveraging technology to personalise learning experiences is thus one of the solutions we could harness. I believe collaboration among universities is another solution," said Prof Shankararaman.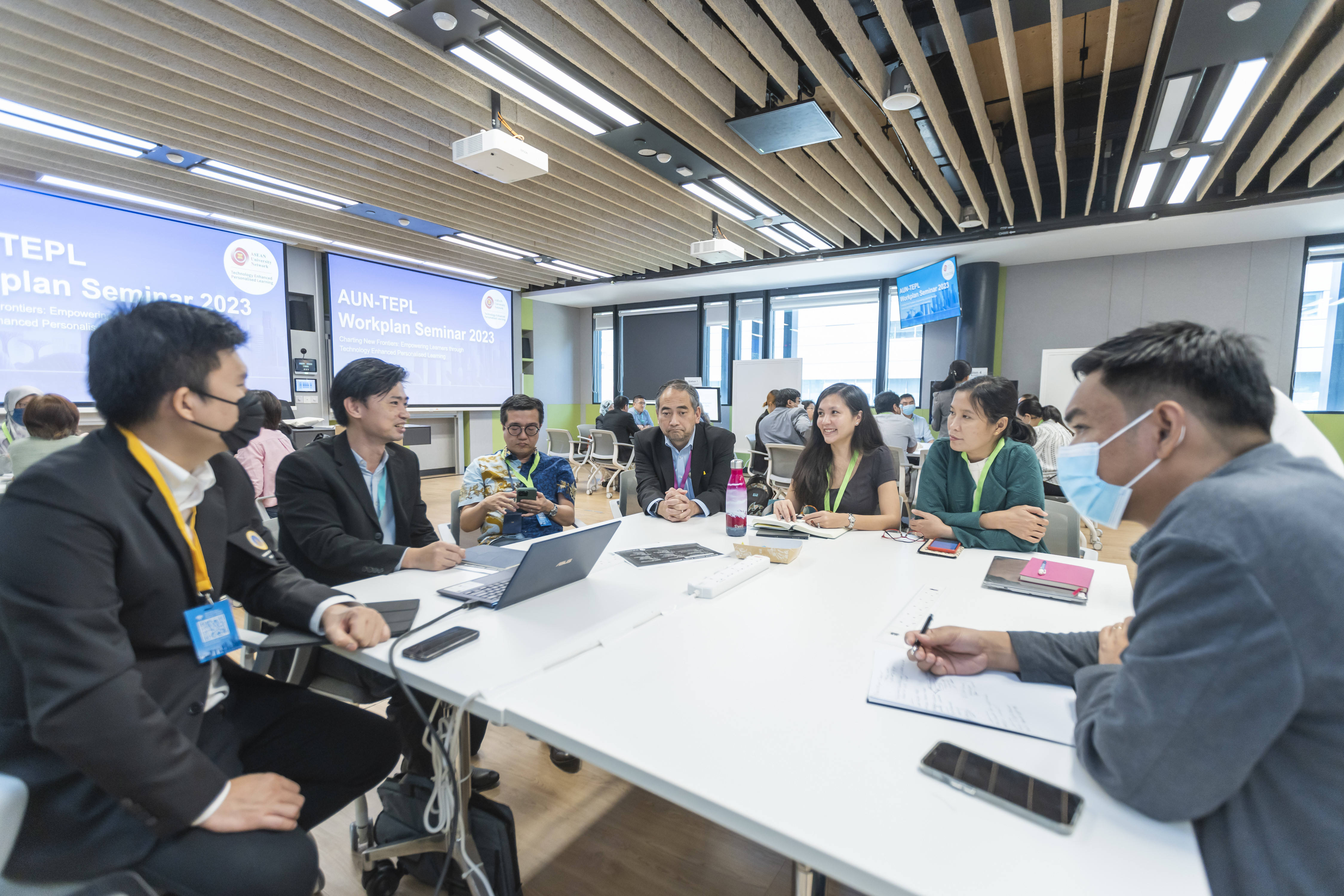 Prof Shankararaman reiterated SMU's commitment to continual learning by keeping abreast of developments in technological enablers of personalised learning in higher education. This was in line with SMU Vision 2025's Strategic Priority of "Growth in Asia", where the University seeks to demonstrate its thought leadership in the deep understanding of Asia's economy, polity and society.
The event was launched with an opening address by AUN Executive Director, Dr. Choltis Dhirathiti. He shared that it is crucial for universities to nurture youths who are prepared for a volatile, uncertain and ambiguous world and there is still much to do in terms of developing blended teaching models, despite the good start that the Covid-19 pandemic had catalysed.
The Workplan Seminar also featured esteemed keynote speakers on both days. On Day 1, Professor Professor Abelardo Pardo from the University of South Australia shared his experiences and insights on how learning analytics can enhance the personalisation of higher education. On Day 2, Emeritus Professor and Executive Director of MERLOT & SkillsCommons, Dr Gerry Hanley, presented his views on how the MERLOT platform could catalyse institutional collaborations by sharing open educational resources and practices. MERLOT is a digital repository of shared learning resources that member universities can access to exchange educational tools and content, sharing best practices and resources for teaching and learning.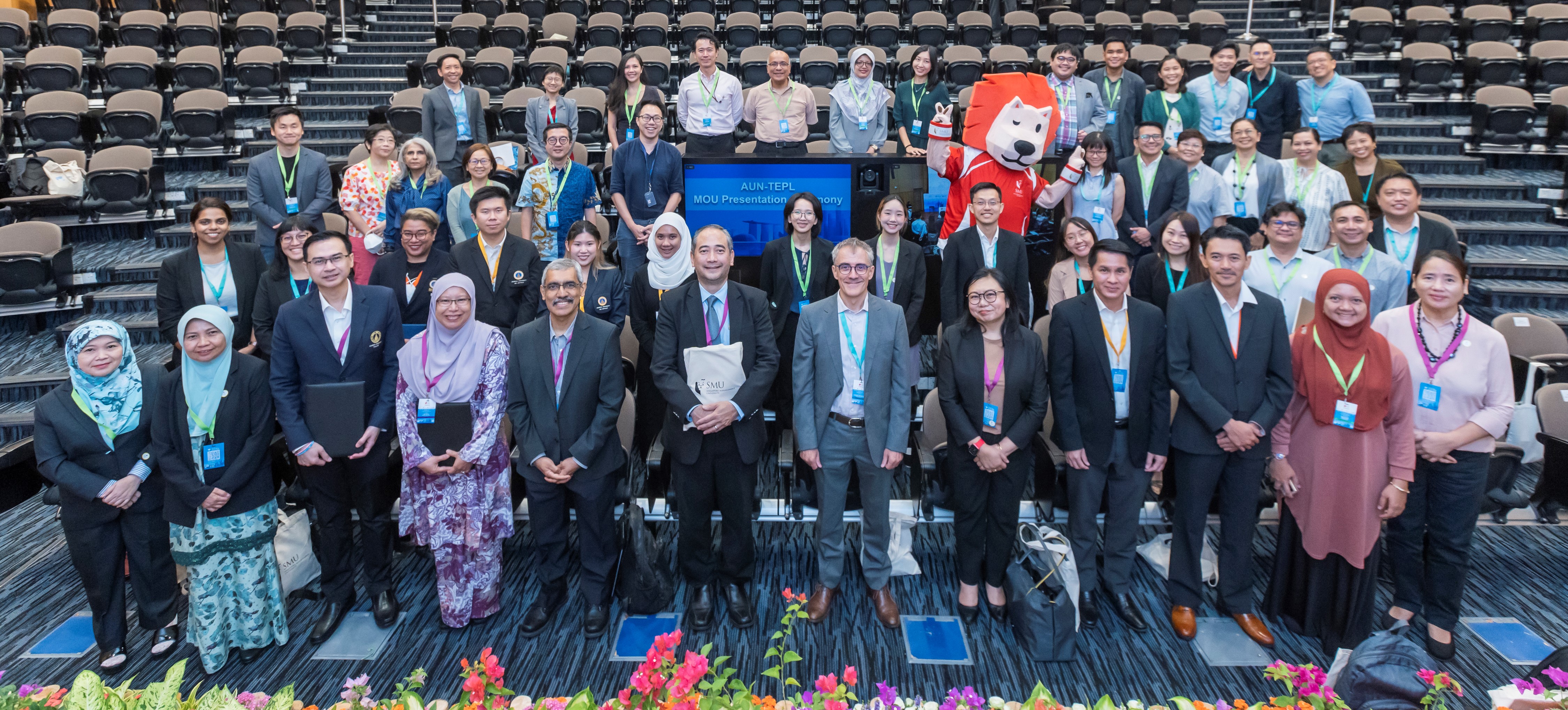 The event presented opportunities for members to share their ideas across a wide spectrum of topics related to personalised learning enhanced by technology. This included themes around the use of AI and analytics to automate feedback and foster student engagement, designing and implementing gamification and virtual reality for effective and Immersive learning experiences and the types of institutional leadership and faulty development support needed to manage changes effectively.
AUN members, through their interactions and discussions over the Workplan Seminar, sought to gain insights to TEPL approaches adopted across the region and to develop synergistic opportunities across collaboration projects to improve students' success. Importantly, they mindfully invested efforts to move conversations forward with concrete action to kickstart collaboration projects.
Click here to view the photo montage of event highlights and here for more details of the event.
Photos by SMU Centre for Teaching Excellence.