SMU and NAFA to jointly offer new Advanced Certificate Programmes in Arts Management and Design Literacy for Marketing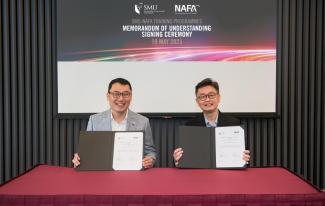 Singapore, 19 May 2023 (Friday) - SMU Academy (SMUA) and the Nanyang Academy of Fine Arts (NAFA) Centre for Lifelong Education announced today that they will partner to offer two new Advanced Certificate programmes in Arts Management and Design Literacy for Marketing. This marks the first-ever collaboration between NAFA and a local Institute of Higher Learning to deliver continuing education and training (CET) programmes that synthesise arts, design and business.
Advancements in technology and the growing ubiquity of social media have revolutionised the way audiences consume and interact with the arts. Concurrently, art forms themselves have undergone significant evolution, with interdisciplinary approaches becoming increasingly common. Expanding competencies in contemporary practice is crucial for artists and arts professionals to remain competitive and relevant in a rapidly evolving industry. This will empower them to stay abreast of the latest developments and maintain their relevance in a dynamic field.
The SMU-NAFA Advanced Certificate in Arts Management for Arts Professionals offers unparalleled insights into managing the arts industry in the current landscape. Participants will gain a comprehensive understanding of contemporary trends and issues, as well as receive knowledge from seasoned industry practitioners and leaders in the local arts sector. This programme, which covers six modules delivered over 12 days, aims to empower participants with the skills and tools necessary to navigate a fiercely competitive market, while maintaining the integrity of the arts.
The SMU-NAFA Advanced Certificate in Mastering Design Literacy for Marketing focuses on developing marketing professionals with a sophisticated 'eye' for design details. To remain relevant in an increasingly image-saturated economy, design literacy is essential for professionals, managers, executives, and business owners (PMEBs) to connect with their customers. Through six modules taught over 12 days, participants will learn design fundamentals and take a holistic approach to design as a process. Furthermore, they will explore how design principles can be implemented to achieve effective marketing results. Trainers for this programme are drawn from diverse design backgrounds, providing participants with a diverse and enriching learning experience.
Jack Lim, Executive Director, SMU Academy, said, "We are excited to collaborate with NAFA in launching these two exciting programmes. As the arts and marketing sectors continue to evolve, it is crucial for professionals to acquire new skills and competencies. Through transformative learning experiences, these programmes provide a unique opportunity for professionals to upskill themselves and stay relevant in their fields. We also look forward to deepening our partnership with NAFA to roll out more programmes that will cater to the training needs of the arts community."
Dr Jeffery Tan, Dean, NAFA Centre for Lifelong Education, said, "We are elated to be collaborating with SMU Academy on these two programmes. By combining the expertise of our institutions, these programmes provide learners with unique perspectives to enhance their professional practice in Marketing and Arts Management. We are most certain that this marks the beginning of an important partnership in intersecting arts, design, and business as we look to enrich lives and communities through education and practice."
The SMU-NAFA Advanced Certificate in Arts Management for Arts Professionals programme will run once a year, while the SMU-NAFA Advanced Certificate in Mastering Design Literacy for Marketing will run twice yearly. A total of 200 participants are expected to join per year.
Both programmes are now open for registration. For more programme details, please visit:
SMU-NAFA Advanced Certificate in Arts Management for Arts Professionals
SMU-NAFA Advanced Certificate in Mastering Design Literacy for Marketing
- End -