SMU wins at EFMD Global Case Writing Competition
A case study on how a cybersecurity firm is using AI-based solutions to help its clients has won an award at the 2022 EFMD Case Writing Competition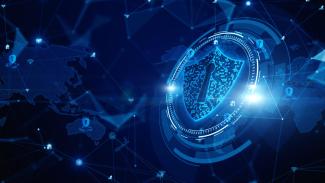 Keeping up with cybersecurity threats is like running on an intense treadmill. One of those racing constantly against time is FireEye, a leading cybersecurity firm.
A case study on how it implemented Artificial Intelligence (AI)-based solutions to provide improved cybersecurity services to its clients has won the "Continuous Improvement: The Journey To Excellence" category in the 2022 EFMD Case Writing Competition The European Foundation for Management Development (EFMD) is a Brussels-based international organisation that focuses on management development. The non-profit body provides EQUIS accreditation for business schools and corporate universities.
The case study was written by Professor Emeritus Steven Miller and SMU Centre for Management Practice (CMP) Assistant Director Lipika Bhattacharya and published in 2021.
Automatability to the rescue
This case study explores how a multinational cybersecurity firm, FireEye (now called Mandiant), kept pace with the accelerating cybersecurity threat changes by using AI-based solutions to provide improved services to its clients. FireEye used a conceptual AI use case framework called the 'Automatability Spectrum' to determine the appropriate degree of automation for developing different solutions.
This framework classified tasks into different levels of automatability. For example, repetitive tasks were fully automated. On the other hand, complex tasks that were more uncertain, including those which involved decision-making and those that require human verification, were augmented with AI. This Human+AI approach, which combines human intervention with AI capabilities, enabled FireEye to both expand and scale its support services.
Benefits of learning from this case
The case shows students the organisational framework for successful AI implementation in cybersecurity. Secondly, it revealed the inherent limitations of machine learning-based AI models, and business scenarios in which AI excels. Finally, it demonstrates the benefits of a symbiotic human and AI approach to creating solutions to counter cybersecurity threats.
Professor Miller shared, "We are truly honoured and delighted to be one of the winners in the EFMD case writing competition. We wrote this case to help business readers understand the nuances of implementing AI in an organisation, and why it is a continuous process that requires the support of an organisational framework and a symbiotic Human+AI approach for successful AI implementation."
Lipika commented, "While the case story is based on a cybersecurity firm, the learnings from the case are universal across industries, and move beyond the stereotypical 'Man versus Machine' myth that is often associated with AI to a Human-plus-Machine framework."
Dr Havovi Joshi, Director of CMP, said, "We are delighted that the case by Professor Miller and Lipika is recognised by EFMD as among the best in its class. We are heartened by our consecutive wins in the last few years across various global case competitions, such as most recently the Financial Times (FT) Responsible Business Education Awards 2022 and the Outstanding Case Writer Award at The Case Centre Awards and Competitions 2021. At CMP, our team works closely with SMU faculty across all schools to develop teaching cases that capture the mounting pressures and complex dilemmas of decision-making in a fast-changing world, such as the implementation of AI in FireEye. We hope our cases enable instructors worldwide to help their students learn more and learn better."