SMU Study Abroad Fair Attracts More Than a Thousand Participants
In a first, the 2023 Fair was held in hybrid format, bringing the very best of virtual and in-person elements to students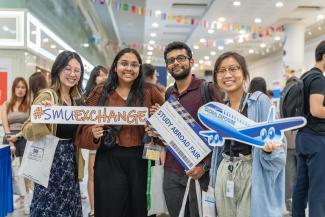 Singapore Management University's Study Abroad Fair (SAF) returned physically to SMU campus grounds on 9 February 2023, after a three year hiatus fuelled by the Covid-19 pandemic. Organised by SMU Centre for Global Education and Opportunities (GEO), the annual SAF serves as an indispensable resource for students planning their global exposure programme. In a first, this year's SAF was held in hybrid format, bringing the very best of the virtual and in-person elements to students.
Having held the Fair virtually in 2021 and 2022, the organising team mobilised its experience to run a virtual SAF from 17 to 18 January. Here, more than 200 students joined 'live talks' held in conjunction with 34 partner universities, demonstrating the huge advantage of leveraging digital technology to widen the opportunities for engaging with overseas partners across different time zones.
The turnout at the in-person SAF was even more encouraging, with more than a thousand students thronging the SMU Concourse over the course of the day on 9 February. They took the opportunity to interact with the 22 partner universities and 53 exchange students from different continents, who had convened at the location. Conversations and questions flowed freely as SMU students sought to gain a better picture of what to expect from an exchange programme experience at a particular university.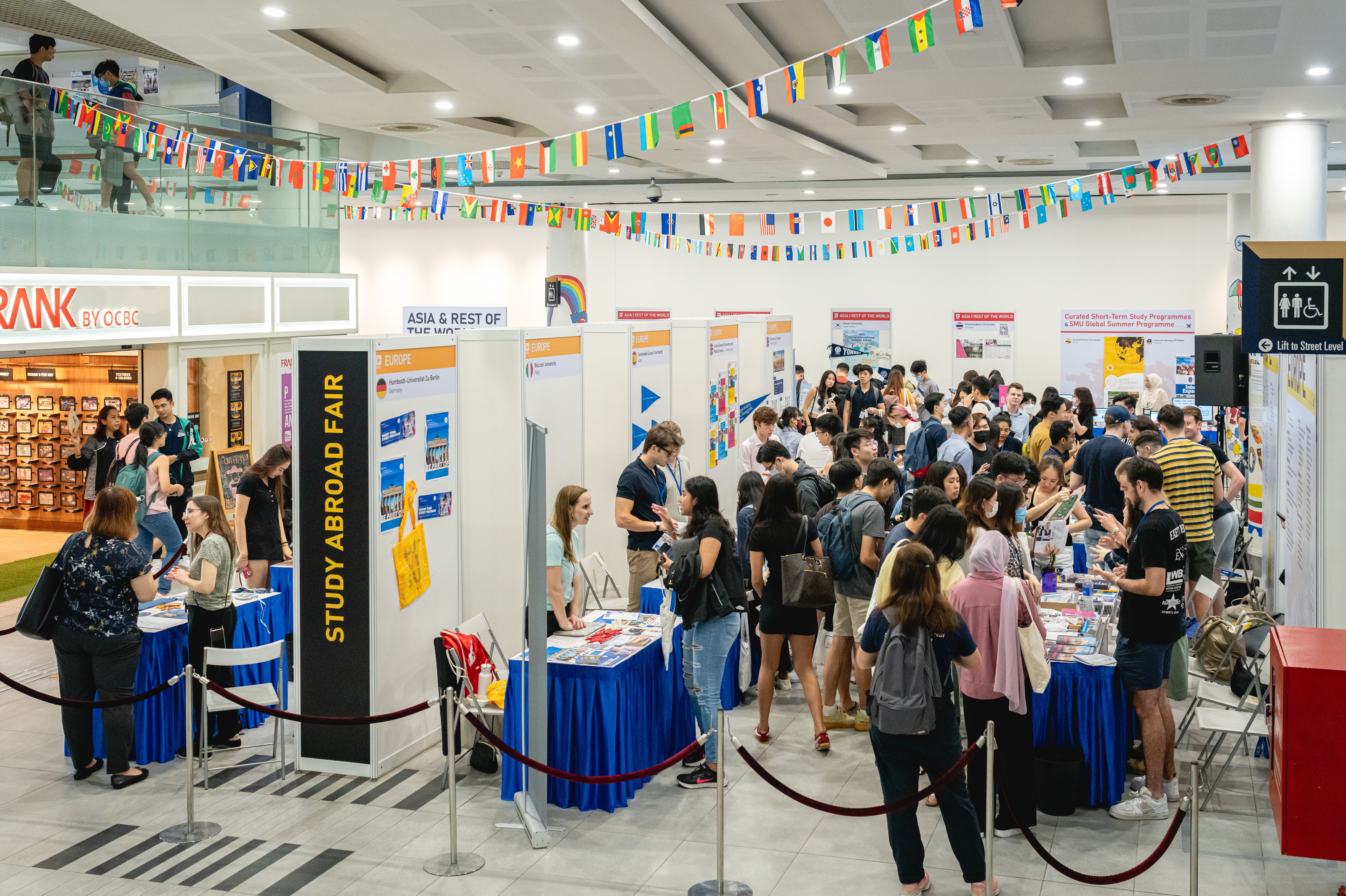 The Fair was divided into three zones: Asia & the rest of the world, Americas & Oceania, and Europe. Participating universities included Korea University, The University of Sydney, and the University College London. Decked out with a colourful array of national flags, the SMU Concourse was abuzz with a palpable sense of excitement that in-person overseas immersion opportunities had resumed.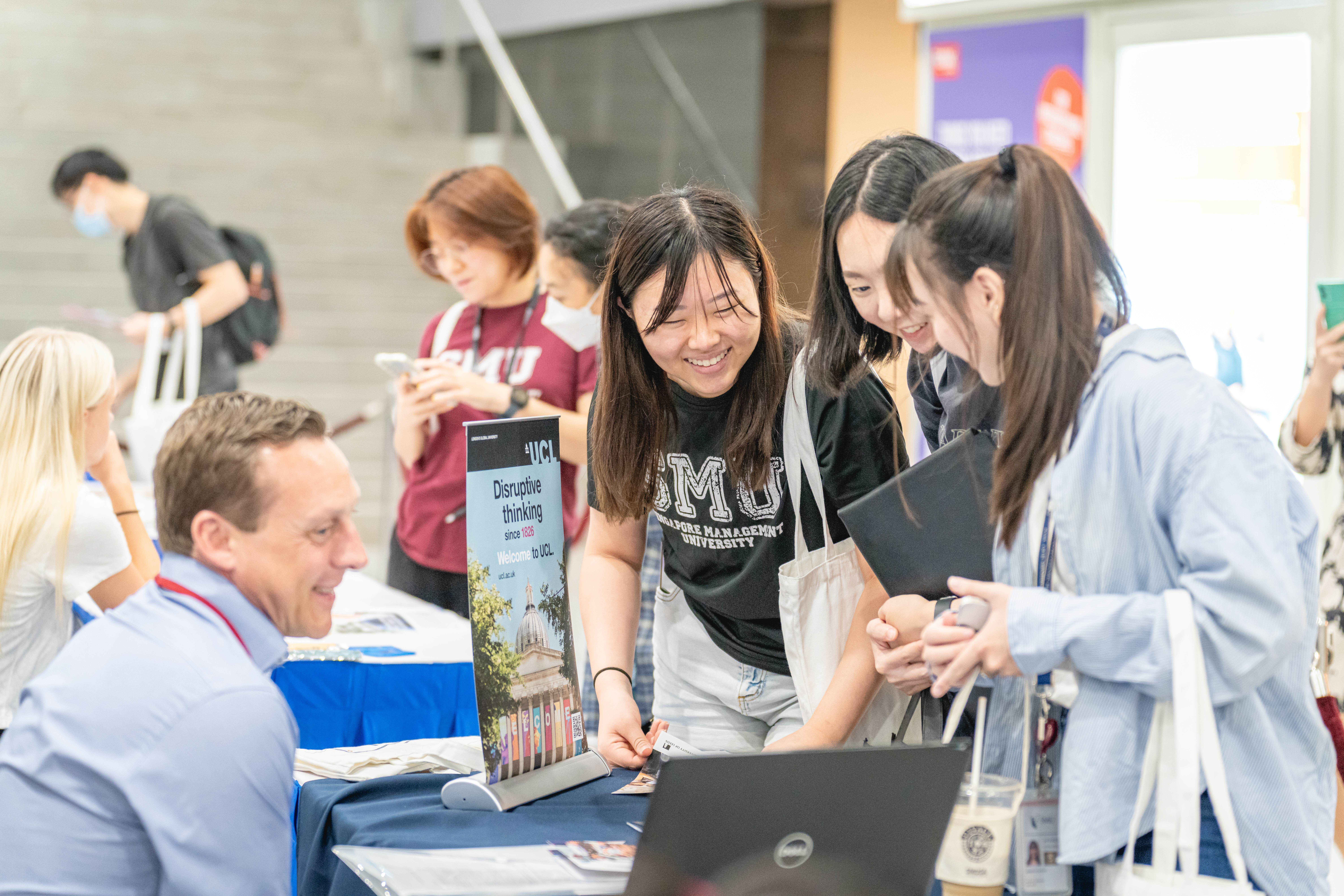 With SMU moving to discontinue the use of the framework for virtual global exposure from Academic Year 2023/24, the Fair enabled students to discover the University's wide range of Study Abroad programmes, destinations, and partner universities, including the ever-popular International Student Exchange Programme (ISEP). Speaking to fellow students who had embarked on and completed their overseas exchange programmes, undergraduates gained a firsthand understanding from their seniors about what to expect, including hacks and valuable lessons to note. They also got to engage with representatives from Universiti Teknologi PETRONAS of Malaysia and Universitas Gadjah Mada of Indonesia, to find out more the Curated Short-Term Study Programmes (SSPs), including the grants available to help with defraying costs.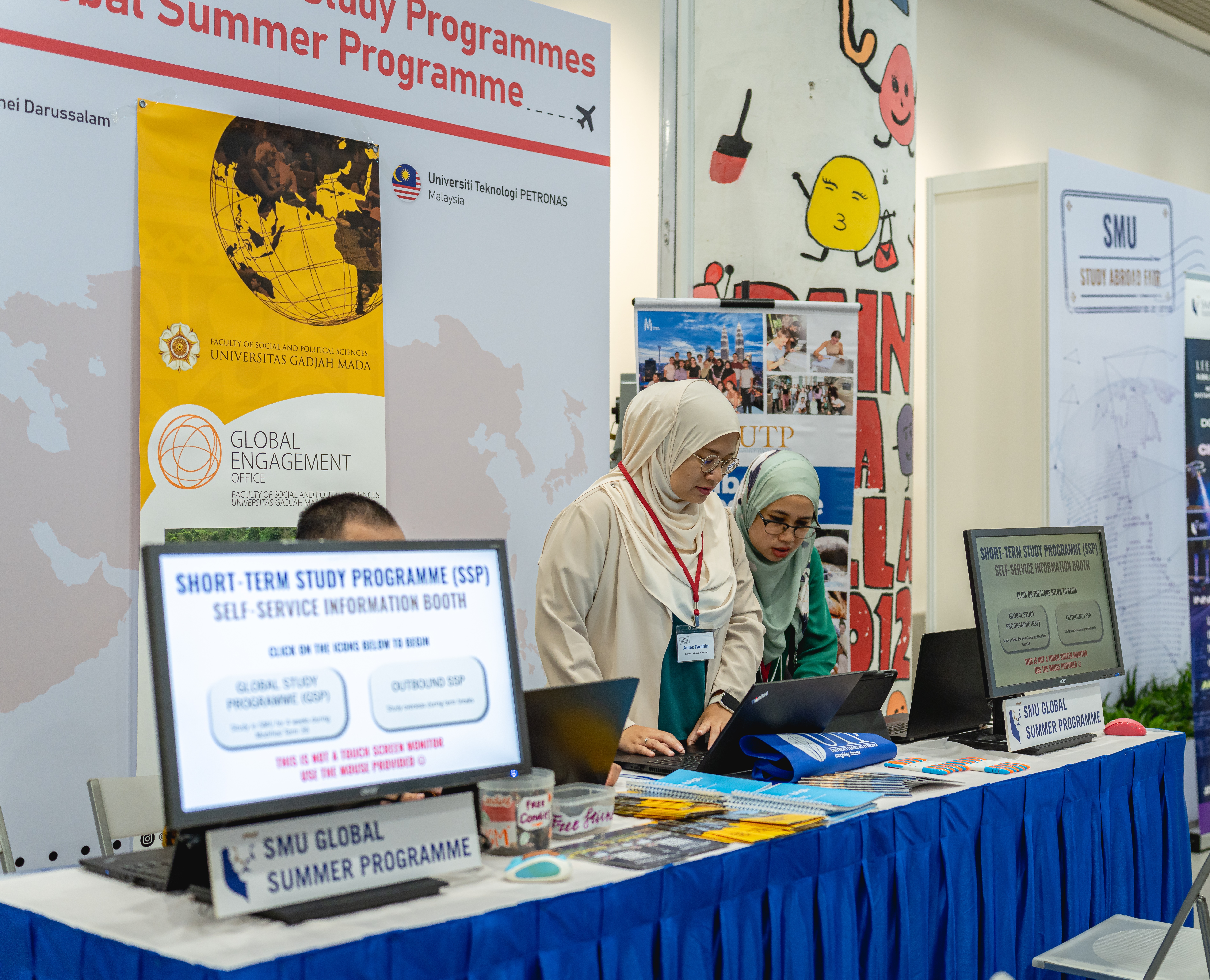 SMU's new Summer-to-Summer Student Exchange Agreement with The University of Tokyo was met with huge interest, as large numbers of SMU students turned up to speak to representatives from The University of Tokyo at the Fair. Amongst the questions posed, students were keen to find out how to apply for the tuition fee-waived summer programme.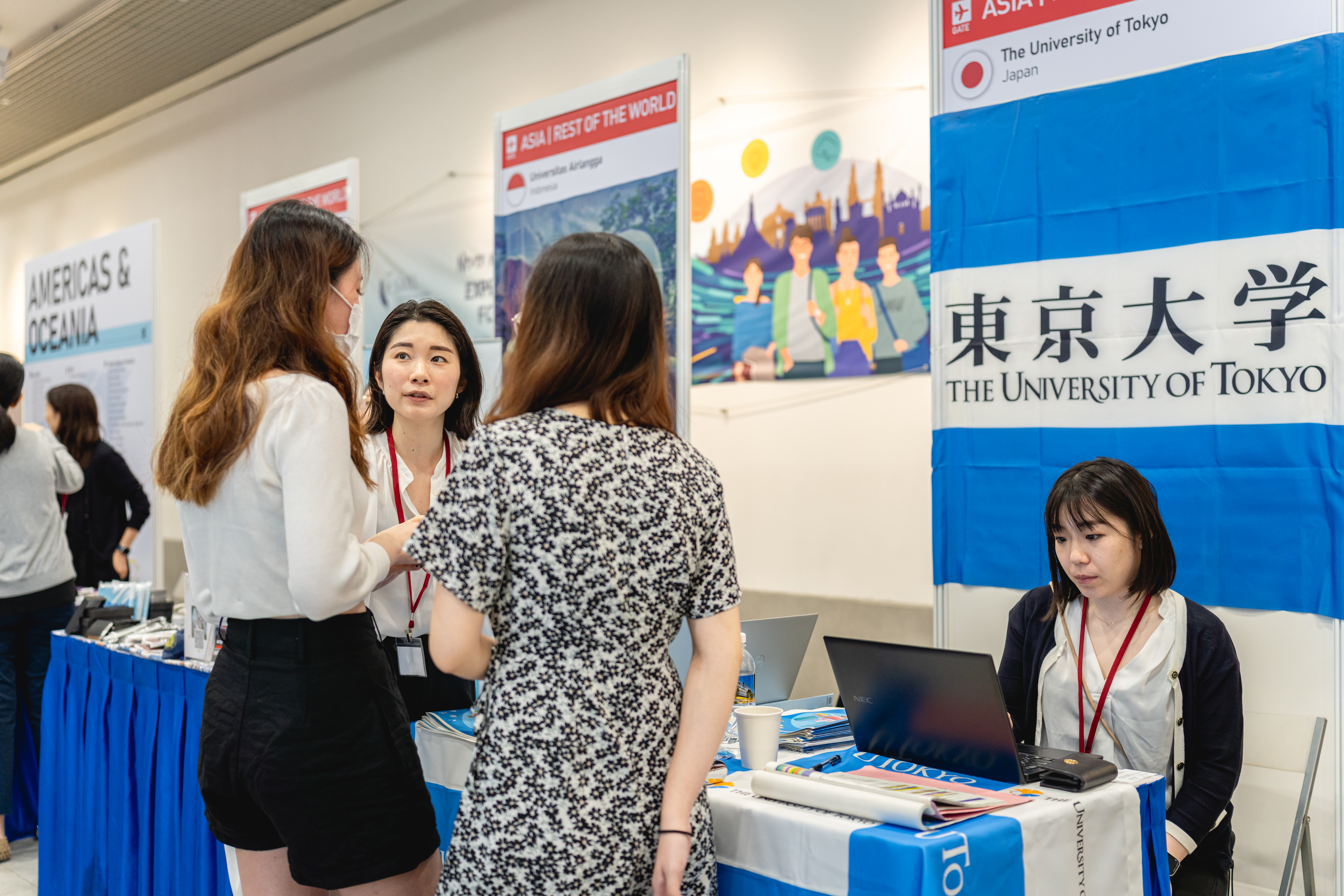 During the Fair, students also learnt more about School-level programmes such as the structured exchange programme between LKCSB and Copenhagen Business School. In addition to Study Abroad programmes, the spotlight was also cast on industry-linked overseas programmes such as the Global Innovation Immersion (GII) programme, Overseas Internships and SMU-X Overseas courses. Colleagues from Dato Kho Hui Meng Career Centre (DKHMCC), Institute of Innovation and Entrepreneurship (IIE) and SMU-X were onhand to take questions from students.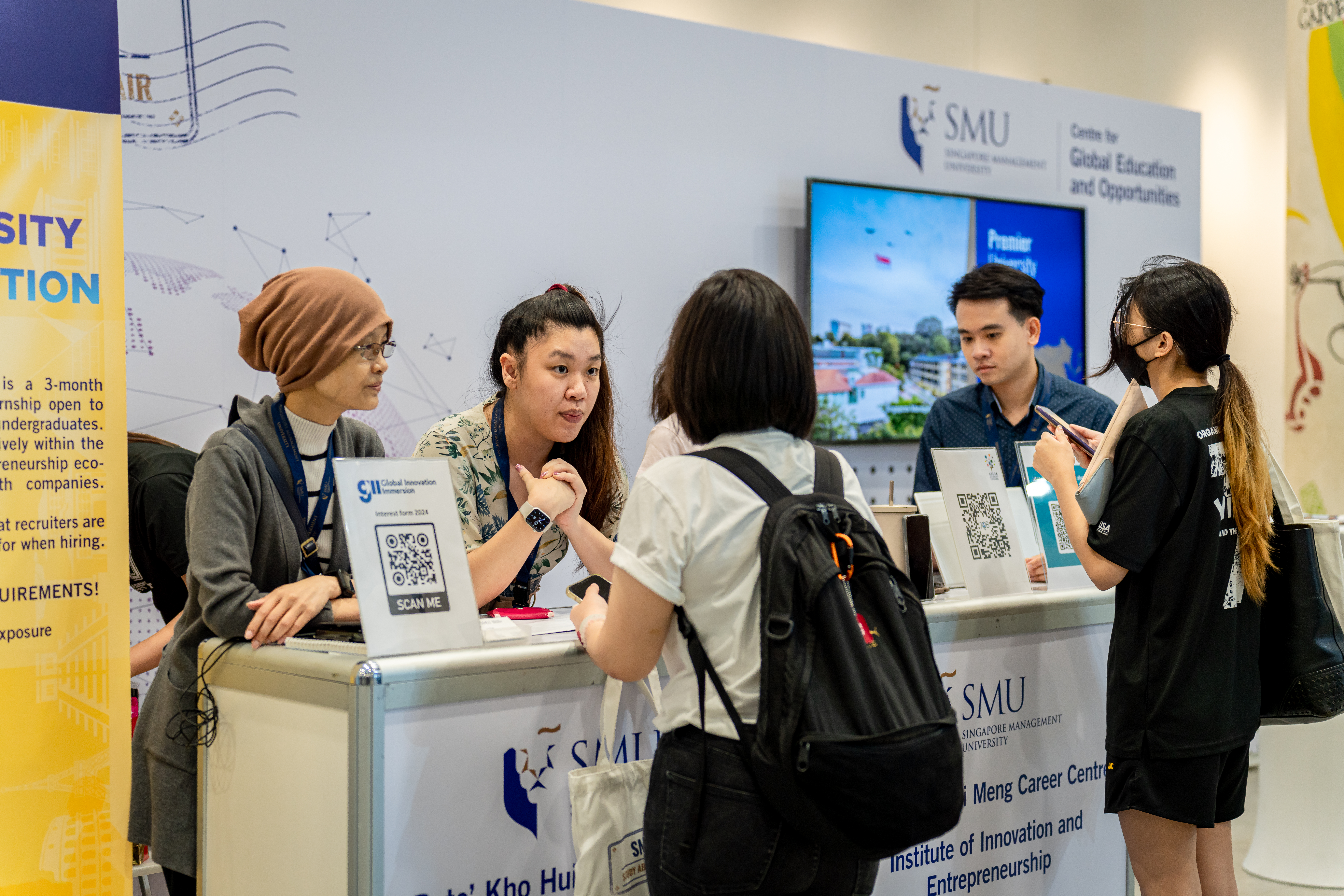 At the opening ceremony of the Fair, Dr. Navin Rajagobal, Senior Director of the SMU Academic Services and Operations Group, welcomed partner university representatives and esteemed guests such as Mr. Victor Mills, Chief Executive of the Singapore International Chamber of Commerce (SICC). The SICC funds the SICC International Exchange Scholarship.
He thanked all university partners for their support and collaboration with SMU on global exposure initiatives for students, including the Fair, and noted the following: "The global community has thankfully made the transition to living with Covid-19. For example, in 2022, following the resumption of SMU's in-person exchange, GEO sent and received 20 percent more students for ISEP than in 2019 before the pandemic. The creation of GEO will enhance the ability of SMU to take full advantage of the post-COVID recovery and support an increasing number of students to benefit from immersive and meaningful global exposure opportunities in 2023 and beyond."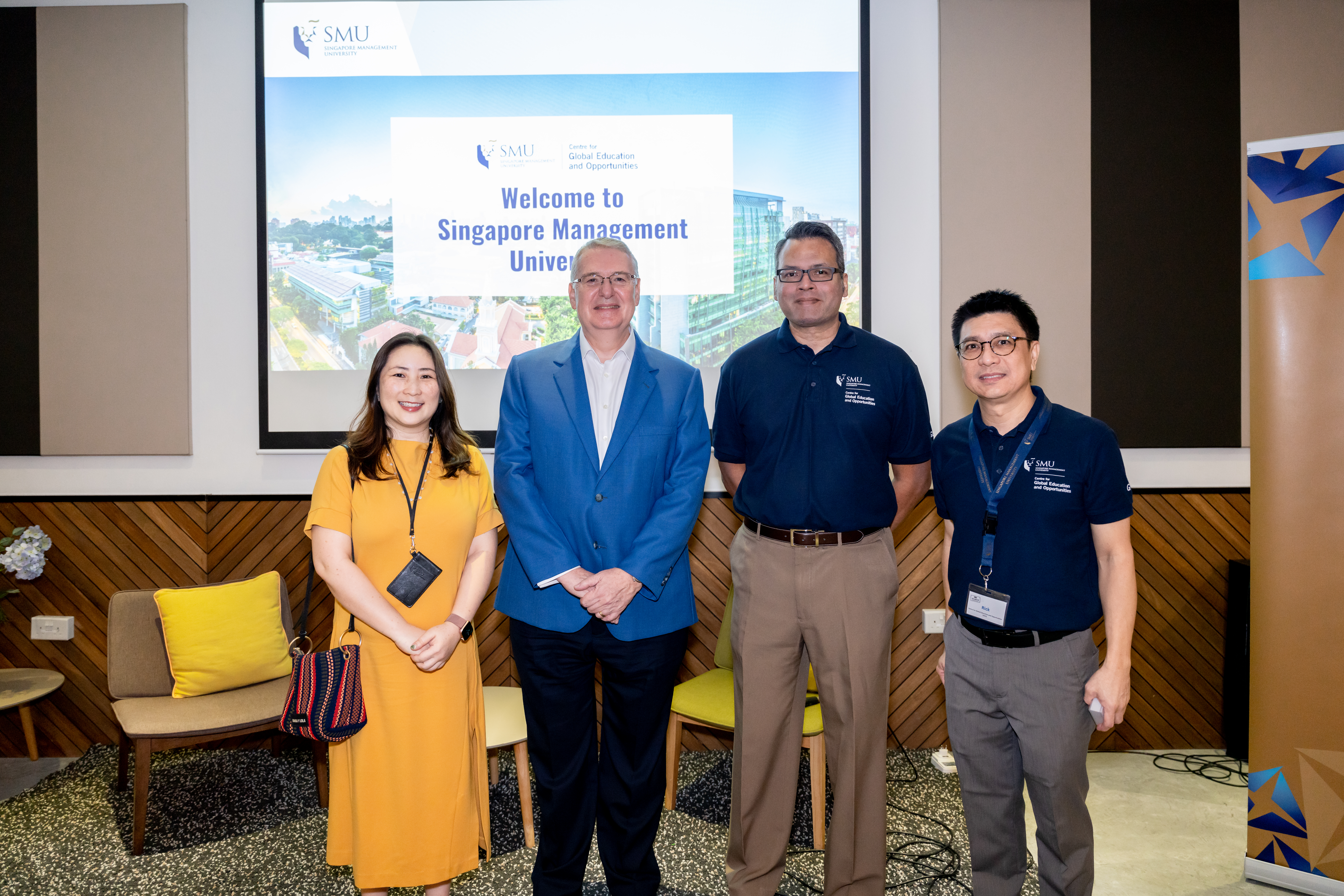 "The success of SAF marks a positive start to 2023," said Rick Tay, Head, SMU GEO. "We would like to thank all our partner universities, as well as SMU colleagues, who had taken part in this hybrid edition. We are also deeply appreciative of the exchange students and SMU students (who had gone for ISEP and SSP) who volunteered their time to share their insights about the destination countries and universities with their peers."
To learn more about GEO's programmes, visit GEO's website or connect with GEO on Instagram or YouTube.