People, Planet and Profit in Rural China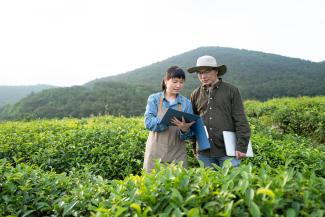 MYbank, an online bank in China, was established by the Ant Group with the aim of providing inclusive finance services to SMEs and farmers in rural China. Ant Group CEO and Chairman Eric Jin says, "Providing good service to millions of consumers and small businesses is how we contribute to society, and that is what we believe makes a good company."
In early 2022, MYbank's growth was expected to fall to 10% compared to 12.6% in 2021, largely because of the macroeconomic trends plaguing the Chinese economy. Contrary to prognosis, the bank exceeded expectations with a year-on-year growth with a whopping 31.6% for Q1 2022, with loans and advances totalling US$27 billion.
A key contributor was its business model, which was starkly different from traditional banking models. Instead of focusing on high net worth individuals, one-on-one relationships and fewer accounts, MYbank concentrated on quick transactions, a large volume of low-income customers, and lower operational costs to achieve a sustainable business model. To accomplish these objectives, it used technology innovation, automation, standardisation and artificial intelligence.
However, after the COVID-19 pandemic, the bank's target customer segments were battling economic uncertainties, pandemic-induced disruptions, and other adversities. In response, MYbank reduced its interest rates to help its customers. This resulted in contrasting demands of responsible business and market competitiveness. While the obligation was to implement the triple bottom line of 3Ps - 'People, Planet and Profit' - a widely adopted practice in the industry to develop financial products and services to meet the needs of people at the bottom of pyramid and protect the planet, its objective was to also generate growth, revenue and profit.
How did MYbank simultaneously maintain its competitive advantage and achieve the 3Ps? The answer lies in it creating a niche through technology, innovation, new work processes, and Corporate Social Responsibility (CSR) initiatives.
Written by Professor Heli Wang, Dean, SMU College of Graduate Research Studies and Lipika Bhattacharya, Assistant Director at the Centre for Management Practice (CMP), this case examines Inclusive Finance and the significance of agricultural finance in China's context. It also analyses the difference between philanthropic CSR and strategic CSR, which can potentially provide companies with sustained competitive advantage.
To read the case in full, please visit the CMP website by clicking here.