SMU and University of Toronto Deepen Collaborations in Sustainability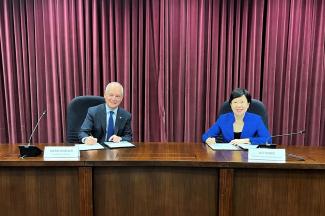 Singapore Management University (SMU) and University of Toronto (UoT) are building on a strong foundation of student collaborations and common strategic priorities to develop a thematic long-term partnership focused on sustainability. The partnership between both city universities, which was formalised at a MOU signing ceremony held at SMU on 12 December 2022, would be pursued over the next five years.
SMU President Professor Lily Kong said, "SMU is focused on developing meaningful collaborations to impact communities. We are heartened to walk this path with partners. This strategic partnership with the University of Toronto has been enabled by in-depth and thoughtful discussions over several years. With the partnership now formalised, we look forward to engaging our mutual networks to increase and broaden the impact of our collaborations."
These views were echoed by UoT President Professor Meric Gertler. He commented, "The University of Toronto is delighted to deepen our relationship with Singapore Management University. The major challenges of the 21st century are increasingly global in scale and scope, so it is vital that we collaborate with institutions like SMU in addressing them. Our combined expertise and talent can make a significant contribution in addressing matters of urgent interest to our own countries and to people everywhere."
The strategic partnership underscores SMU's strategic priority area of "Sustainable Living,", where the university sought to drive solutions in managing climate change and sustainable city living, enhancing quality of life, as well as to shape legal, regulatory, and financing frameworks to build healthier and happier societies. The partnership is also in line with the SMU Sustainability Blueprint, launched in September 2022, which aims to embed sustainability in the ways of working, learning and living.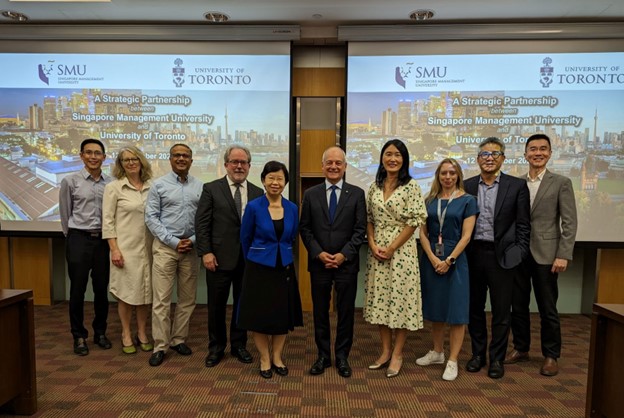 This elevated partnership aims to conceive substantive and impactful research and programme collaborations in areas including urban sustainability, mobility and infrastructure, and climate change mitigation. Joint grant calls had been announced in December 2022, with more in the pipeline in 2023 and beyond.
SMU is also a member of the UoT-founded Reach Alliance, a multi-disciplinary research and leadership initiative dedicated to developing solutions to reach marginalised populations. Committing to a partnership with leading global universities around the world to translate actionable research insights into impact to communities and societies, SMU will be developing bespoke case studies that are characterised by elements of interdisciplinary and integrative learning, underpinned by our signature SMU-X pedagogy.