SMU-X wins 2 awards at QS Reimagine Education Awards 2022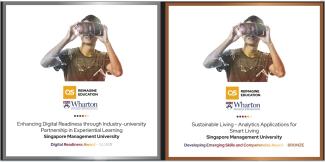 The QS Reimagine Education Awards and Conference reconvened this year from 5 – 8 December, with various events held virtually, in Cairo and in Philadelphia. The global conference and competition are open annually to educational innovators from all around the world, bringing edtech start-ups and the higher education community together to shape the future of the industry.
Representatives from Wharton Business School, Imperial College Business School, Infosys, Microsoft, the World Bank, and many other renowned organisations spoke at various sessions held during the Conference. The Reimagine Education Awards recognises innovative approaches that enhance student learning outcomes and employability. The competition comprised five broad categories - Future of Learning, Future of Universities, Future of Work, Sustainability Education, and Values, with various sub-categories under each segment.
SMU-X had the honour of bringing home two awards in this prestigious competition – a Silver in the 'Digital Readiness' category and a Bronze in the 'Developing Emerging Skills and Competencies' category.
The Digital Readiness Award is presented to the company or institution that has the best programme or approach to supporting digital readiness now and in the future. It is designed to recognise the transformation and evolution that universities and business schools are implementing to serve current and future learners efficiently and provide future-proof qualifications.
The SMU-X's project entry was "Enhancing Digital Readiness through Industry-University Partnership in Experiential Learning", from the Accounting Analytics Capstone course taught by School of Accounting lecturer Benjamin Lee, Assistant Professor Clarence Goh and Professor Gary Pan.
The 'Accounting for Analytics Capstone' (AAC) module at the Singapore Management University (SMU)integrates real-world projects from the industry into its curriculum. In this course, students learn how to use a data visualisation tool, programming and advance data query to complement accounting concepts so as to gain insights into a business challenge. Beyond the data analytics models taught in class, students examine accounting processes and apply data-driven analytics and insights of real-world project sponsored by companies, so as to identify and create accounting delivery efficiencies. This allows students to better appreciate digital transformation to the accounting profession.
The Developing Emerging Skills and Competencies Award recognises projects or initiatives that are effectively developing skills and competencies required for the present and future of work. For example, artificial intelligence, blockchain technology, cloud computing, machine learning, data science, data security as well as cognitive flexibility, emotional and social intelligence, creative and innovative mindset.
For this category, SMU-X submitted the project titled "Sustainable Living – Analytics Applications for Smart Living", from the course 'Analytics Applications for Smart Living', taught by Associate Professor of Information Systems, Tan Kar Way.
To encourage more people to use public transport and bicycles, there is a need to pay attention to the comfort and safety of pedestrians on public walkways and spaces. However, there is still a lack of understanding on the threshold of tolerance levels among different groups of people. Through the course, students learnt to put theories into practice by working alongside a city planning agency on an interdisciplinary project, marrying social sciences and information systems.
The two awards are a feather in the cap for SMU-X, which has been winning awards in the competition on a regular basis, for its innovative pedagogies.