SMU's Sim Kee Boon Institute and Landmark Books launch 'Sim Kee Boon: The Businessman Bureaucrat'
The biography is co-authored by Mr Sim's granddaughter Ms Leanne Sim and SMU alumna Ms Low Shi Ping, with personal stories from more than 40 prominent leaders in Singapore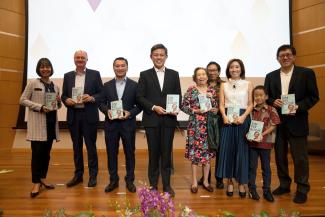 SINGAPORE, 23 September 2022 (Friday) – Singapore Management University's Sim Kee Boon Institute for Financial Economics (SKBI) together with Landmark Books today launched 'Sim Kee Boon: The Businessman Bureaucrat', a biography which brings to life a part of Singapore's history by tracing the personal journey of the pioneer generation leader, who passed away in 2007.
Hand-picked by the colonial government to be a key civil servant, Sim Kee Boon(沈基文) participated in the merger talks with Malaysia, headed Intraco, the national trading company that was one of the drivers of the economy of a newly independent Singapore, and later, became Head of the Civil Service.
Sim Kee Boon is acknowledged as the man who oversaw the development of Changi Airport, making it the world's best air hub. At the same time, he saw to the design of the neighbouring Tanah Merah Country Club to create world- class golf courses.
Another significant contribution was the salvaging of Keppel by turning it into a diversified, visionary Singapore corporation. Through it, he not only gave M1 its name but led it to become a leading telco from scratch.
Prime Minister Lee Hsien Loong provides a moving Foreword for the 240-page book. The book also contains personal stories surrounding Mr Sim from more than 40 prominent figures, including Emeritus Senior Minister Goh Chok Tong; former Minister S. Dhanabalan; former Chief Executive Officer of Temasek Holdings Ms Ho Ching; former Director-General of CAAS Mr Wong Woon Liong; and former Chief Executive Officer of Keppel Corporation Mr Choo Chiau Beng.
Sim Kee Boon: The Businessman Bureaucrat is more than the biography of this pioneer generation leader. It is a primer of the principles and values that he lived out in his successful career. Meticulous research by biographer Low Shi Ping, with personal insights by Sim Kee Boon's granddaughter Leanne Sim, makes this an engaging and valuable book about a man who made a difference to Singapore.
Guest-of-Honour of the book's unveiling ceremony was Minister for Education and Minister-in-charge of the Public Service, Mr Chan Chun Sing. He said, "The founding generation of civil servants like Mr Sim worked tremendously hard and persevered through daunting challenges to build the foundations of Singapore's success. I hope that through this book, future generations will be inspired to emulate his tenacity and sense of mission to similarly leave behind a better country for future generations."
Mr Loh Boon Chye, SKBI Advisory Board Chairman and Chief Executive Officer, Singapore Exchange (罗文才, 沈基文金融经济研究院顾问委员会主席, 新加坡交易所首席执行官) said, "The Sim Kee Boon Institute carries on the legacy of the late Mr Sim through our mission to conduct applied research that is relevant and practical in Singapore and beyond. Mr Sim worked successfully with the public and private sectors to develop our city's modern infrastructure. In the same spirit, the SKBI Advisory Board directs our collaborative efforts towards the economy's most pressing needs, so as to deliver a positive impact on businesses, policy makers and society at large."
Professor Dave Fernandez, SKBI Director (方德尉教授, 沈基文金融经济研究院主任) said, "This institute, which is the only one in Singapore that bears his name, is Sim Kee Boon's living legacy for Singapore and beyond. When I first joined SMU, I started to discover the extent of SKB's contributions in shaping the Singapore economy to what it is today and realized that his story should be shared to a larger audience. That was the genesis of this book project. Now we should all share far and wide both the story of Mr Sim and that of the Sim Kee Boon Institute."
Granddaughter and co-author Leanne Sim (沈玫) said, "Making the decision to share my family's and my memories of my grandfather in such a public way scared me at first. Not many people reveal such deeply personal moments to others, let alone so openly. But I decided to be bold because this book was written to document not only a brief moment in our country's history, but also an integral part of my family's history. As the Chinese saying goes, 饮水思源 (yín shuǐ sī yuán). This biography is for my children and their children, that they may know the source of water they drink, and be grateful."
Co-author Low Shi Ping (刘诗平) said, "Writing about SKB's professional achievements has been deeply inspiring. I now have a better appreciation of how modern Singapore came to be. But he was not just competent in nation building. When he could, he touched and uplifted the lives of those who worked alongside him. In listening to all their stories to put this book together, I wish I had been one of them."
The book will be available from all good bookshops from 23 September 2022. The published price is $30 before GST.
-End-