All Aboard the Diverse-City Train, at SMU!
Diverse-City, Singapore Management University's very own annual fiesta celebrating cultural diversity and unity, returned in person on 7 September 2022 at the University's basement concourse. With its past two instalments having been held virtually due to the global COVID-19 pandemic, the return of the festival in physical format this year was warmly welcomed by all. Members of the SMU community experienced the vibrancy of different cultures and traditions by immersing themselves in a rich tapestry of cultural exchange and gastronomical delights hosted in the heart of the SMU campus.
Organised by SMU Student Success Centre (SSC) and students from SMU International Connections, Diverse-City 2022 aimed to elevate awareness and appreciation of cultural diversity. Through a curated series of cultural learning programmes infused with both engaging and educational elements, this year's festival brought a cultural showcase of 14 countries to the University, giving students the opportunity to deepen their understanding of traditions and norms around the globe.
With an Orient Express theme of "Come Join Us on a Journey", Diverse-City 2022 transformed the SMU basement concourse and T-junction into a lively smorgasbord of cultural activities, food, games, hands-on arts and craft workshops. Students, staff, alumni and faculty members, including SMU Provost Prof Timothy Clark and Prof Venky Shankararaman, Vice Provost (Education), got to experience a myriad of cultures through a tour of food and workshop booths, with each booth configured to appear as a train carriage, opening a window of possibilities at every destination country featured.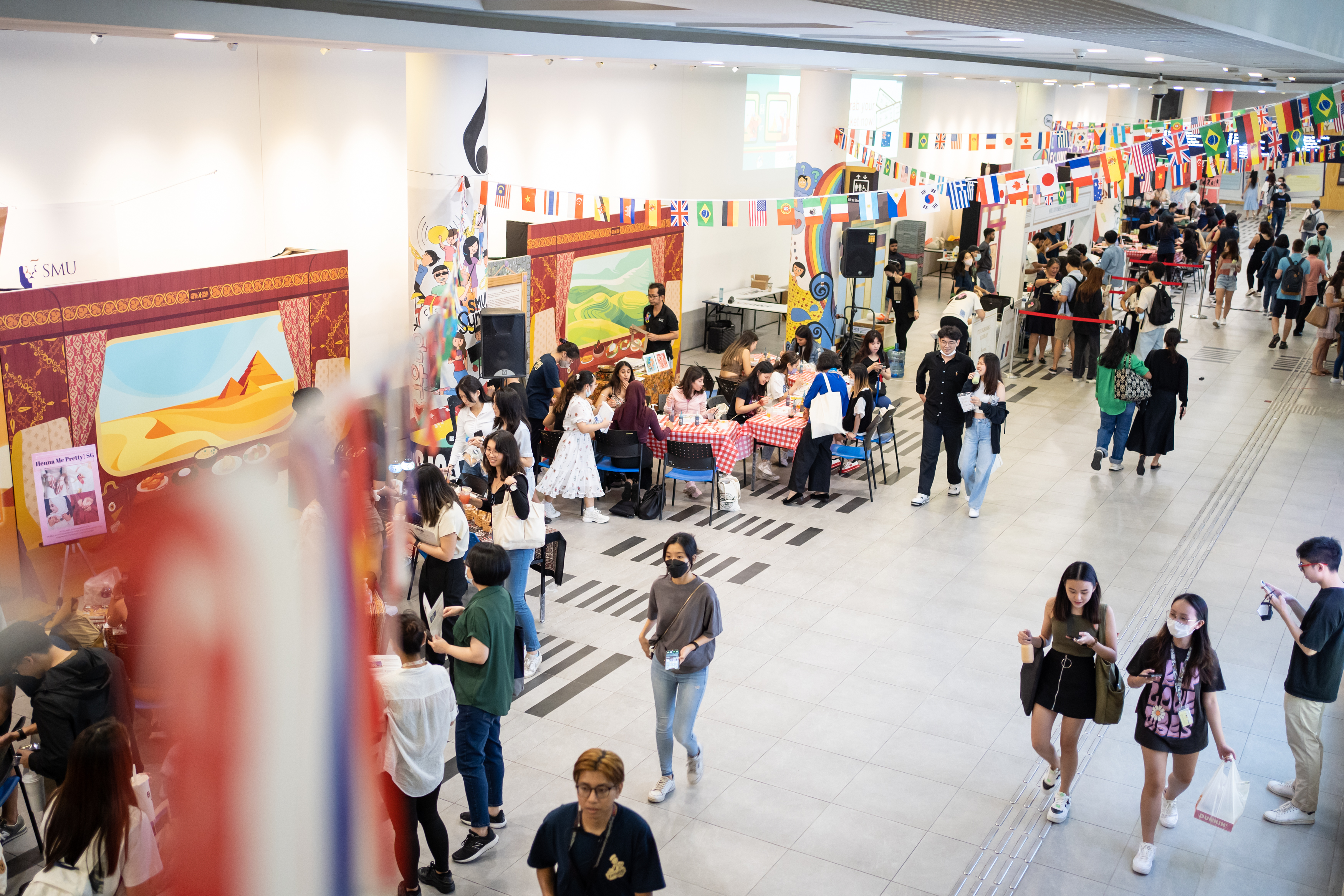 The theme of traversing the globe to learn about cultures around the world was conceptualised by SMU's very own student, Faith Lam. A second-year undergraduate from SMU Lee Kong Chian School of Business, Faith shared that she wanted to incorporate train elements such as railway tracks and cabin interiors to fit in with the idea of an Orient Express train.
"I took inspiration from different cultures, including costume patterns, symbolisms, sceneries, and food when designing the backdrops," commented Faith. She added that the experience working on Diverse-City 2022 was a memorable challenge, where she learnt to manage her time wisely to deliver life-sized marketing collaterals under tight deadlines, without sacrificing quality.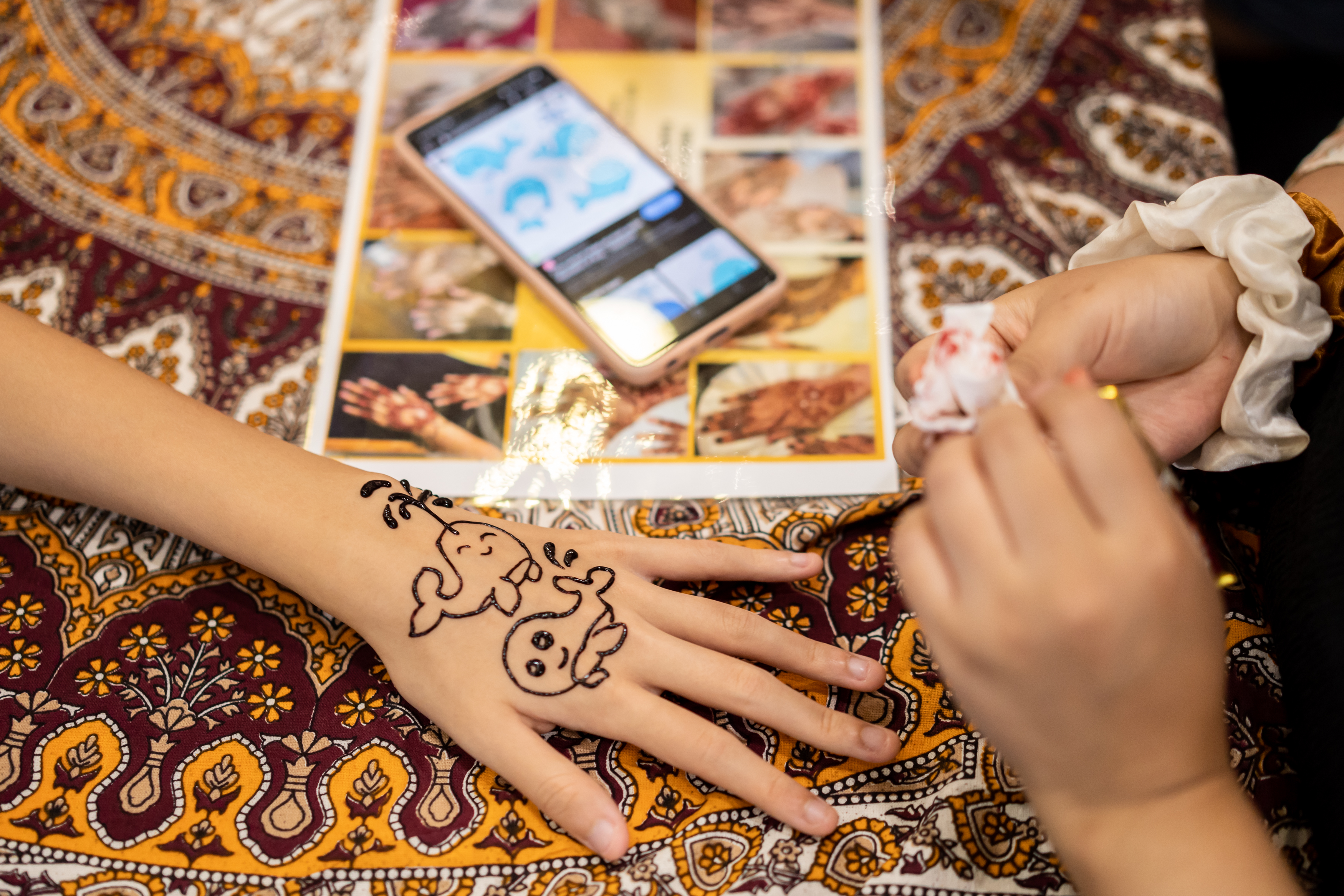 At one of the many "train carriage" booths that lined the festival, participants had the opportunity to appreciate Middle Eastern henna art, gain an appreciation for French language and gastronomy and try their hand at Cambodian kite making, Indonesian batik painting or Chinese tie-dye. Those so inclined could also request for a personalised Japanese Haiku to be composed or capture beautiful memories at the Korean Life4cut Photobooth.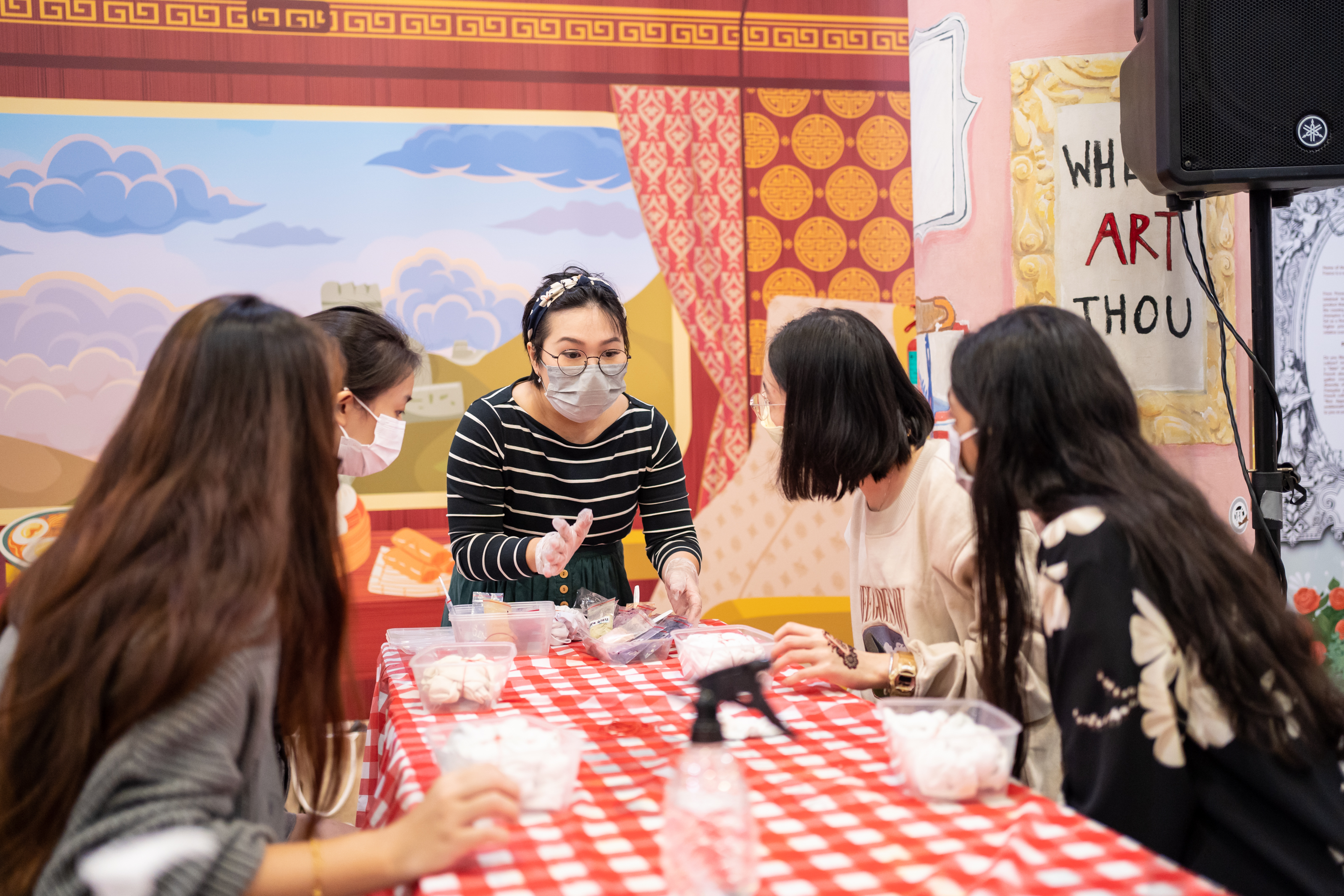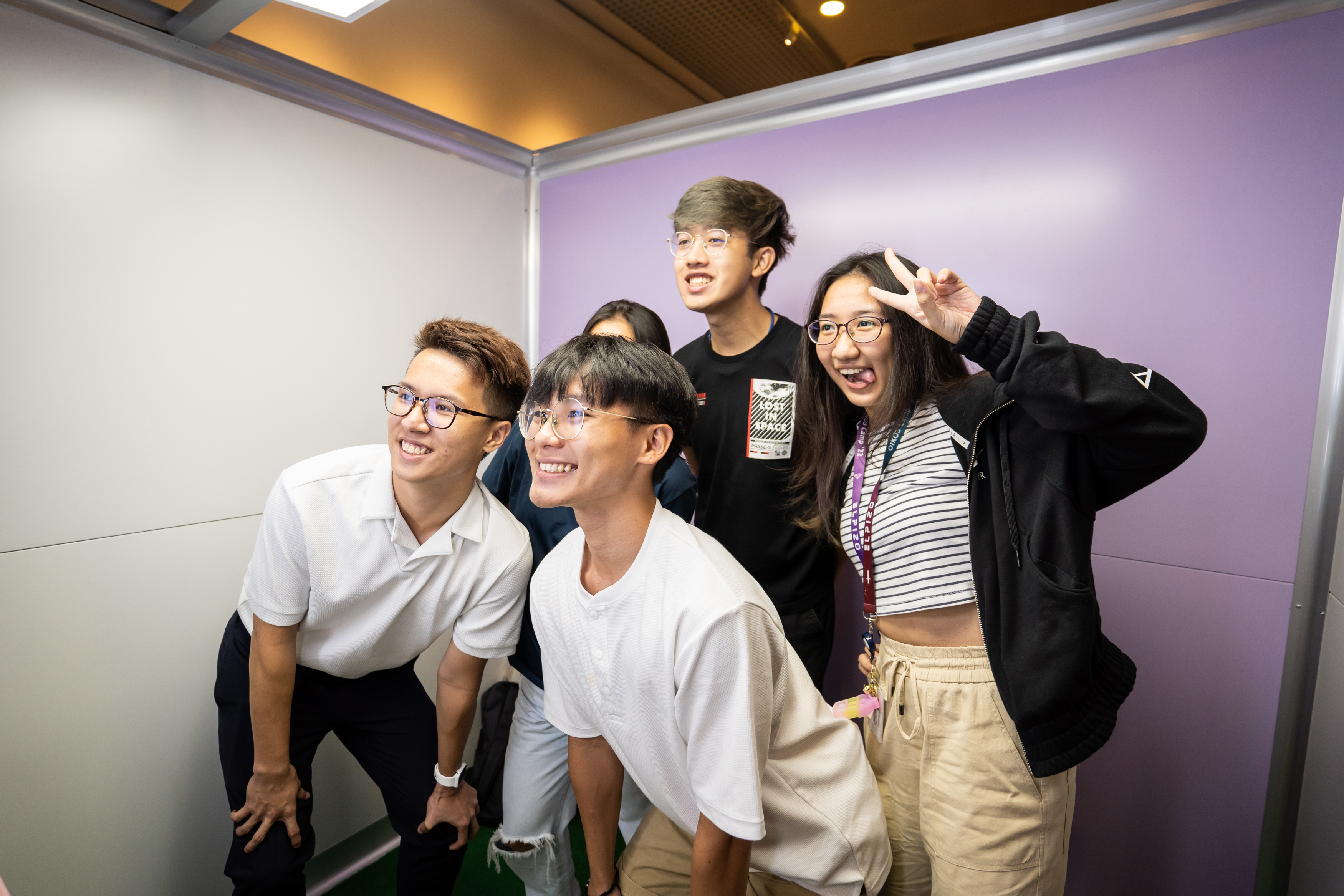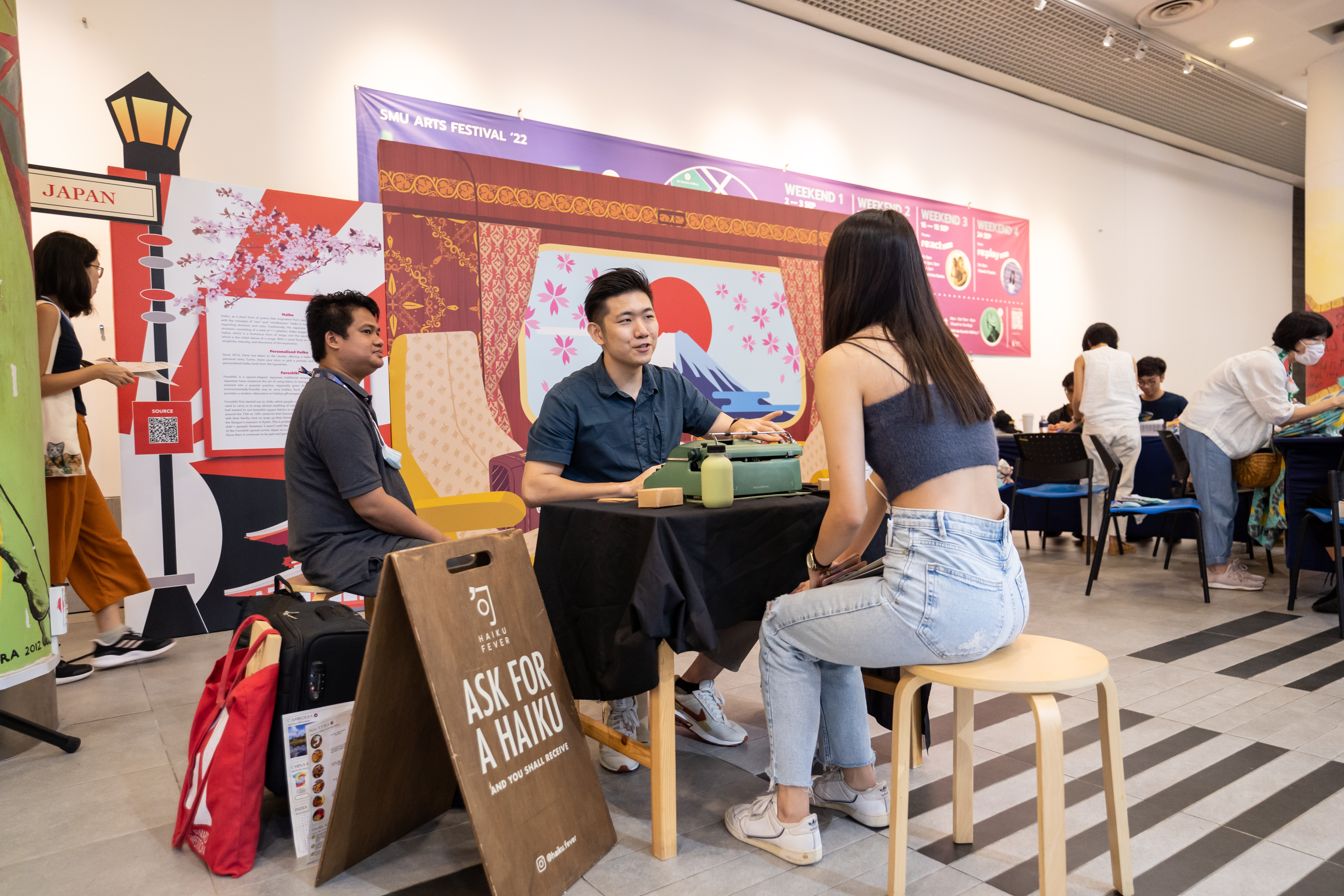 This year's SMU Diverse-City 2022 amplified its experiential element with interactive quizzes for all students and participants. For example, participants were encouraged to fill in the romanised Korean names of food dishes, complete a Japanese Haiku, name French pastries from pictures provided and guess the spices presented at the Middle East booth. Upon successful completion of the questions, participants could redeem their stamped tickets at the food booths for a sampling of cultural delights, which included, amongst others, French macarons, Vietnamese bahn mi, Thai mango sticky rice, and a Singapore Sling mocktail.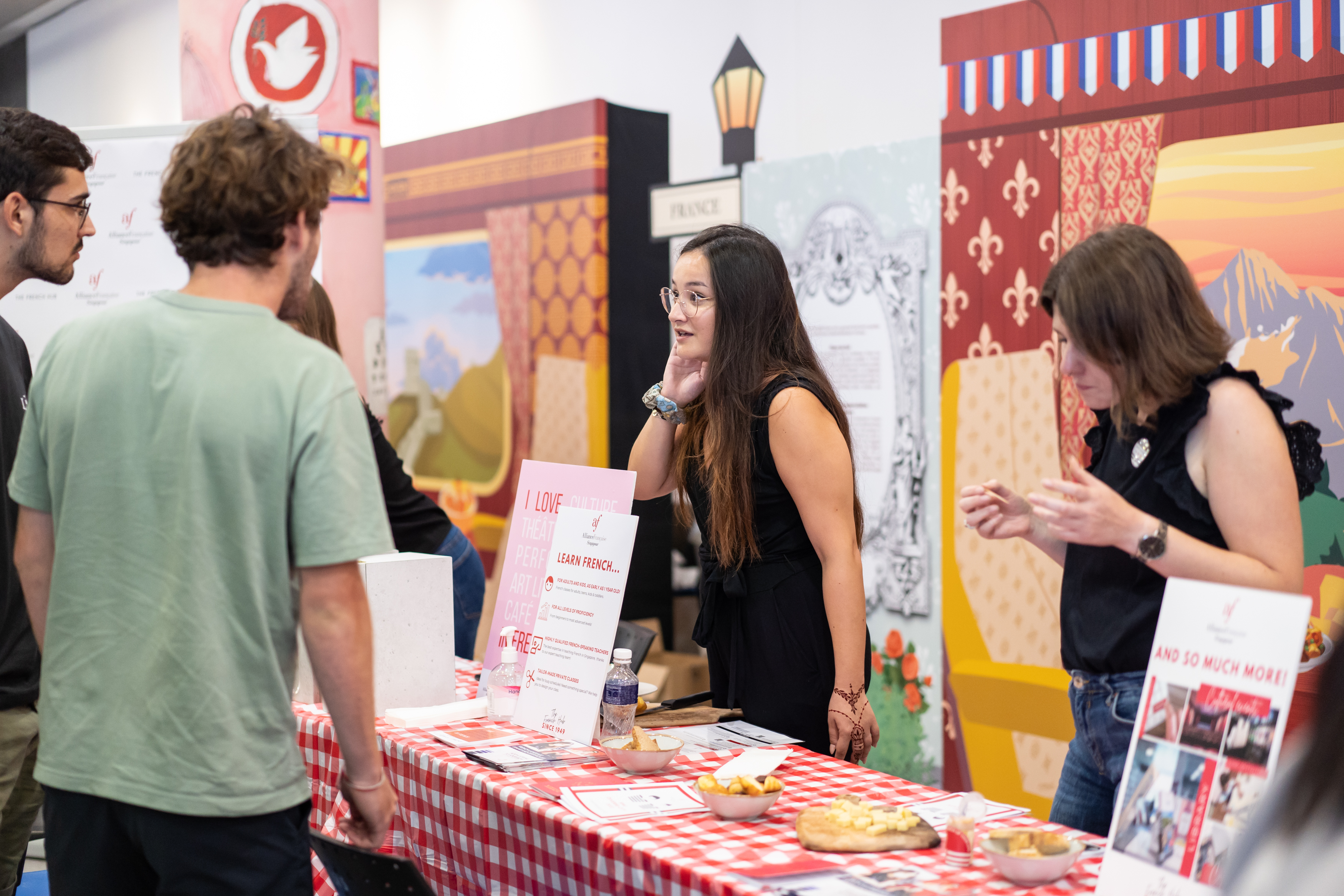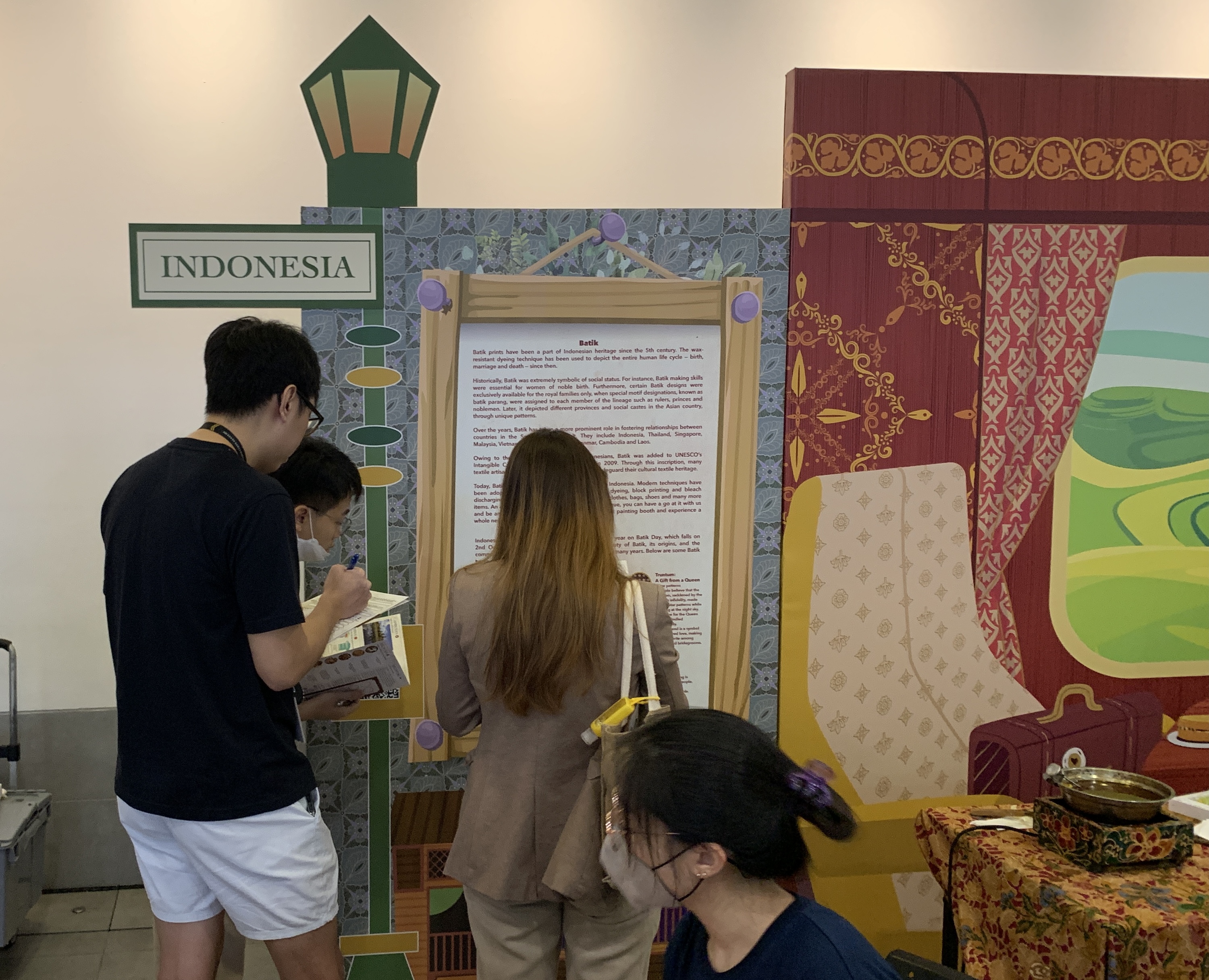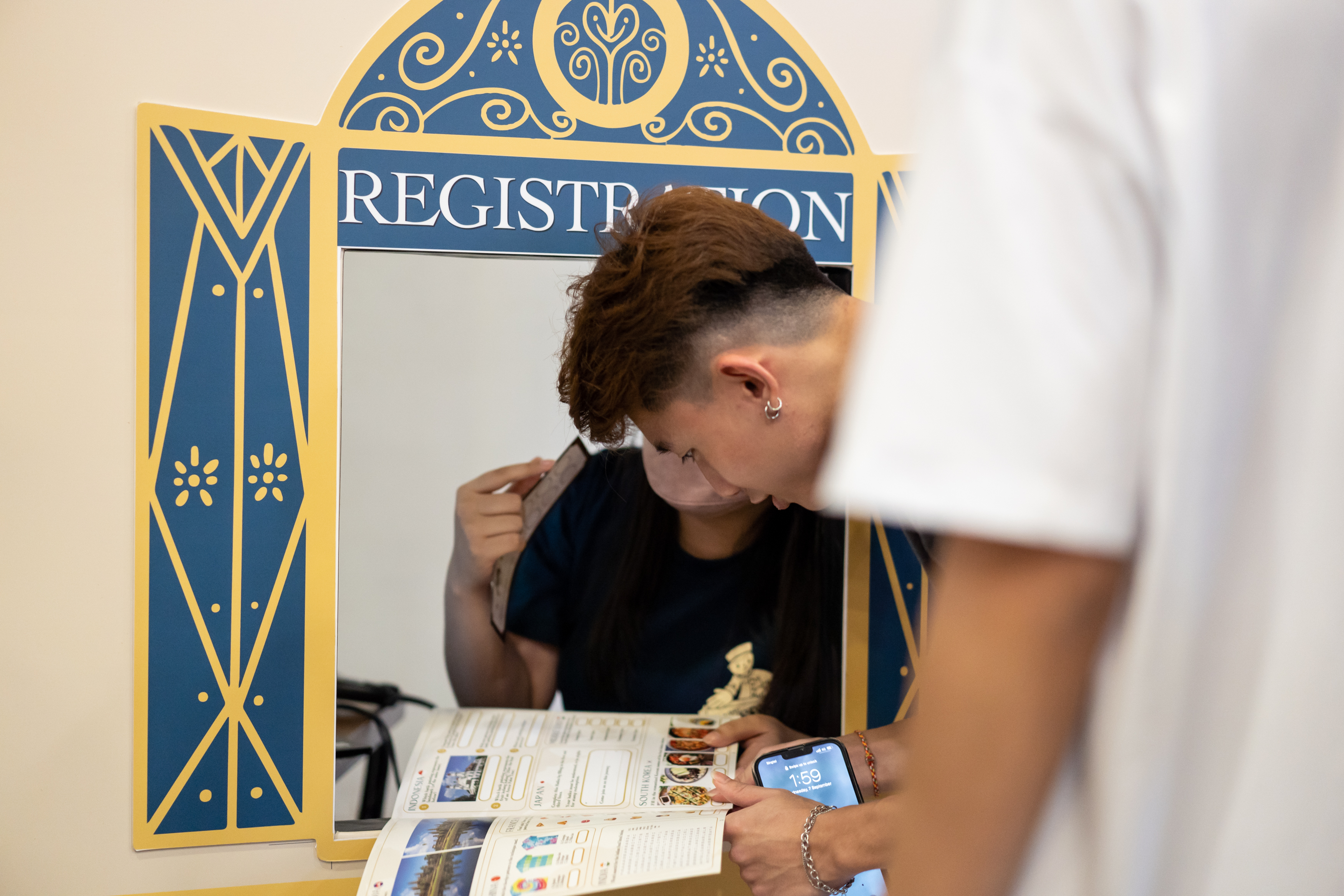 To celebrate cultural diversity through literacy, the SMU Diverse-City team this year joined Book Fairies around the globe in sharing a variety of books written by international authors. Since 29 August 2022, Diverse-City "Book Fairies" had hidden books every day around the SMU campus, where each book is adorned with a sticker which stated 'Take this book, read it & leave it for the next person to enjoy'. Through a daily alert on the Instagram handle, @smu_diversecity, participants gleaned clues about where these books were hidden.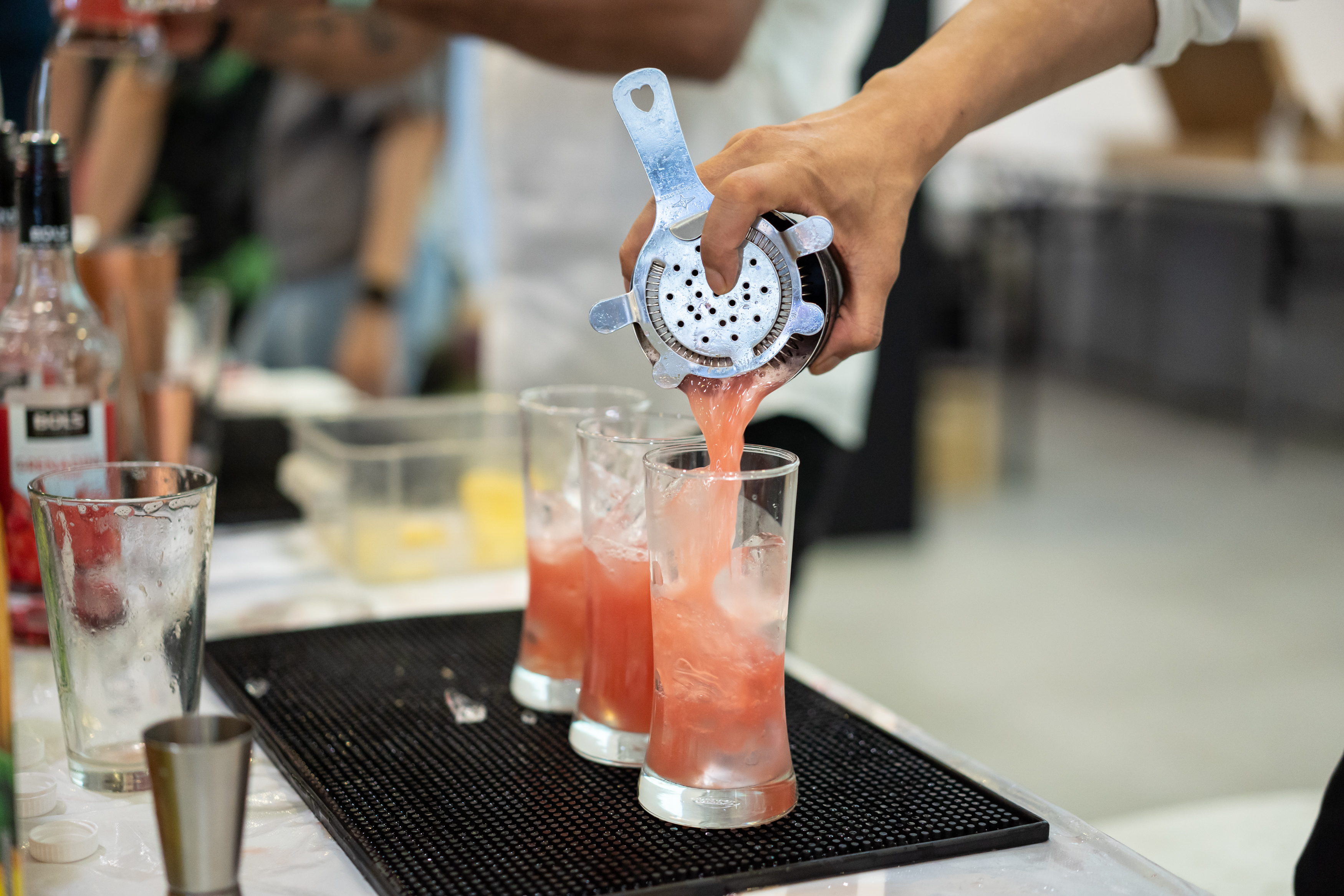 To enhance the international and cultural learning experience of diversity for members of the SMU community, the SSC also collaborated with the SMU Libraries, which curated a selection of fourteen movies from regional countries for online screening from Kanopy. The option of 3,000 more streaming films and documentaries in Kanopy was also highlighted to students, staff and faculty.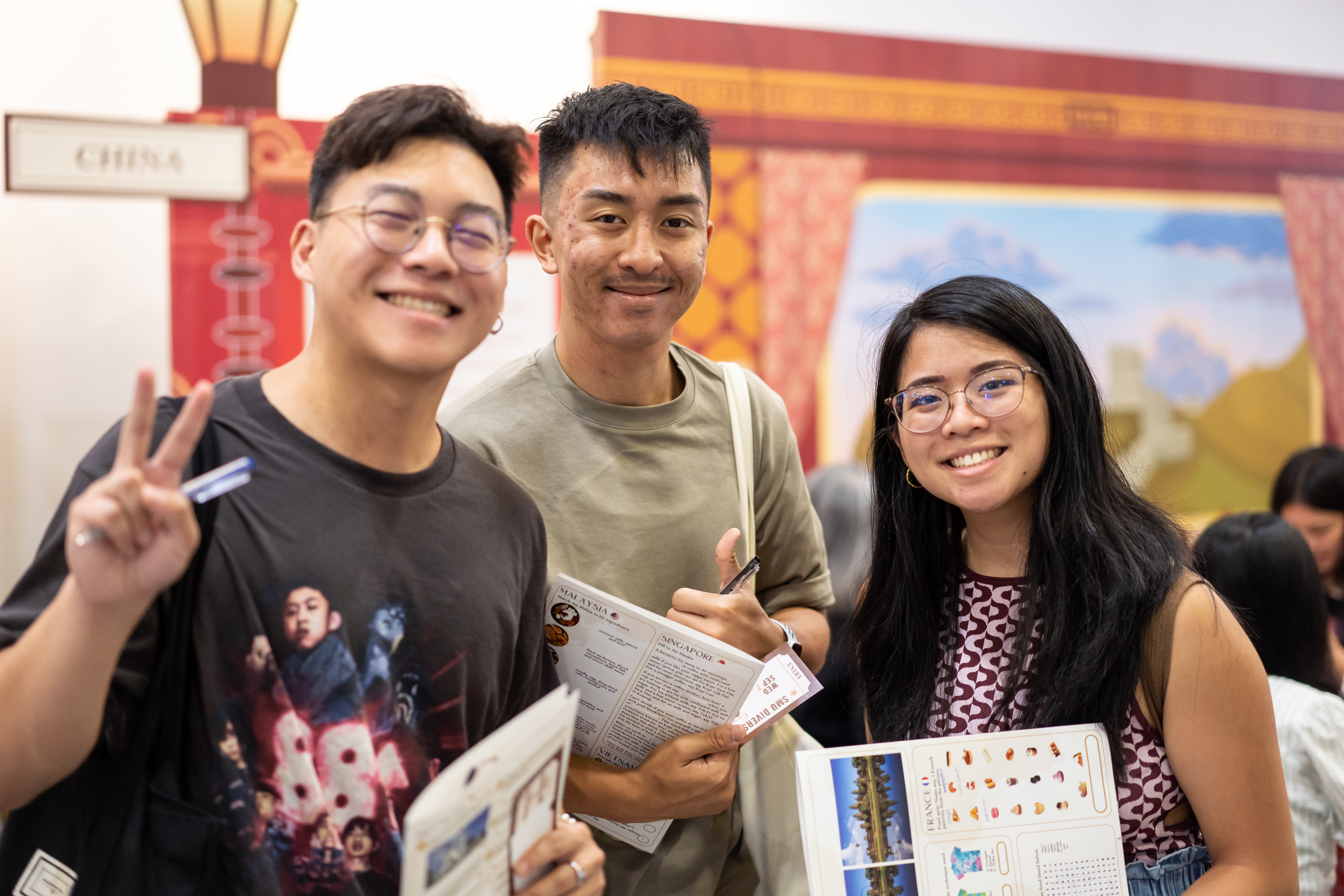 "Through initiatives such as Diverse-City, we seek to imbue in our students an active curiosity and understanding of others from a different cultural background," commented Prof Timothy Clark, underscoring SMU's commitment to nurturing a global mindset in students. "Such valuable opportunities equip our students to gain new perspectives, deepening their appreciation of the interconnectedness of world communities. This enhances the ability of our graduates to operate outside their comfort zone, understand different points of view and to collaborate effectively in a cross-cultural environment."
Photo credit: Singapore Management University