Leveraging technology to improve legal services
2022 Legal Innovation & Technology Hackathon abuzz with creative ideas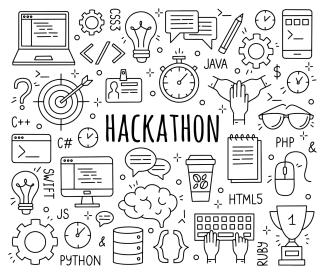 Imagine if the tedious process of extracting relevant economic data from financial statements for the purposes of Management's Discussion and Analysis (MD&A) drafting by lawyers was automated. Not only will the risk of human error be minimised, lawyers can also save time on formulaic data entry work.
This was precisely what Team Hotel Trivia Go successfully tackled and developed after hunkering down for three days at the SMU LIT Hackathon 2022: The Big Leap Forward, organised by SMU's Legal Innovation and Technology (LIT) club from 1 to 3 July 2022.
They walked away with the coveted first prize.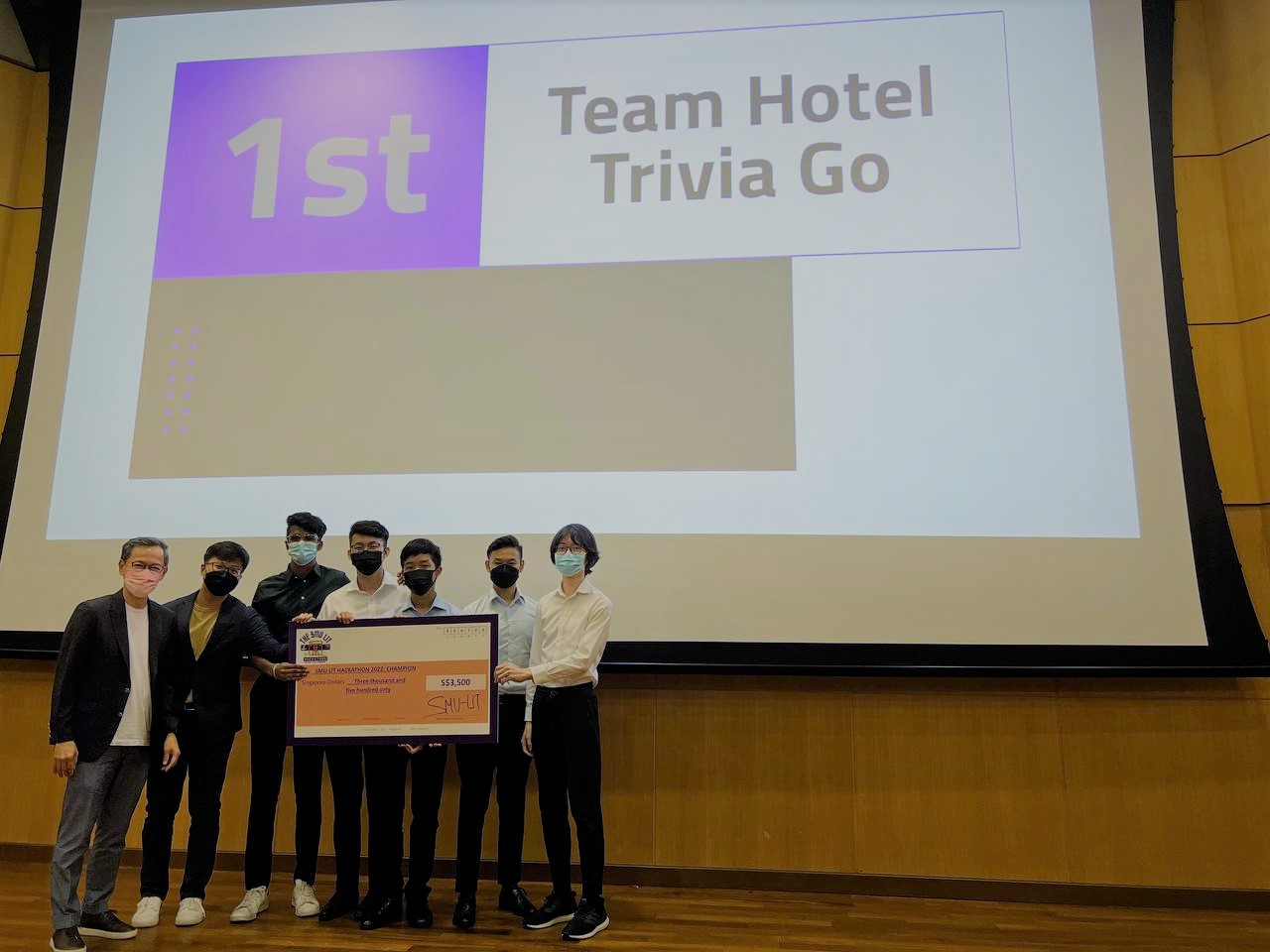 The triumphant Team 'Hotel Trivia Go' comprised members Liu Ze Wei Martin, Ramasamy Vighnesh, and Ho Shu Hao Eugene from SMU, together with Chen Xin Han, Toh Jing Hua, and Ong Tsien Jin from Nanyang Technological University.
This year's hackathon saw 26 participating teams and more than 140 participants from local universities and polytechnics. The cash prizes totalled more than $11,000 and the winners gained an opportunity to attend future workshops organised by the sponsors. The Hackathon was graced by Guest-of-Honour Permanent Secretary (Law) Mr Loh Khum Yean on the opening day.
The three main themes for this year's Hackathon were Access to Justice, Efficiency of Work Processes, and Cybersecurity & Data Privacy. Teams get to choose a problem statement under one of the three themes and worked to build a legal tech solution.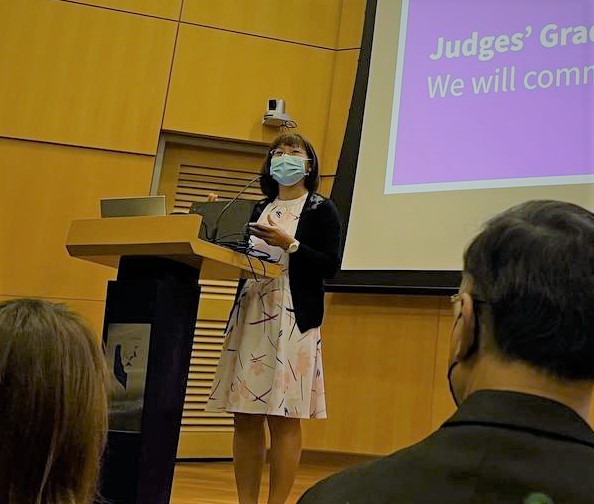 The three-day Hackathon included industry talks, panel discussions and fireside chats on topics surrounding legal technology presented by donors and supporting partners of the competition. For the first time, pre-Hackathon workshops were also held by tessaract.io, lupl and INTELLLEX for participants to gain insights into the legal tech industry.
As a unique feature of the Hackathon, participants were also given feedback on their prototype by illustrious industry experts from Singapore Academy of Law, Dentons Rodyk & Davidson LLP, Rajah & Tann Technologies, Clifford Chance and tessaract.io before their final submissions.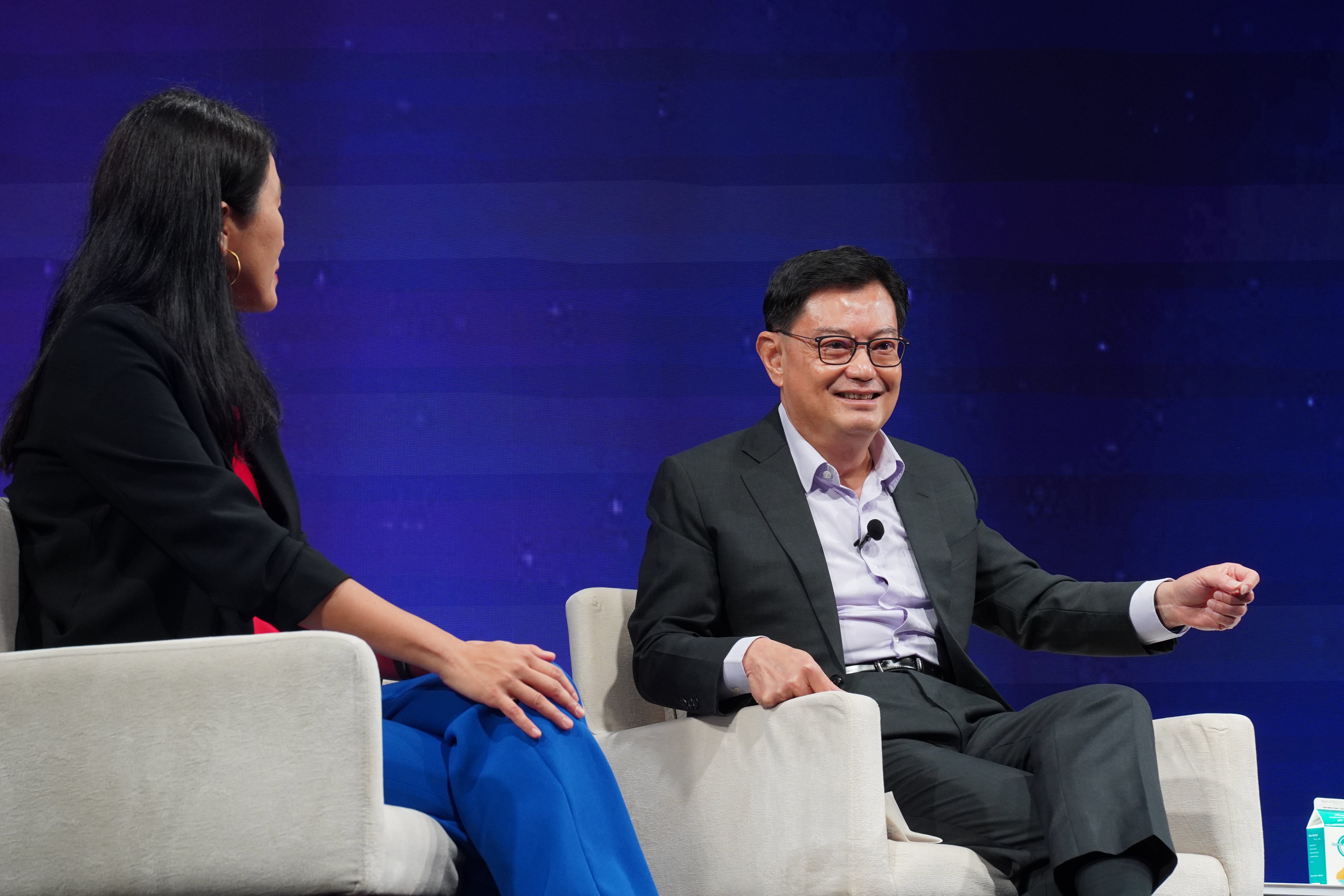 The grand finals and prize presentations were held physically at SMU on 3 July and was graced by the Deputy Secretary, Ministry of Law, Mr Calvin Phua.
The second and third prizes went to Team Penteract and Team Reasonable Doubts.
Team Penteract developed LocateAdvocate, which enables pro bono centres to use a seamless, inter-operable case management system that benefits litigants, lawyers, and student assistants. Litigants get easy access to book an appointment with any pro bono centre. Lawyers get to save time because basic case information is already provided and student assistants can conduct pre-consultation research.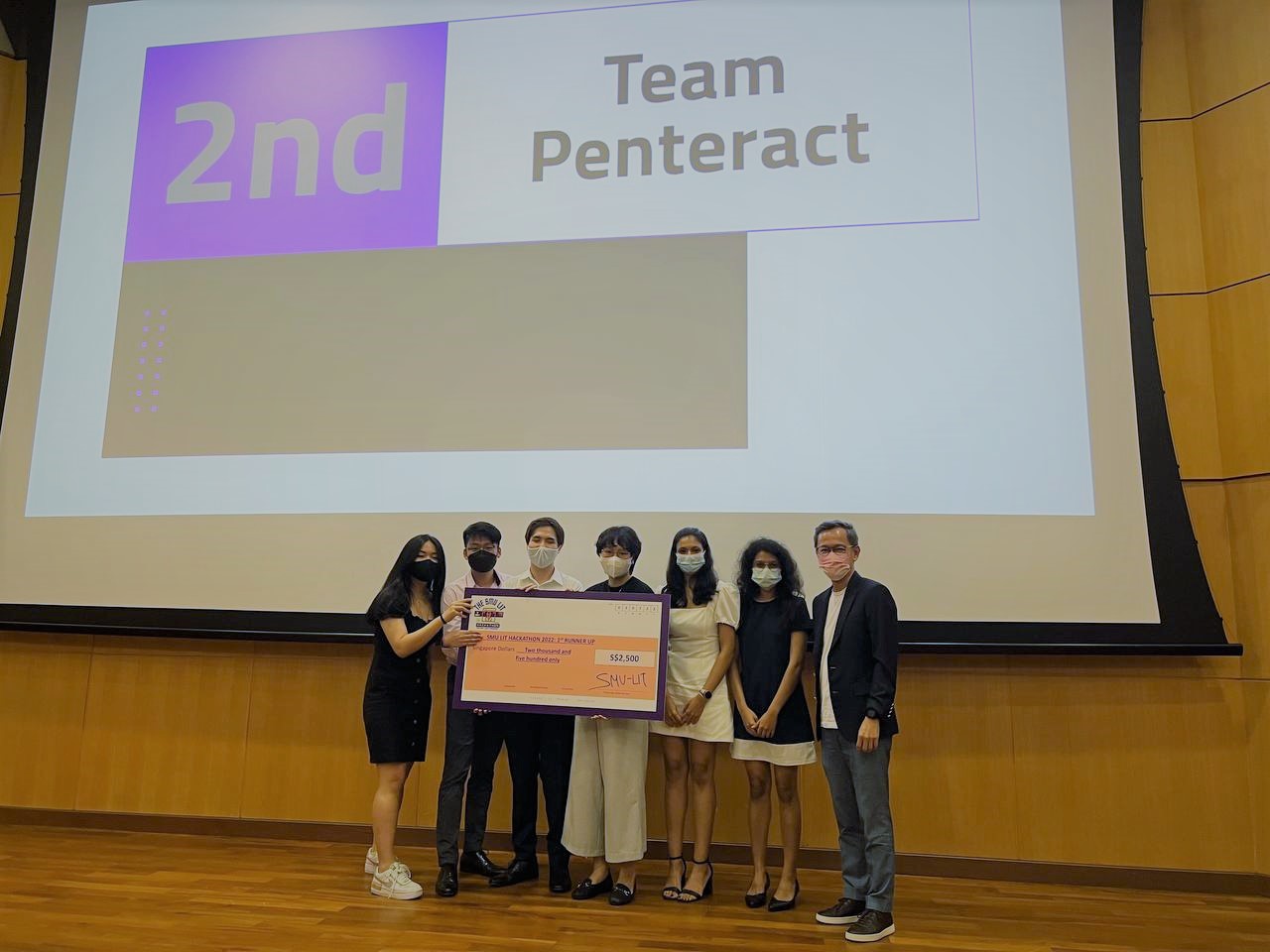 Team Reasonable Doubts, on the other hand, developed a multi-tiered interactive chatbot called IKE (abbreviation for: Imparting Knowledge on Employment). IKE has a question-and-answer section and an interactive component where the user is given the option to view a poster or video that explains the employment right that is expounded by their question. Another section under development is an optional quiz that tests users on their knowledge.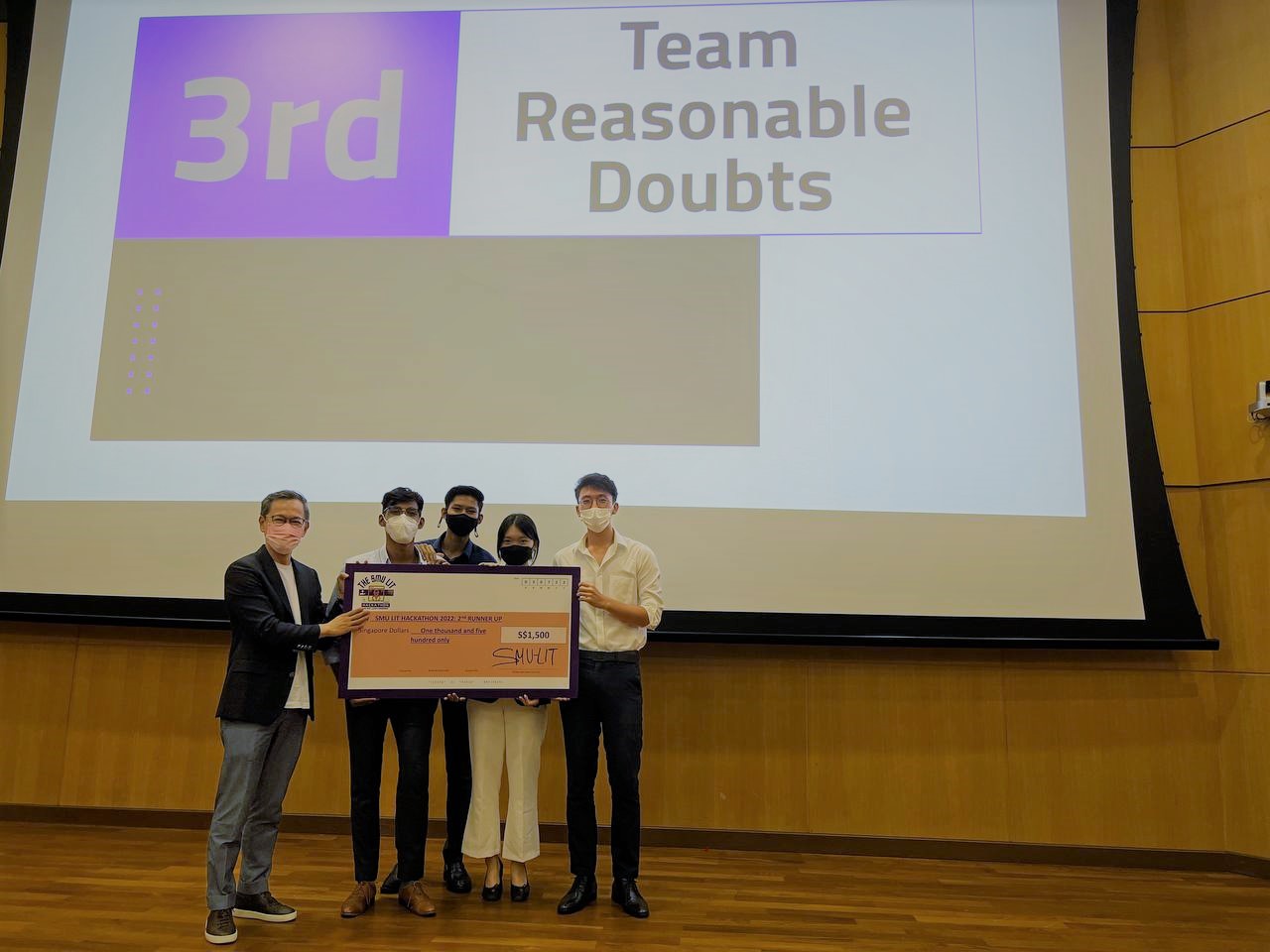 On their win, team leader Liu Ze Wei Martin from Team Hotel Trivia Go, said, "Our group came into the competition with an open mind, hoping to gain more exposure to some of the problems in the legal industry. We did not expect to win but wanted to leverage our capabilities in designing a prototype that is both ready and easy to use. We are extremely grateful for the support from SMU LIT and the various event partners. Personally, I am very proud and grateful for my teammates. Big shoutout to Tsien Jin, Xin Han, Jing Hua, Vighnesh, and Eugene! Over the course of our studies, we will continue to learn, participate in more hackathons, and we hope to design a better prototype in the future!" The win is extra sweet for the group, whose friendship began when they first met each other in National Service where they trained together in the Specialist Cadet School.
The illustrious panel of judges comprised: SAL Chief Executive Mr Rama Tiwari, SAL Chief Technology & Information Officer Kenta Kusano, Rajah & Tann Technologies Director Rajesh Sreenivasan, Rajah & Tann Technologies Director Steve Tan, Norton Rose Fulbright Transform Manager Simon Schmeing, Norton Rose Fulbright Associate Sian Smith, Dentons Rodyk & Davidson LLP Innovation & KM Solutions Product Manager Andrew Wong, Clifford Chance Create+65 Innovation Lead Joanne Chuang, Bizibody Technology Director Serena Lim, as well as students and faculty of SMU.
Entirely run by students from the LIT club, the Hackathon was supported by the Ministry of Law. The Platinum Donors of the event are Singapore Academy of Law (SAL), Rajah & Tann Technologies, Norton Rose Fulbright and Dentons Rodyk & Davidson LLP. The Gold Donors are Clifford Chance and Bizibody Technology. Our Supporting Partners include prominent legal technology platforms in Singapore: tessaract.io, lupl and INTELLLEX, as well as Amazon Web Services, Avvoka and Lazada.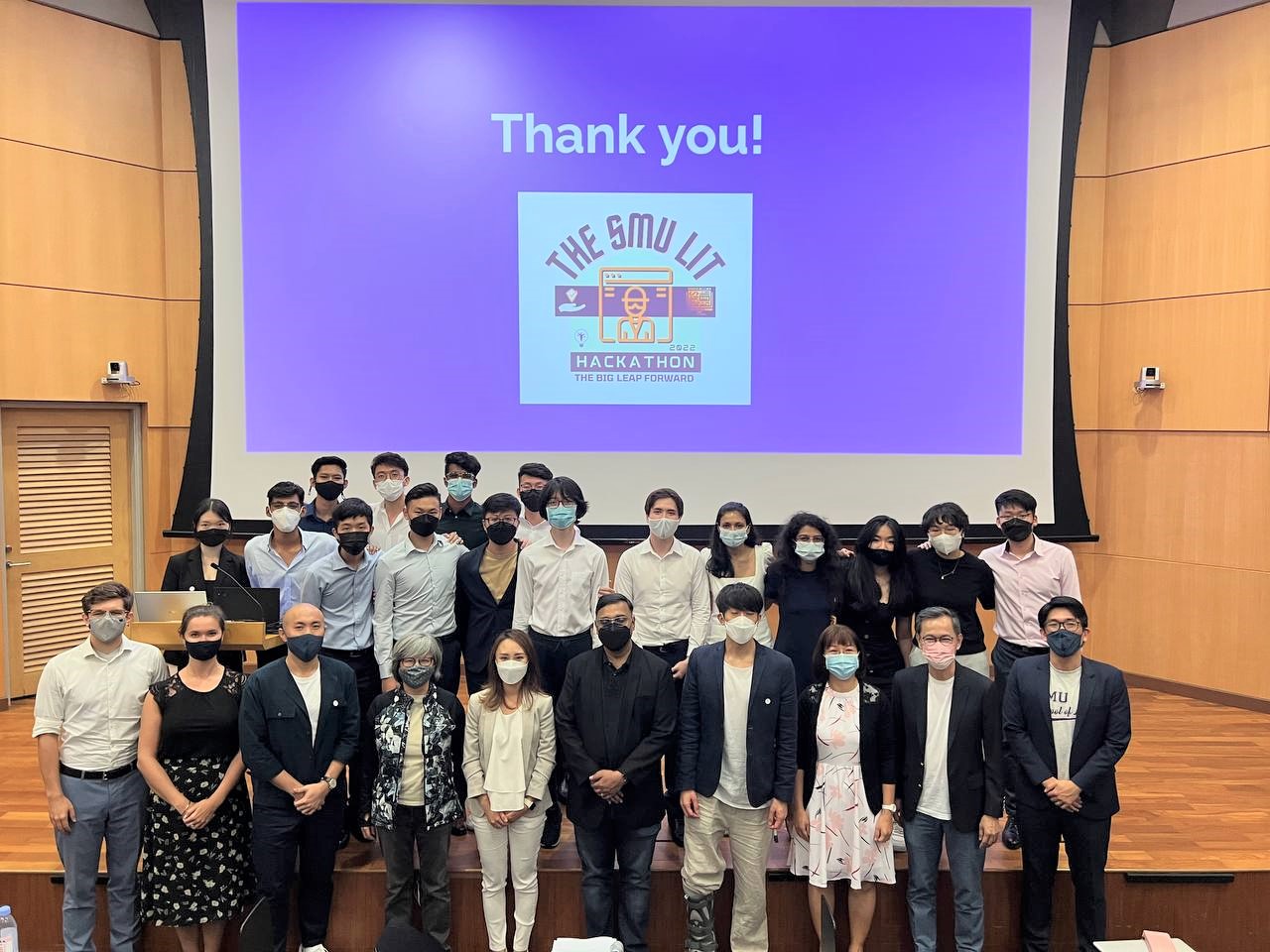 - End -