SMU wins two awards for leadership in Sustainability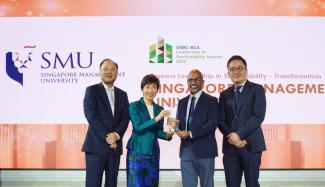 SMU has bagged the Business Leadership in Sustainability Award and the Building Project Leadership in Sustainability Award at the SGBC-BCA Leadership in Sustainability Awards. The biennial Awards, co-organised by the Singapore Green Building Council (SGBC) and the Building and Construction Authority (BCA), aim to recognise professionals, organisations and building projects for their contributions and significant achievements in the development of a green and sustainable built environment.
Twenty award winners were formally announced during the SGBC Gala Dinner 2022 held at the Orchard Hotel Singapore, which was graced by Minister for Sustainability and the Environment Ms Grace Fu.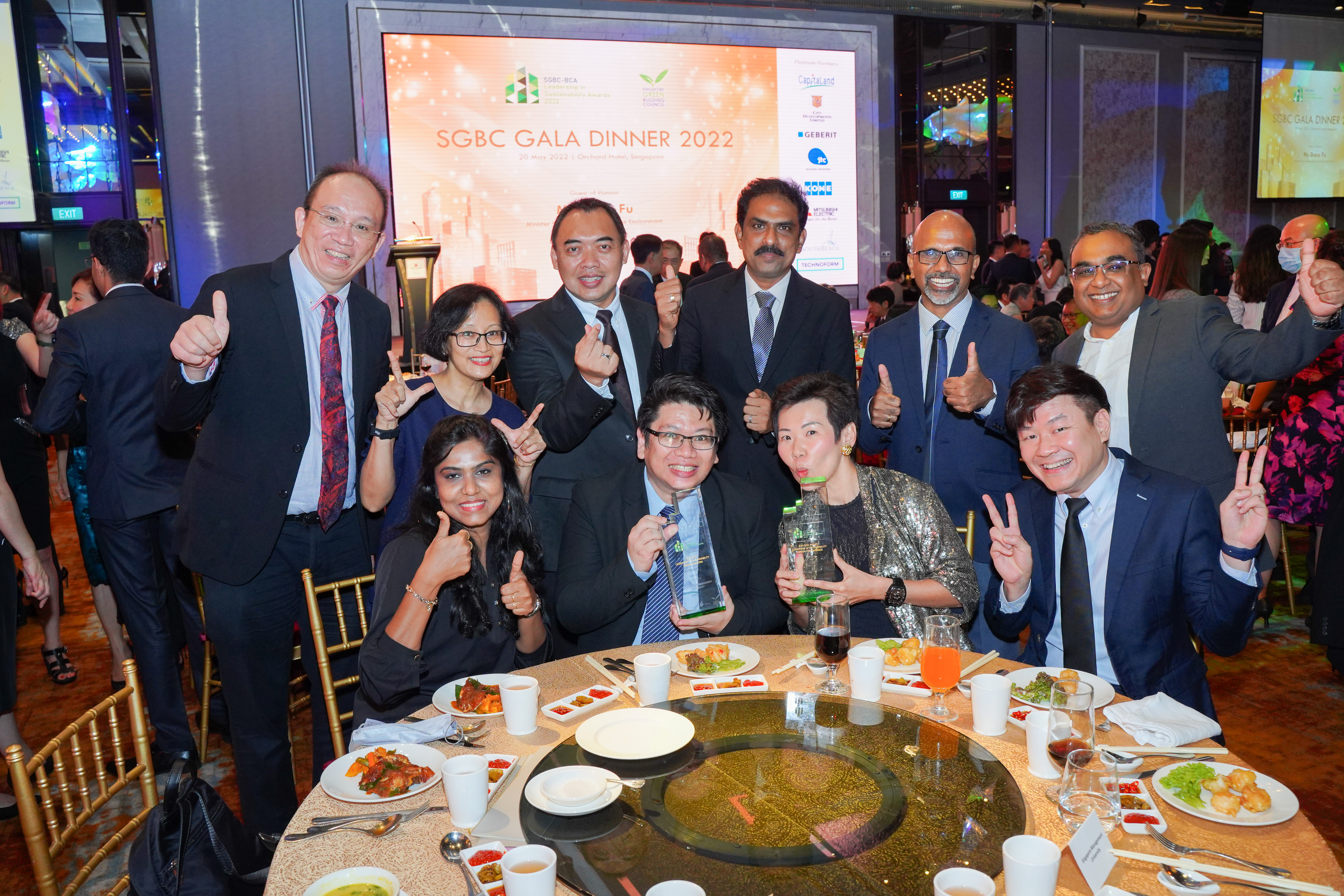 Business Leadership in Sustainability Award
The Business Leadership in Sustainability Award honours organisations that have integrated sustainability into their business and are contributing to the transition towards a greener, more sustainable built environment.
SMU won the award in the 'Transformation' sub-category, which is given to organisations that have undertaken strategic and business transformation to embed sustainability as the organisational core driver.
Mr Sundaravadivelan Selvam, Vice President of the Office of Campus Infrastructure and Services (OCIS), said "The award is testimony to SMU's commitment to the sustainable development of its infrastructure since the opening of its Brash Basah campus in 2005. SMU has adopted a whole-of-university approach to sustainability with the nurturing of future leaders through transformative education and cuttingedge research in sustainability. SMU has also aligned its sustainability initiatives with national objectives and developed quality infrastructure to support its dynamic pedagogical and operational requirements.
"The award also serves as a recognition of SMU's efforts in leading and pushing its sustainability endeavours to a higher level by adopting innovative green solutions for its campus buildings and facilities. We are delighted to receive the award alongside other distinguished like-minded award recipients who seek to preserve, shape, and advance our built environment, ensuring that it remains environmentally friendly and sustainable in our city-state."
Since its establishment in 2000 and the opening of its City Campus in 2005, SMU has been committed to the sustainable development of a clean, green, and healthy environment for SMU students, faculty, and staff as well as neighbouring communities, and businesses, residents and visitors.
In addition to greening the buildings on campus, SMU nurtures its students to become future sustainability leaders and global citizens through transformative education and holistic learning experience. The University launched a major in Sustainability in 2019, the first of its kind in Singapore. The major aims to develop graduates who are equipped with the knowledge and skills to implement sustainable practices in businesses that lead to long-term, measurable impact.
SMU also introduced climate change and sustainability electives within SMU's undergraduate Core Curriculum from 2019. Starting from the new academic year in 2021, Sustainable Living has been incorporated as a theme in the Core Curriculum's Ethics and Social Responsibility course, which is a compulsory course for all SMU undergraduate students.
At the postgraduate level, the University offers a Sustainability Track as part of our Master of Science in Management programme. The modules offered include Sustainable Impact, Sustainable Operations, Sustainability and Metrics, and Sustainable Finance. In Professional and Continuing Education, the SMU Academy currently has 12 courses related to sustainability, including a course on Environmental & Carbon Management for a Sustainable Economy.
SMU has also placed much emphasis on the importance of sustainability research, these include the Cooling Singapore Research Project on urban heat risks to Singapore, as well as the Singapore Green Finance Centre, Singapore's first research institute dedicated to green finance research and talent development.
Building Project Leadership in Sustainability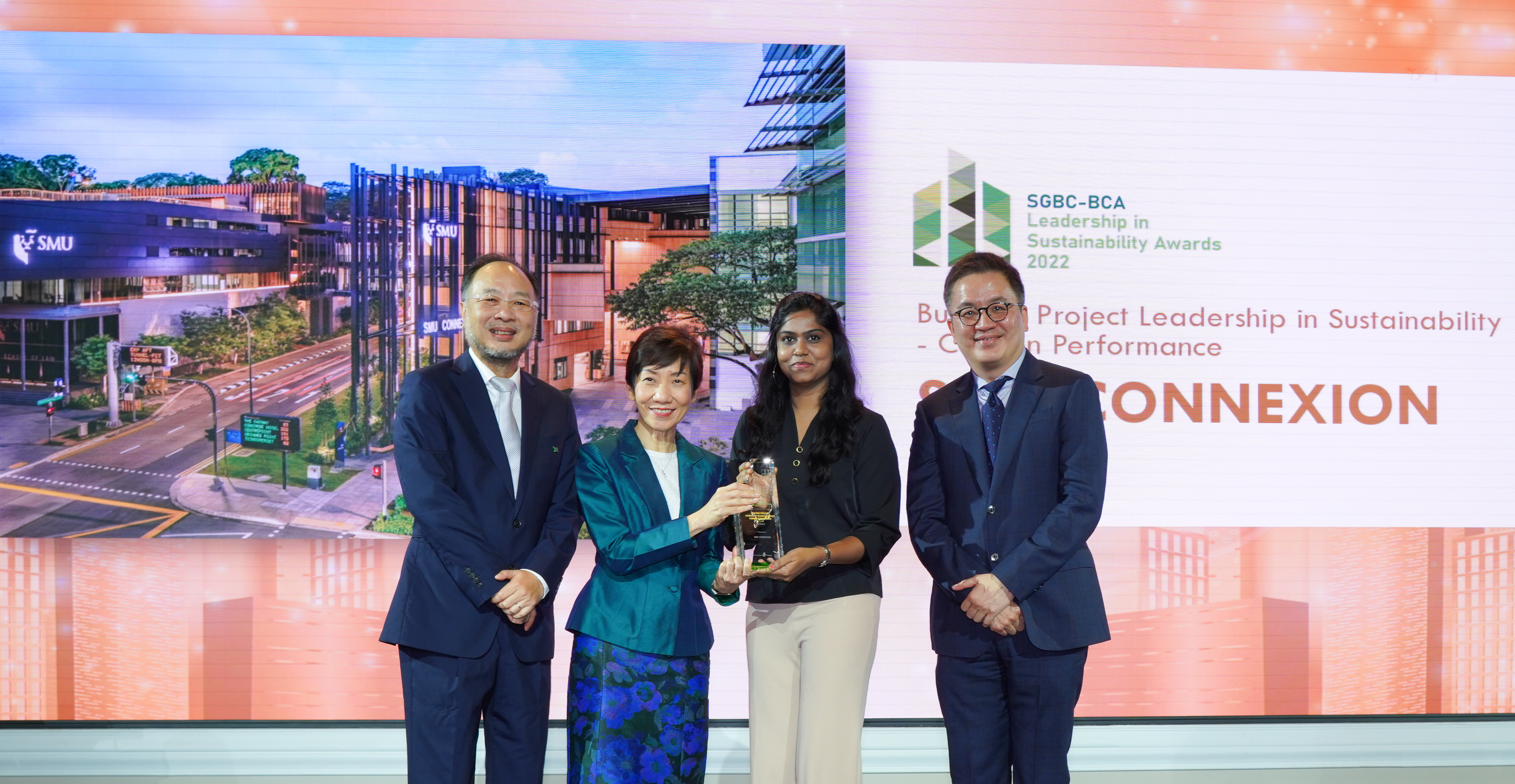 The Building Project Leadership in Sustainability Award celebrates exemplary green building projects that have demonstrated leadership in a few areas. The Award is presented to outstanding building projects that are pushing the boundaries of built environment sustainability.
SMU Connexion won the award in the 'Carbon Performance' sub-category, which is given to building projects that have undertaken substantial action to minimise its operational and embodied carbon emissions, and taken steps to reduce its carbon footprint at each stage of the project.
Ms Bharathy G Shanmugam, Head-Campus Development, OCIS, said "With the sustainability benchmarks evolving and the bar set ever higher, SMU has constantly sought to improve by pro-actively exploring new solutions and technologies which could be leveraged to upgrade its existing buildings and in future developments. The design and construction of SMU Connexion resonate strongly with SMU's vision and commitment to innovation and sustainability. This prestigious award is an affirmation of SMU's unyielding commitment to drive a meaningful transformation of its built environment by embedding sustainability at the core of its infrastructure development projects and will encourage us to achieve even more ambitious goals in the future."
SMU Connexion's embodied carbon levels and construction time were greatly reduced through the adoption of innovative strategies such as Design for Manufacturing and Assembly (DfMA). The nine-month reduction in construction duration helped to greatly reduce carbon emissions which otherwise would have been generated by construction activity both onsite and offsite. The building's superstructure comprises an innovative hybrid of steel and cross-laminated timber (CLT) slab system, the first of its kind in Singapore which greatly reduces the embodied carbon of the building due to a 70% reduction in the use of concrete. This contributed to improved productivity and construction safety as well. The building has adopted passive and active design systems to achieve 50.7% total energy savings per year, and the installed PV system generated enough energy to offset the building's net energy balance to zero, making it one of the few certified Net Zero Energy Buildings in Singapore.