The Rise of Higher Education in Asia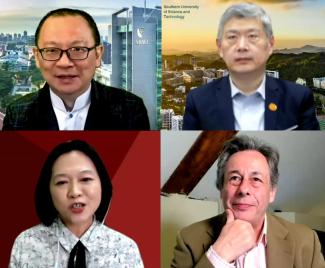 The significant strides made by Asian institutions in global university rankings have been generating much buzz, and this may lull students into relying on such charts as a convenient, one-size-fits-all selection tool for universities. However, it would serve students well to seek out an institution that best fits their individual desires and aspirations, whether it be opportunities for global exposure or immersion in certain industries; or the entrepreneurial culture, future career prospects or overall student experience that an institution offers.
These insights were shared by the Singapore Management University's (SMU's) Associate Provost (Postgraduate Professional Education) and Associate Professor of Accounting (Practice) Themin Suwardy sat the QS Higher Ed Summit: China 2022. The two-day Summit, held virtually on 13 and 14 April, centred on the theme, "Knowledge Environments: Expanding Education During and After the Pandemic". Assoc Prof Suwardy addressed academics and professionals in the international education sector, during a panel discussion on the growth and opportunities in higher education in Asia, which took place on the opening day of the Summit.
"Students select a university for a variety of reasons and they use rankings to help them do this. I think this is very reasonable; after all, we are persuaded to consume things that are more popular. What needs adjustment is the idea that a particular university is the exact right one solely because of a specific ranking. Students could use rankings to shortlist universities, but do their own research to assess their fit to the institutions," commented Assoc Prof Suwardy.
His fellow panellists included Southern University of Science and Technology's Acting Vice President, Dr Li Jin, and Oxford International Education Group's Chief Development Officer, Dr David Pilsbury. Taipei Medical University's Dean of Office of Global Engagement, Prof Pei-Shan Tsai, moderated the discussion.
Panel members noted that higher education in Asia was experiencing tremendous growth, and students in the region had an expanding array of quality choices close to home. Apart from well-known Asian university brand names with long histories, as well as younger, up-and-coming institutions, there were also branch campuses set up either by western institutions or under various local-foreign partnership models. Additionally, with the world economy undergoing major shifts on the back of the pandemic and geopolitical divisions, such developments were fuelling further demand for university options closer to home.
Assoc Prof Suwardy opined that the growth of higher education in the region was a natural development, given the rise of the Asian economies, and the shifts in the world's economic gravity and redistribution of talents and job opportunities.
In China, major government policy initiatives implemented over the past decades, such as Project 211, Project 985 and Double First-Class, had contributed to the improving standards of local higher education institutions. Dr Li commented that the country has had a strict one-child policy for a long time and this added to the affluent urban population's desire to provide the best, including higher education, for their children.
Traditionally, Asian students might aspire to head to the United States, the United Kingdom and Europe for higher education, but the trend might be seeing shifts in recent years. Assoc Prof Suwardy said he would advise students to find a university "closer to home, closer to Asia" as there were many good universities in the region offering a quality, value-for-money education.
The panellists provided their views of the future during the engaging one-hour discourse. Dr Pilsbury suggested for universities in the region to pay attention to sustainability as it was "a key card for our students to become good citizens", while Assoc Prof Suwardy shared insights on Singapore's long-term vision for a pervasive culture of lifelong learning.
Assoc Prof Suwardy was participating at the Summit in line with SMU's strategic priority area of "Growth in Asia", where the University sought to offer a deep understanding of Asia's economy, polity and society.