Making Sense of Water Usage Through the Internet-of-Things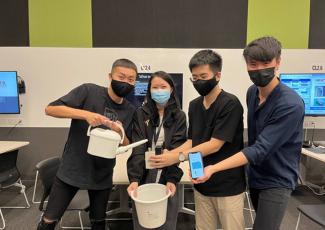 The Internet-of-Things (IOT) has been driving radical technological advancements and transforming the traditional way of life into high tech lifestyles. From January till April, an SMU-X module, "Internet-of-Things: Technology and Applications" equipped students with state-of-the-art in Internet-of-Things technologies to enable them to conceptualise practical IoT systems to realise useful applications.
As part of the course, a group of students embarked on a project called "WaterSense", which was sponsored by Code For Singapore (C4SG), part of the global network Code for All, an international network of tech organizations that drive change to deliver solutions for social challenges.
According to the World Resources Institute, Singapore will be one of the most water-stressed countries in the world by 2040 along with six other countries. The current national water demand is about 430 million gallons per day and the current per capita household water consumption is 141 litres per person per day. Singapore's target is to lower this to 130 litres by 2030.
A team comprising of School of Computing & Information Systems Year 3 students, Angela Lorenza Tjandra , Koh Kian Kiat, Li Yifan, and Lee Sean Ji, Year 4, was tasked with the problem of raising awareness about water consumption habits and encouraging sustainable water consumption. They were given the challenge of designing a smart solution that provides real time information of water consumption and detailed breakdown of water usage.
Their solution was WaterSense, a prototype that can be attached directly to the faucets and taps in a house. The prototype uses a water flow sensor to measure the flow rate and volume of water from the faucet, which is then sent to a microcontroller. The server at the backend transforms and stores the data into a database and aggregates the data. The user interface then displays the user's water usage habits through visuals that can be easily understood.
With this solution, users are able to view usage by day, week and month, usage by water outlet and an overview of the utilities budget set. Users of the system can join a community dashboard, where they can compare their water consumption against other users in the leaderboard and be motivated to reduce their personal water utilisation. Personalised recommendations can also be provided to help users to optimise their water usage habits.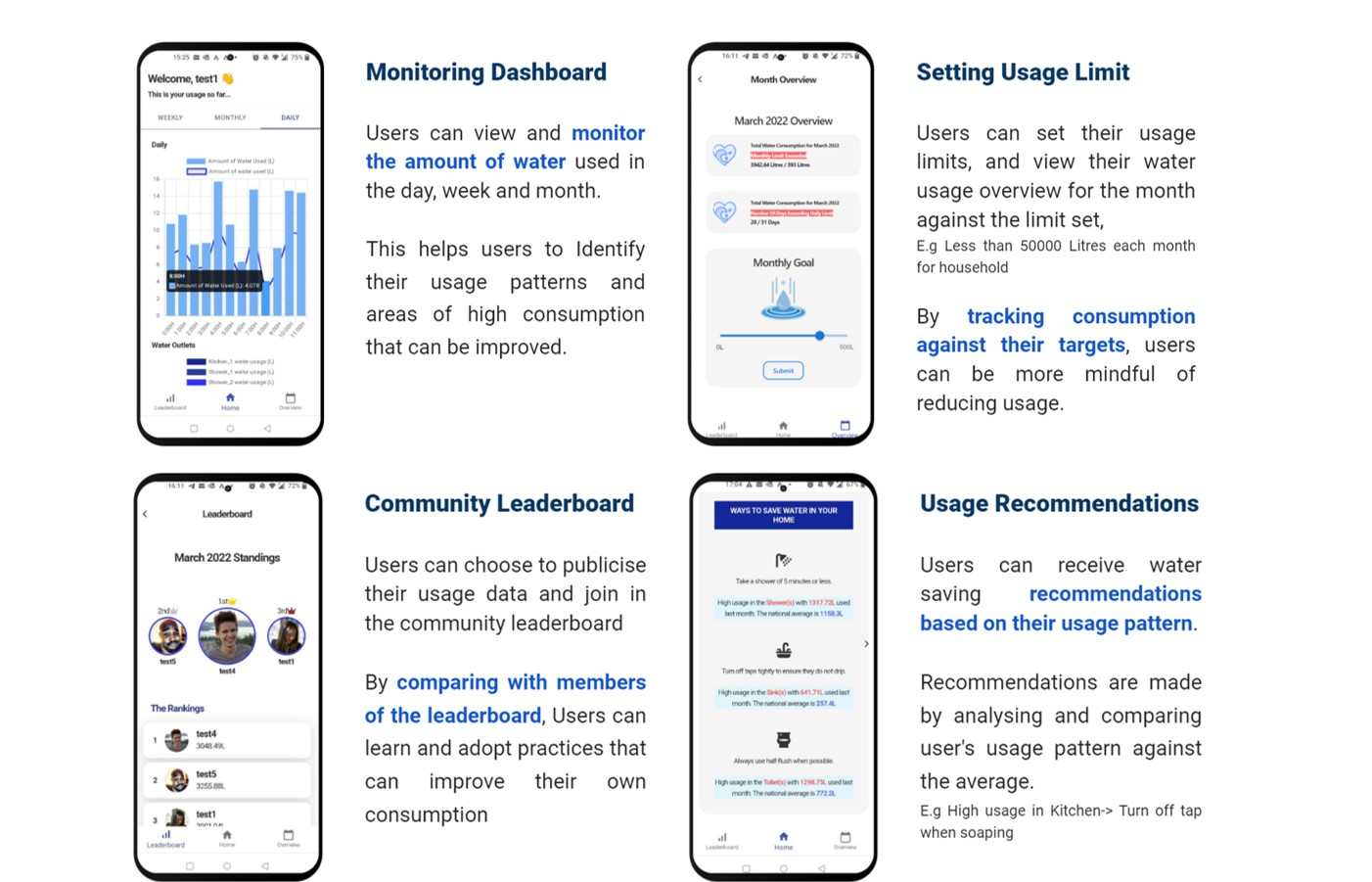 During the course of the project, the team faced challenges like sourcing for hardware, sensor compatibility issues, developing the code to deal with large streams of data and ensuring a smooth experience for the user interface, among many others. However, "It was very fulfilling to see how our prototype came together and is able to create an impact on society", said team member Angela Tjandra.
"This is a meaningful project that will help conserve water, a scarce resource. Students got a chance to see how IOT can tackle different issues in everyday life, applying their knowledge to create a tangible solution for the community. The team has done an excellent job in ideating and coming up with a feasible solution.", said course instructor Mr Pius Lee.
Co-founder of project sponsor C4SG, Mr Scott Drummonds, said, "The project was born with water conservation on our minds. Over the years the country's tremendous success has masked the continued need to conserve this critical resource. With great joy, my co-founder Low Zhennan and I saw students at SMU applying IoT technology and cloud computing to help with a modern solution to this old problem. The students showed creativity by connecting modern data sensing with traditional plumbing. And they showed that Singapore's next generation of technologists are ready for Singapore's 21st century challenges."