Conservation in an Urban City: Corporate Perspectives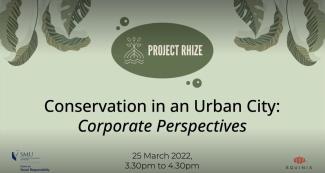 More than just protecting trees, conservation is about managing disruptive human activities and avoiding the depletion of natural resources. Corporations are the key contributors to energy consumption, consuming 78% of the world's energy and produce over 60% of all greenhouse gas emissions. Therefore, it is important that corporations, as main drivers of urbanisation are able to mitigate the effects of climate change through their actions.
The Centre for Social Responsibility (C4SR)'s Project Rhize is a community service project initiated by SMU students to create impact by increasing environmental consciousness and community participation in environmental conservation. A virtual panel session was organised on 25 March 2022 to enlighten students and the SMU community on the importance of sustainability practices in corporate organisations. Entitled "Conservation in an Urban City: Corporate Perspectives", the session shared some insightful knowledge from professionals and experts in the sustainability and conservation industry. They included Ms Simarna Singh, Co-CEO of Coco Veda, a Singapore social enterprise, who was also moderator, Mr Glenn Uidam, Senior Operations Director of data centre provider and ESG (Environmental Social Governance) champion, Equinix, and Ms Rachel Tan, Sustainability Analyst at ENGIE Impact, a sustainability transformation agency.
Key points discussed during the session include:
Why ESG initiatives have accelerated in recent years
Are corporates practising sustainability due to external pressures?
Are benefits of sustainability practices greater than the costs?
Ms Singh kicked off the session with a discussion on why the attention to sustainability has grown increasingly in the past few years. Thanks to the COVID-19 pandemic, sustainability efforts have accelerated at great speeds in the past two years. There had been much talk about sustainability before Covid-19, but the pandemic has caused corporates and governments to think hard about future shocks, how to better prepare for them. As a result, governments globally today are trying to make changes by setting policies for businesses to follow. Although some organisations were already on the leading edge in their industry in terms of ESG, the initiatives had only picked up radically among corporates in the last two years due to a mindset shift created by Covid. "Companies are now seeing that there's value in being aligned to sustainability. Especially from a consumer-centric standpoint, where Generation Z are willing to pay a premium for eco-friendly products and services. That definitely shows there is a strong opportunity", said Ms Singh.
It has been observed that for start-ups and small and medium enterprises (SMEs), ESG is not a top-of-mind concern and perceived as additional costs as they are short of resources and focused on survival and profits. "However the case for sustainability is getting stronger now due to competitive, investor and governmental pressure", said Ms Tan. Businesses would be prone to face roadblocks down the road if they do not start to adopt ESG. To mitigate this, they would have to build robust plans which anticipate future customer demand, regulations and challenges.
The discussion went on to examine whether businesses are currently practising sustainability because of compliance, and if greenwashing can be monitored. "Transparency should be the number one requirement", says Mr Uidam. There should be an annual report on initiatives and achievements, with the CEO accountable to obligations to address greenwashing so that the company is headed in the right direction. Governments are key in defining sustainability standards through policies, and Singapore was lauded for being a leader in the space, having started early to provide an advantage in the corporate sector.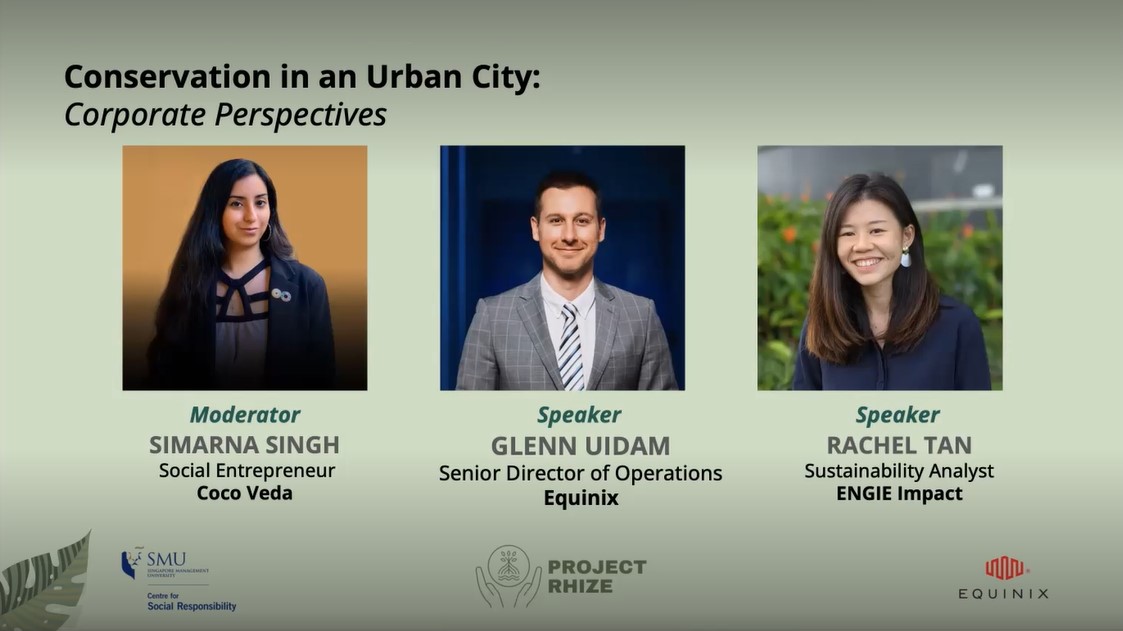 In the Q&A session, participants asked if the impact and benefits of sustainability efforts can be greater than the cost and resources invested. "Although some business benefits are measurable and quantifiable like profits, cost savings, avoidance of penalties, and investment secured, other benefits from being a more sustainable company may be intangible. Some of these less tangible returns on investments may include increase in consumer engagement, better talent retention and brand building, which can lead to stronger consumer loyalty and goodwill in the long term.", shared Ms Tan
On whether consumers or government incentives are the key ESG driving forces for businesses, the panellists concurred that as important as incentives are, consumer sentiments proliferate easily in the internet age, and therefore consumers too have a powerful voice and impact on businesses.
The insightful discussion ended with some key takeaways:
- There has never been a better time than now. While making progress towards sustainability, always set goals which are stretched beyond what can be achieved potentially and make meaningful progress towards it, because all of that progress makes a difference.
- Think critically. There is so much information today and it can be overwhelming. It is important to filter out what makes sense, and what is greenwashing, so that the causes that really make a difference are supported.