SMU Study Unveils how Twenty per cent of Previously-identified Food-insecure Singaporean Households have become Food Secure over the Course of the Pandemic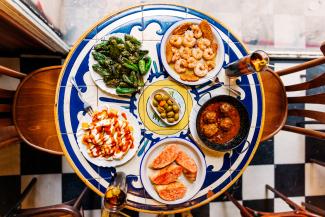 First-of-its-kind study by SMU's Lien Centre for Social Innovation (LCSI) determines the impact of the COVID-19 pandemic on food insecurity in Singapore
Over the course of the pandemic, a significant 20% of previously food-insecure households are now deemed food secure
It should also be noted that the food security of 10.2% of households worsened during the COVID-19 pandemic
This study also explored the impact of autonomy in food support through an intervention element
Singapore, 25 March 2022 (Friday) – Households in Singapore improved on their food security status over the course of the COVID-19 pandemic, with about 20% of these previously food-insecure households now deemed food secure. This was amongst the key findings unveiled in a new study by SMU's Lien Centre for Social Innovation (LCSI), "The Hunger Report Part II: Targeting Specific Needs in the Wake of COVID-19", which explored the impact the COVID-19 pandemic has had on food situation of previously identified food-insecure households.
Food insecurity is defined as a state when a household does not have or is not confident of having, economic and physical access to sufficient, acceptable food for a healthy life.
Commissioned by The Food Bank Singapore (FBSG), and supported by Tolaram, the study provides an update of "The Hunger Report", a nationally representative study published in 2020 that explored the issue of food insecurity in Singapore. Despite Singapore being ranked as being the most food-secure nation in the world, The Hunger Report found that 10.4% of the 1,200 surveyed households experienced food insecurity at least once in the last 12 months at the time of the survey's completion.
"The Hunger Report Part II" is the first intervention study of its kind in Singapore, delving into how the food situation of previously identified food-insecure households has been impacted during the COVID-19 pandemic. A total of 145 households that were identified as food insecure in The Hunger Report were contacted in January 2021. Of these 145 food-insecure households, 59 participated in the current study between January and October 2021. Through surveys with these 59 participants, the study determined the impact of the pandemic, given the unprecedented changes brought about by COVID-19 on livelihoods and access to food.
Significantly, the authors of this study also sought to put into action the recommendation made in the original report, about tackling the misalignment of food support services, through an intervention. This came in the form of administering a Needs Toolkit to understand the unique needs and preferences of each food-insecure household. The authors then explored the impact of autonomy in food support through an intervention element by providing relevant and appropriate food support for a period of two months.
According to Nichol Ng, Co-founder, The Food Bank Singapore, "Seeing how the pandemic has swept the world by storm, we decided in 2020 to follow up closely with The Hunger Report Part II to better understand how mindsets and needs have shifted in the midst of this crisis. The findings from this report have validated The Food Bank Singapore's on-the-ground sentiments that in a time of chaos and crisis, people seek comfort in consuming what they prefer. Through these times, they still wish to be accorded the respect to be able to make their own choices. Not only is there a need for food, but also for other essentials such as personal care and household products. The Food Bank Singapore is also deeply concerned with the recent steep escalation of costs exacerbated by the war, and the impact it has on those already facing food insecurity during the pandemic. Innovative solutions are required in our mission to expedite the aid needed."
"This report is timely as we navigate and transition towards endemic living with COVID-19. With the increase of support on the ground during the course of the pandemic and the circuit breaker period especially, over 20% of previously identified food-insecure households are now food secure. However, we must also focus on the 10.2% of households who have worsened in their food security status. Access to food is a basic physiological need and if we can infuse innovations in the food support ecosystem while respecting values such as dignity and autonomy, we can magnify positive social change." said Dr Dalvin Sidhu, Programme Manager, Lien Centre for Social Innovation.
"Tolaram believes that every business must serve society. It is necessary that we act and contribute to improving the well-being of communities where we are present. We are pleased to support The Food Bank Singapore and its partners to identify ways to help food-insecure households access choices that address their individual needs to uplift lives," added Deepak Singhal, Managing Director Consumer Business, Tolaram.
Full details of the report can be accessed here.
Key findings and recommendations:
1. Improved Food Security Status of Food-Insecure Families
20.3% of the households that were assessed to be food insecure in 2019 (pre-pandemic era) have now been assessed as food secure, which could be attributed to the following reasons:
Increase in the number of Singaporeans seeking aid during the COVID-19 pandemic.
Ramping up of on-the-ground food support to food-insecure households during the pandemic, particularly during the "circuit breaker" period and/or an increase in supplementary income for some families due to opportunities that opened up during the pandemic.
2. Food Insecurity and Children in the Household
Children in food-insecure households registered lower levels of food insecurity in comparison to the adults in the same households in 2019 as well as 2021.
This shows that despite experiencing food insecurity in the household, the adults in the household attempted to insulate the children from their own lived experiences, regardless of a pandemic. The food security category of the children remained largely unchanged from pre-pandemic 2019 to 2021.
3. The Value of Autonomy in Food Support
The food security statuses and psychological well-being of food-insecure households could be improved further by understanding their unique needs and then providing support accordingly.
Food-insecure households were empowered through autonomy that was accorded to them by enabling them to decide the type of food support (i.e., cooked food or supermarket vouchers) they deemed to be appropriate (through the administration of the Needs Toolkit). The supermarket vouchers added extra flexibility for the households to buy whatever they needed or preferred (i.e., a product brand of their choice) from selected supermarkets. This autonomous nature of food support led to a significant majority (75.8%) of the participants being "Extremely Satisfied" with the support they received.
Participants reported lower psychological distress levels after being engaged to understand the type of food support required for their household and subsequently, receiving food support that was autonomous in nature.
Based on these findings listed, LCSI recommends the following actions to bring about positive and sustainable change in the food support ecosystem in Singapore:
1. Need for Autonomy in Singapore's Food Support Model
This study highlights the importance of understanding the specific needs of food-insecure households and the value of autonomy in food support.
These households were empowered to choose the type of food support they could receive.
Those who chose supermarket vouchers had the freedom to purchase groceries of their choice.
This approach allows food needs to be met more appropriately while affording these households a sense of dignity and ownership.
Food support should thus aim to be more flexible and autonomous. Other than supermarket vouchers, a stored-value card system could also be introduced, where beneficiaries can use these cards to buy food items from supermarkets, coffee shops, and food courts.
2. Partnerships in the Food Support Ecosystem
An analysis of supermarket voucher receipts from the households who chose the option with autonomy showed that 18.6% of their groceries expenditure was on non-food items such as toiletries and cleaning materials. Other beneficiaries of food support have also expressed a similar need for such non-food items, which can be expensive.
While food support organisations may find it challenging to provide such an array of support, this can be overcome through aligned partnerships between various charities and private and public organisations.
Such collaborations will allow different organisations to share their resources for the common good by providing beneficiaries all across Singapore with more holistic and targeted support.