SMU is 2nd time champion at the prestigious Frankfurt Investment Arbitration Moot in five years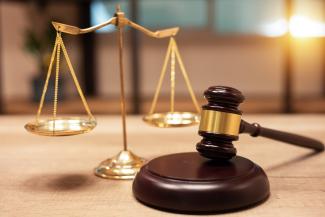 Founded in 2007, the Frankfurt Investment Arbitration Moot is one of the six grand slam moots participated annually by students of Yong Pung How School of Law (YPHSL). It is a leading moot competition in its class internationally, with a record turnout of more than 100 teams this year.
SMU won the championship in 2017 and reached the championship final in its debut in 2015. It has also been placed 2nd runner-up in 2019. This year, the SMU team emerged champions after eight intensive matches in the competition's 14th edition, held between 28 February and 4 March 2022.
The SMU team was represented by YPHSL students, Neela Alagusundaram (Year 3), Justin Lai (Year 3), Keith Toh (Year 4), Zhang Yuqian (Year 4), who were coached by SMU alumni Daniel Liu (YPHSL, 2013) and Luis Duhart (YPHSL, 2017). This year's moot problem revolved around loans made to a state, bribery committed by agents of a state, and the jurisdiction of an arbitration tribunal. En route to the championship, the team defeated teams from China, India, France, the US, the Netherlands, and Iran.

For winning the crown, members of the team will be awarded a sponsored summer stint at the Hague Academy of International Law and a fully sponsored scholarship to the LLM Programme at Queen Mary University in London.
Team Captain, Zhang Yuqian said, "This moot is particularly challenging because of the sheer number of issues involved, and information about the issues to be argued. The side we represent is only made known shortly before each round. But we knew we were in good hands because our coach, Daniel, has been involved in this competition for many years and our other coach, Luis, had won the moot with SMU in 2017."
2021 marked the 10th anniversary of the Ian R Taylor International Moots Programme. Since its inception, SMU mooters and coaches have continued to build on the programme's successes, with law firms WongPartnership and Providence Law Asia providing much financial and coaching support.
Associate Professor of Law and Director of the Ian R. Taylor International Moots Programme, Chen Siyuan said, "It is ideal to start each international moots season on a strong note as that sets the tone for our other teams. Our students continue to perform at the highest levels of international moots and continue to benefit from the guidance of our alumni guest judges and coaches."