Breaking barriers and forging firsts in analytics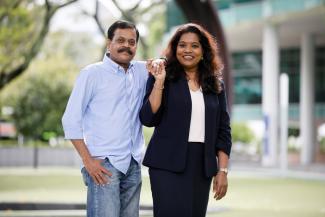 Thirty years ago, a curiosity for astrophysics and nuclear science inspired Ms Vennila Vetrivillalan to take up physics as her undergraduate major. This represented the first step towards an illustrious career in a STEM-related field.
Today, she has built a thriving career in the AI, Analytics and Technology space. Vennila currently heads SMU's Data Analytics team, where they create dashboards that offer strategic insights on operational areas for Schools, Offices, Centres and Institutes.
Vennila is a strong advocate for women to pursue STEM education. As a sought-after speaker, she has participated in many international conferences, such as Future Tech: Women in Tech 2021, EduTECH Asia Virtual 2020 and Ministry of Education Analytics Day 2020, where she shared her views on the role, impact and opportunities for women in the data analytics and data science sectors. She was recently nominated as an AI and Analytics Track chair, and as an overall programme chair for the Higher Education User Group Internal Virtual Conference 2021. On 15 October 2021, she was honoured as one of the Singapore 100 Women in Tech (SG100WIT) organised by the Singapore Computer Society (SCS), in partnership with SG Women in Tech and Infocomm Media Development Authority (IMDA). This award was conferred for women leaders who excel in visionary achievements, innovation, inspiration, and demonstrated expertise.
Vennila attributes her success to her mother who was her mentor and inspiration. She also credits her life partner and her father for being pillars of strength and support, whose unwavering belief in her helped to propel her through challenges that arose. At SMU, Vennila expresses her gratitude to the Integrated Information Technology Services (IITS) senior management and Enterprise Information Systems colleagues, specifically her Head of Department (HOD) Mr Lau Kai Cheong, who provided his visionary insights and encouraged the team to confidently try new initiatives, learn from failures and succeed in an exceptional way.
We caught up with Vennila to find out more about the highs and lows she has experienced over the span of a thirty-year journey in technology and how she has achieved firsts as a woman in a male-dominated sector, including her advice for others keen to pursue a career in this area.
1. What inspired you to build a career in the technology-related field?
V: There is a general stigma associated with the IT Sector; that you need to be a highly-skilled programmer and that the job is extremely monotonous.
I graduated in the 1990s and began to explore options for furthering my education. This was the same period Information Technology (IT) sector started to gain recognition and flourish. Graduates from every discipline ventured into the IT sector. It prompted me to consider how IT would enable me to add value globally, especially since STEM-related jobs are usually stereotyped as being "male-dominant". I decided to do my part to prove that women can succeed in this field as well. This eventually inspired me to build my career in the technology-related field.
The early days of my programming career were challenging. I am naturally right-brained, which means I prefer to hone my creative skills. However, as I built up my career portfolio as an analytics head, I saw a large gap in the industry. There was a lack of a skill set that encompasses creativity, strategic and logical thinking and as well as interpreting business leaders' requirements and translating them into a technical solution. Despite its technical rigidity, IT has a creative side that isn't well known to many.
My passion for my field of work galvanised me to use this to my advantage. In this analytics journey, I had the opportunity in meeting various key leaders across different sectors, participating as a panellist and a speaker. It offered me the prospects of meeting people, which satisfies the extrovert in me. In my time with SMU, I have challenged myself to break through technical barriers, creating many firsts in the analytics space.
2. What were some of the challenges you've faced over the span of your career in AI, Analytics and Technology?
V: A key challenge I faced would be in my late teens, which was the non-negotiable loss of my mother - my mentor and pillar of strength. When she passed on, my life came to a standstill.
I was in my second year of undergraduate studies and as the eldest in the family, I was suddenly thrown in-charge of completely supporting my family, taking care of my chronically ill father and very young siblings. Despite the sudden change in lifestyle, I refused to compromise on my aspirations of academic excellence and more importantly my ambition of being a catalyst of sorts in the technology field. In hindsight, this pivotal turning point in my life has spurred me on and importantly given me the will to multi-task and harness my talents to the maximum, despite knowing that without my pillar of support, my life will always be incomplete.
I moved to Singapore in search of a better means to support my family and will be always grateful to Singapore that offered me a multitude of opportunities based on meritocracy. What was an initial journey to support my family has now permanently become home to my family and me.
I decided to pursue a Masters in Information Systems at NTU while I was working full time as programmer in 2001. This was when my first child was a year old, which also coincided with the turning point in my career. Motivated to build my career portfolio, I challenged myself to take "Business Intelligence" as my major. We were the first batch of students at NTU, where only a handful number of women were in the class. Little did I know that I would be pursuing a career path as an analytics leader in the future.
From that point, the analytics landscape has fast-forwarded exponentially, where AI and Machine Learning have demanded a lot of learning that requires mastering of many in-depth technology, statistical and strategic business concepts. Continuous learning and courage to embrace the new technology is the fuel that drives me.
On 8th March 1990, I recited my poem about empowering women being the future of the world in front of a large audience at an International Tamil Cultural Society in India. It's been 32 years since, and I am happy to share my journey from a young poet to a professional in technical area and to be recognised among the top 100 women in tech (2022) on this International women's day 2022.
3. Are you the first in your family to work in the STEM field?
V: Being the eldest female among my siblings, I was the first to pursue STEM education and choose my career in IT sector. My success and growth have inspired my friends and family, who have sought me out as a mentor.
I constantly try my best to keep up with my career aspirations, fervently advocating the best practices internationally in analytics. In addition, I strongly believe in serving the community and that being integrated culturally into a multiracial society is beyond imperative.
I would like to be looked upon as a role model for the upcoming generation as well, a successful career woman who has mastered the art of balancing the multifaceted roles in building a family, self-learning, being rooted culturally, and sharing the experience and knowledge gained in last three decades. I do sincerely hope that this serves as an example to young women out there that there is no such thing as "male-dominated" spheres and that we are equally as capable.
4. Career aside, you are also a wife, mother and member of the community. Do you have superpowers? How do you balance a career with these other roles?
V: It hasn't been a walk in the park! There were challenges, for sure. It was a daily juggle between my roles as an aspiring IT professional, wife and mother. I was playing a multifaceted role as an invested mother of two daughters; I was deeply passionate about my career in the exhilarating technology space, that demanded lifelong learning and skills acquisition. I serve the community and participate in social causes. As a female in a male-dominated technology sector, I am constantly challenged to perform, outperform and trailblaze for young women in this profession.
In my previous role as a pre-sales head for analytics solution, I had to travel across APAC to meet clients and present technical solutions for business proposal. While I enjoy traveling, these meetings across boundaries meant that I had to occasionally leave my two young children at home. The drive to further my career resulted in lesser quality time with my kids. In one instance, my eldest daughter had expressed in her sadness in her school essay about how she never got sufficient quality time with her mother. It struck me then and there that I had to take a step back to rebalance.
I actively started searching for a role that would enable me to find a fine balance between my work and family life. That was when I chanced upon SMU.
5. How would you describe your SMU experience thus far?
V: I am truly grateful to work at SMU, where there is a perfect work-life harmony along with strong platform provided with lots of support and encouragement. Here, I can excel in my career while fulfilling my family responsibilities. It is like getting to eat that proverbial cake, along with the cherry on top of it.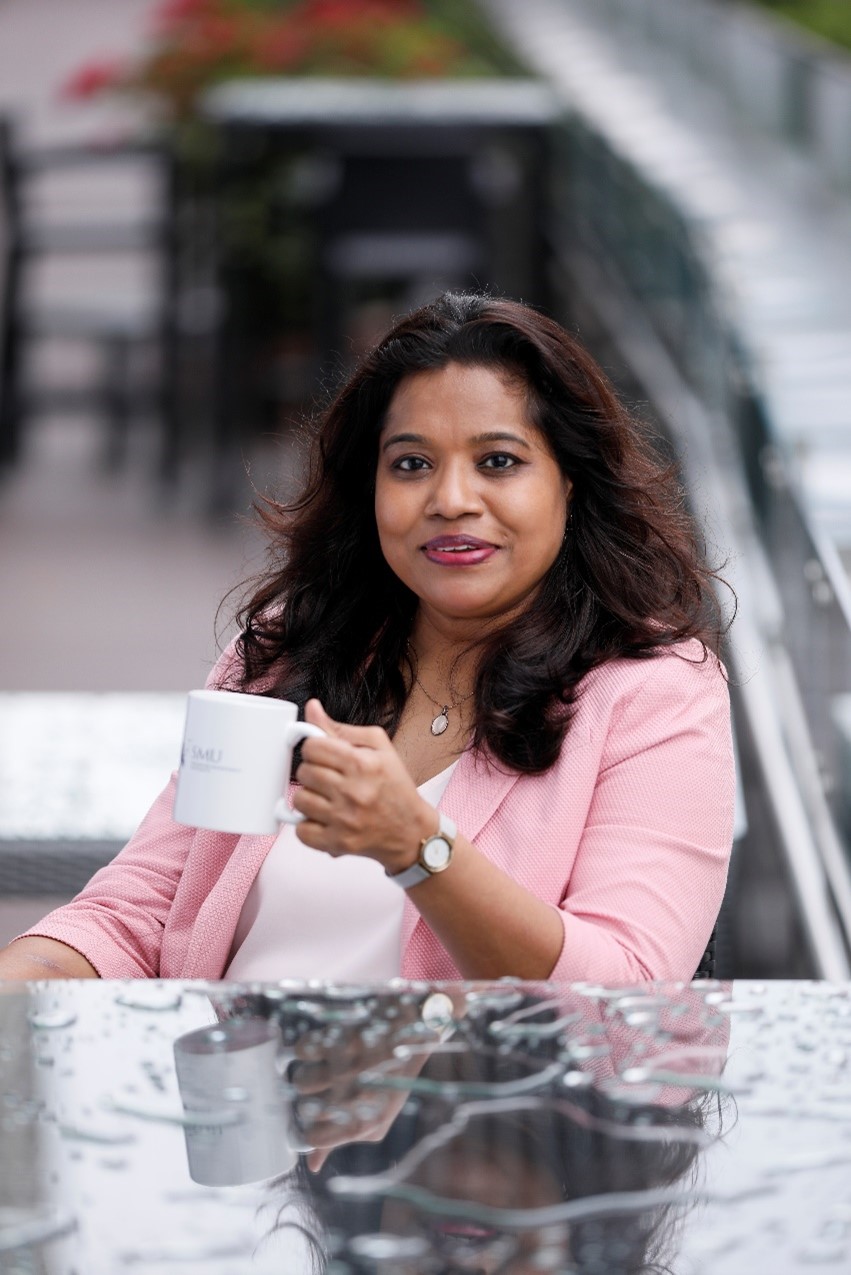 6. What do you enjoy most about your work heading SMU's Data Analytics team? What do you enjoy the least?
V: I joined SMU in 2012, heading the analytics team where we implement analytics dashboards to the senior management team comprising of the Dean, the Provost, and the President's office. Our analytics team is a very lean team where we support more than 400 users across SMU and I am very thankful to my EIS colleagues.
Though faced with many challenges initially, we successfully implemented the SMU Corporate Analytics and Reporting (SMUCAR) project. Even more heartening was the fact that the project won more than one Asia Pacific award - the CIO 100 honouree award (2014); and the Finalist award in the IT Excellence (2013) for Best Deployment of Emerging Technology, from International Data Corporation.
I thoroughly enjoy working with different offices, to understand their information needs and to be able to identify the analytical solution that would help them provide the required data to take their data driven decision. Our SMU business leaders and users have been supportive in our data driven initiatives and we have come a long way in this AI and Analytics journey, where SMU has embarked on many firsts.
We have collaborated with the School of Computing and Information Systems (SCIS), Associate Professor and Assistant Dean Swapna Gudapatti, and Vice Provost Education, Professor Venky Shankararaman where we are working on implementing AI and machine learning projects for Office of Admissions and Financial Assistance , Centre of Teaching Excellence. Implementing AI for an institute of higher learning (IHL) space, we have identified a new framework that has gained recognition among IHL's in Singapore.
I least enjoy the current work-from-home arrangement. Given my extrovert personality, it is the daily interactions with colleagues as well as the lively exchange of ideas that energise me. I miss the vibrancy of the SMU culture. I'm looking forward to the time when we can put the pandemic behind us, and to have the chance to connect with my colleagues in person again and further liven the SMU spirit by not just working but playing together – such as by celebrating cultural festivals like Deepavali, Hari Raya, and other festivals in the office again. Such are the interactions that I live for, which make the office feel more like home.
7. Do you have a mentor who inspired and guided you?
V: Often we describe the adversity of gender bias and male domination. Contrary to that, I was blessed with many positive instances where I have had supportive men behind my success.
My first inspiration, friend and guide was my father Vetrivillalan, who believed in my talent and was constantly pushing me to aim high and excel in the technical field that I choose. My second inspiration is undoubtedly my life partner, Sivakumar whom I met in Singapore within my two months of arrival. He lent me firm and relentless support and has been a staunch beacon of encouragement, through my journey as a new immigrant adapting to the rigours of a new environment, an expecting mother and a professional pursuing my masters with a newborn. Both my father and my husband have never failed to believe in me even when I struggled to believe in myself during testing times.
8. How about a mentor at work?
V: At SMU, I am grateful to the IITS senior management and my EIS colleagues, specifically our HOD Mr Lau Kai Cheong, who constantly provided his visionary insights and encouraged us to confidently try new initiates, learn from our failures and succeed in an exceptional way.
In my social circle as part of Asian Women leader, I get my constant mentorship and support from members of Singapore Computer Society and many other senior women leaders who are successful in the technical landscape.
As a Grass Root leader volunteer, I also get to learn about the various challenges faced by my community. I contribute back to my community through service, where the alliance of key stakeholders in my community also made me feel very much at home. Without all the support rendered by the encouraging group of individuals around me, I would not be who I am today.
9. How has SMU played a part in supporting your career aspirations?
V: After I have worked with product vendors and service integrators, I was looking for an end user where I could implement analytics based on the wide industry experience and innovative ideas I had.
SMU provided me with the platform and the opportunity to do so, where I was successful. Our analytics implementation has been recognised globally. I was awarded the Top 50 Qlik Luminary title that recognises analytics leaders who contribute to the industry significantly.
I have participated as a speaker and panellist in many international conferences held in Hong Kong, USA and Singapore to advocate on analytics best practices. My views on data governance and business intelligence were also published in Forbes insights 2016. I challenged myself to gear up my learning, quickly create an overall IHL Advance Analytics framework and use cases that are applicable for higher education sectors like SMU. This initiative has gained a huge recognition amongst the industry leaders.
I have consistently pushed my limits to upgrade myself continuously, where I garnered certificates for myself in Project Management Professional , Artificial Intelligence , Machine Learning and Six Sigma Green Belt. I obtained a certificate recently in "Data Science for business" from Harvard Business School Online (July 2021). SMU has been supportive in my lifelong learning initiatives.
Recently I was awarded Top 100 Women in Tech (Oct 2021). I am thankful to the SMU and IITS senior management for providing me the platform and support to fulfil my career aspirations as a technical leader, speaker and establish myself as a role model for women aspiring to balance career, family, and equally contribute to my society.