A savvy campaigner for women's empowerment
SMU Alumna Anna Haotanto, Founder of The New Savvy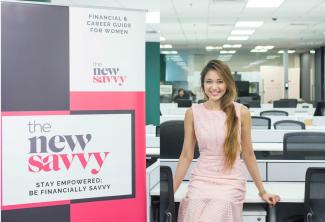 Anna Haotanto believes in helping women to empower themselves, by taking control of their lives through knowledge. She lives by this belief herself. Since graduating from SMU in 2008 with a Bachelors in Business Management (BBM), she has taken at least seven other programmes and courses, including three at SMU. She is currently the Managing Director of ABZD Capital and Gourmet Food Holdings, an investment firm focusing on opportunities in the global F&B industry; founder and CEO of The New Savvy – Asia's leading financial, investments and career platform for women. She is also President, SMU Women Alumni; on the board of SMU Alumni Philanthropy Council; and part of the Singapore Chinese Chamber of Commerce & Industry Career Women's Group executive committee.
In an interview ahead of her participation as panellist in a dialogue organised by Office of Alumni Relations and SMU Libraries to mark International Women's Day 2022, Anna elaborated on how she navigated her career.
While studying for a BBM in Finance and Quantitative Finance at SMU, you also held several leadership roles. Could you tell us more and what were the most important things you learned then?
I thoroughly enjoyed my time in SMU. I picked up life skills that are really useful even till today. I was the founding member and Vice-President of the Quantitative Finance club and I also enjoyed the interaction, group work and presentations that are essential experiences for the workplace today.
Studying in SMU has also widened my perspective and broadened my views. I was empowered to pursue anything I want if I have the determination to complete it. We were given the proper academic theories, technical knowledge and most importantly, the EQ and social skills to survive in the corporate jungle."
Being in SMU means being with the best and learning from the best professors, faculty and fellow students. This community motivates me to thrive for the best and a lot of my ex-classmates are now my business partners and counterparts.
SMU had provided me with infrastructure, systems and network to help me to overreach my goals and ambitions to succeed. I am not content to just be satisfactory but to excel in everything I do.
Did you have to overcome any special challenges when you set up The New Savvy?
Yes, in the beginning, I struggled a lot in overcoming four crucial challenges.
First, my background was pure Finance and Banking. I was clueless on developing a website, producing content, digital marketing, and publishing. But I knew it was something I wanted to do and HAD to do. It was a desire that couldn't be ignored any longer.
I did everything from scratch myself. I looked around for website developers and researched on websites. I learnt about how websites are arranged and how they worked. I did a short market survey on what is lacking regarding women financial education and what women would like to learn more.
I took up a Digital Marketing course and learnt how to utilise tools like Google Analytics, Search console and understood the terms.
Second, coming from a finance background, I was giving up a good five-figure income to become an entrepreneur and some people told me not to be naïve. That affected my morale. For a long time, I was wondering if I am just impetuous or silly. There's a societal pressure, especially when you don't know what's going to happen and I am doing this mostly to help other women.
Third, I wasn't trained for this. It was an uphill struggle for me. I ended up working till 4 am every day. Most of my close ones were concerned and told me not to overwork. I think I made every mistake that shouldn't be made. But that's life, isn't it? You falter, but you pick yourself up.
Last, a good product is useless if there are no users. How do I get the word out? How do I market TheNewSavvy.com to ensure that more women are aware that my product exists? Most importantly, this difficulty had been in my mind non-stop since I embarked on this journey - How do I make women more interested in financial literacy?
Is there anything else you would like to share with others on International Women's Day?
Empower yourself financially through education and knowledge.
Don't be afraid, don't invest blindly and never put your future or finances in someone else's hands. Start early, learn and get comfortable with investing. Many people tend to overthink or procrastinate by saying that they will invest when they have a certain sum of money. That shouldn't be the way. You should start as early, even if it's a small sum. Do it consistently to enjoy the benefits of compounding and dollar cost averaging.