A Positive Force for Good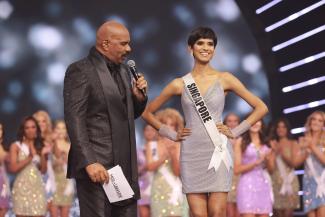 Nandita Banna was crowned Miss Singapore Universe in October last year and made it to the top 16 at the international pageant held in Eilat, Israel in December. This was a first for Singapore in 34 years since 1987. The third-year double degree student at Singapore Management University majoring in business management and information systems (business analytics) is also an active volunteer and model.
Passionate about leveraging technology to create a sustainable future, Nandita is also a champion of social issues like climate change and women empowerment. We speak with her to get to know her a little better.
What made you decide to study both Business and Technology at SMU?
The one thing I want to do through my education and career is to impact people's lives positively through the work that I do. As the industry is rapidly evolving and the importance of tech, especially data, is increasing, I wanted to learn more about Data Analytics and how it can be used to improve people's lives. I was especially interested in the application of Data Analytics to create a sustainable, human-centric society. But I also realised the impact that business processes have on creating such a sustainable world. Learning about how businesses work, their strategies and operations would allow me to make them more efficient and reliable through my education. Applying data analytics on business operations would help us know how they can be improved to be more sustainable and create less wastage. So, I decided that I should pursue a double degree to broaden my knowledge.
How are you bringing awareness to social issues such as climate change and women empowerment in Singapore?
I use my platform to talk about issues that are close to my heart, to inspire people to care about their community and to raise awareness about those in need. As I was involved in a pageant, I engage in conversations online about topics relating to women empowerment and confidence. Through my sharing on social media, I want to help women realise beauty is only skin deep and truly does not matter what one looks like - what matters is your personality and your heart for your community. I also share how important it is to build confidence and to not shy away from trying new things, as that is how we learn, grow and find things that we may end up loving.
I also work with various organisations in Singapore to contribute to their causes. Using my social platform, I conducted a care pack drive for migrant workers in Singapore in collaboration with It's Raining Raincoats. We created and distributed 150 care packs filled with donations from the public which we collected and hand packed.
Tell us about your volunteer work
I have volunteered with Care Corner for 1.5 years on a weekly basis. I mentored disadvantaged primary school children and helped them learn interpersonal skills and how to process their emotions healthily. We also played games and gave them an outlet to relieve stress after a long day of school. We talked to the children one-on-one, forming close friendships with them and helping them deal with the tough situations in their lives by being a supportive listening ear.
What are your other interests and hobbies?
I love trying new things and being creative. Being a model started off as a hobby and has now turned into something much bigger, and I am glad I get to do something I love as a side hustle. I love to dance, do yoga and run to keep myself active. I also love calming hobbies like journaling/scrapbooking, gardening and playing the kalimba. I think it is very important that we take care of ourselves and not overwork ourselves, especially in a pandemic, by exploring our interests and finding joy in them.
How do you balance your time between all your commitments?
I have to plan and prioritise what I want to do so that I can manage all my commitments. Sometimes that means saying "no" to certain opportunities, but I am ok with that because it is all about balance. I try to balance my commitments with rest and socialising so that I don't burn out. I think after 3 years at SMU, I have learnt that it's important to take care of myself first, rather than do all that I can, so I focus on that.
What motivates you, what aspirations do you have for the future, and could you share any life lessons?
A quote that inspires me is 'Keep Moving Forward' from the Disney movie 'Meet the Robinsons'. It reminds me not to get too caught up in the stress of the moment, that if I keep trying and pushing ahead it will all work out in the end.
One thing I learnt from being a part of this competition is how to manage our need to compare ourselves to other people. I have always compared myself to my peers to those ahead of me, always feeling like I wasn't doing enough because they were doing better than me in my mind. I think it is a struggle that a lot of us face, especially in a competitive environment like university. Through this competition I realised that each person's journey to the same goal can be very different and so the comparisons are often not fair to ourselves. The only comparison we should be doing is with our past selves, to see how far we have come and our progress. My measure of success is no longer based on comparison with others but is on whether I have improved for the better and am happier than before. I think instead of comparing ourselves to others, we should get inspired by them and think about what we can do to have the success they are having.