SMU-X's student consultancy club, Growth-X awarded $10,000 to implement ideas on improving recycling habits in the community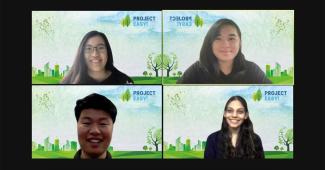 To empower and support passionate youths to implement their innovative ideas to resolve municipal issues within their community, the Municipal Services Office (MSO) organised the "Love Our 'Hood Youth Challenge" to transform their creative ideas into effective solutions that will create a better living environment for the community.
Together with the National Youth Council and Southwest Community Development Council, MSO mentored the teams and awarded winning ideas up to $10,000 to pilot their broad-based municipal-related ideas (such as prototype testing, awareness campaigns, community outreach, message testing, behavioural insights study etc) within their community.
For the Challenge, teams could choose from a range of 12 challenge statements posed by government agencies like the Animal & Veterinary Service, National Environmental Agency, NParks, Land Transport Authority, and the Town Council. Topics ranged from neighbourhood cleanliness, recycling of waste, responsible pet ownership, management of strays, and safe use of pathways.
SMU-X's student consultancy club, Growth-X was represented by Team Architex, consisting of Gabrielle Soh Pao Pei (Year 3, Lee Kong Chian School of Business, LKCSB), Dyllis Liang Qiu Ting (Year 2, LKCSB), Zeus Chiam Yi Zhuo (Year 2, LKCSB) and Sneha Murali (Year 2, School of Economics).
The team tackled the challenge under the National Environmental Agency, on how to drive residents in households to recycle more and recycle correctly by preventing contaminants from being deposited into recycle bins. They were one of three teams awarded the Outstanding Project Concept prize under the "Recycle Right" challenge statement and received $10,000 funding to implement their proposal.
The domestic/household recycling rate over the past three years has shown a decline from 22% in 2018 to 13% in 2020. While the decrease in recycling rate in 2020 may be attributed to various factors, the latest recycling rate of 13% shows that more can be done for households to recycle more. In addition, about 40% of the items deposited in the blue bins/chutes are contaminants, which may attract pests.
Said Team Leader, Gabrielle Soh, "With a keen interest in sustainability issues, we took on this challenge statement as we felt that fundamentally, Singaporeans are not disinterested or nonchalant towards recycling. Rather, there is a strong desire to do more for the environment, but not at a level strong enough that is compelled towards action, yet."
The team proposed a suite of initiatives that targeted the lack of understanding of what constitutes recyclables, and perceived inconvenience hindering recycling efforts, through educational and infrastructural-related considerations and initiatives.
One of the challenges the team faced was gaining an accurate understanding of the recycling habits of Singaporeans. While there were statistics and insights available online, the kind of information they were looking for was more specific in nature to the project. Due to the challenge taking place during the heavy period of the semester, they were unable to conduct surveys and interviews that they had initially hoped for.
Gabrielle said, "Nonetheless, with great synergy and a strong collaborative team spirit, we were able to work around these challenges together by putting in more time and effort after the examinations period to conduct more thorough research online, which enabled us to gain a firm grasp on the subject matter. We are excited to be able to bring our project ideas to life in the year ahead. Besides using the funding to implement our project ideas, we are also hoping to further build and enhance our ideas as we gather more data points and insights along the way, to ensure that our project is sustainable and effective in the long run."