Second ASEAN University Network-Technology-Enhanced Personalised Learning Symposium discusses impact of online teaching in a post COVID-19 world

Together with Mahidol University (MU) and Universiti Malaya (UM), Singapore Management University (SMU) hosted the 2nd ASEAN University Network Technology Enhanced Personalised Learning (AUN-TEPL) symposium on 12 November 2021.
The virtual event brought together about 200 like-minded educators from universities in the ASEAN region to share and discuss best practices in the use of technology to bring about personalised learning and to seek opportunities to collaborate in inter-university projects. It featured a series of presentations by speakers from various ASEAN Universities and beyond, covering a wide range of topics such as "Expanding Educators' Proficiencies in an Era of Rapidly Changing Digital Landscape", "Online Teaching Approaches in a Post COVID-19 World", "Learning Pedagogies for Online Learning", "Virtual Reality and Gamification", "Learning Analytics and Course Recommendation Systems".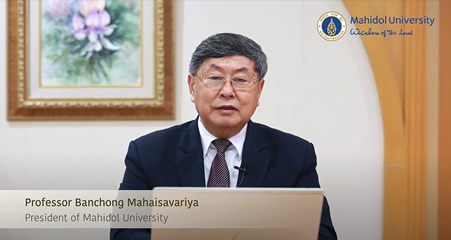 According to MU President, Professor Banchong Mahaisavariya, "The AUN-TEPL network establishes a collaborative platform that expresses a commitment by all parties to work towards the mission of facilitating capacity-building symposiums, creating an exchange platform for educational tools and content, and stimulating cross-university research collaboration, as leaders of technology-enhanced personalised learning."
Keynote speaker, Garry Falloon, Professor of STEM Education and Director of International Engagement at Macquarie School of Education, presented a framework illustrating a holistic perspective to reflect an expanded digital competency view which educators require to optimise benefits from new and emerging technologies in their professional practice. He also introduced the use of learning analytics as a means to understand how students interact with online video learning objects during independent study as part of active learning engagement. This approach provides educators with insights for improving the design of online learning assets and understanding how they can best be used to enhance students' learning outcomes.
In addition, SMU faculty members Professor Gary Chan (YPHSL) was invited to share a virtual reality game "Mind the Drone" that was used in the Law of Torts course. The game aided the students' learning of the main elements of the tort of negligence in an engaging and immersive environment. Associate Professor Tan Kar Way (SCIS) also shared how she trained machine learning models to automatically identify student reflections with doubt content to extract useful insights for instructors to derive actionable plans for timely adjustments and feedback to students.
Details of the 2nd AUN-TEPL Symposium and video recordings are found at this link.

To sign up as a member or to find out about the mission, key thrusts, and initiatives of the AUN-TEPL, please access this link.