SMU faculty and DBA student win Best Paper at the Asia-Pacific Family Business Symposium 2021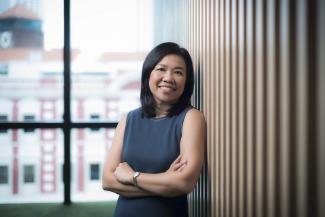 The fourth instalment of the Asia-Pacific Family Business Symposium, organised by the University of Western Australia was held virtually on 30 September and attracted over 175 registered participants which included researchers, family business communities and professionals. Convened by the University of Western Australia and the Japan Academy of Family Business with the University of Shizuoka, the symposium was themed "Family Business and Innovation in Times of Crisis" this year.
The symposium addressed what have been and what can be the innovations for family businesses in crises like the COVID-19 pandemic. As family businesses adapt and transform to meet emerging new challenges, the event provided both scholars and businesses with an opportunity to reflect on how family businesses can triumph through the "new normal".
During the programme, Professional Practice Papers were presented by organisations such as Family Business Australia and New Zealand, Grant Thornton Australia and New Zealand and PwC Australia, on survey insights. Academic/Research Papers were presented by academics from Singapore Management University (SMU) and several universities in Asia and Europe.
Representing SMU was Tan Hwee Hoon, Associate Professor of Organisational Behaviour & Human Resources; Steering Committee Chair, Business Families Institute (BFI), together with Zhu Sheng Qin (SMU Doctor of Business Administration student) with their paper on "The Role of Value-fit in Family Business Succession: Aligning Incumbent and Successor Perspectives". This paper won the Asia Pacific Family Business Symposium 2021 Naito Best Paper Award, which recognises papers that demonstrate scholarly rigour, contribute to the field of family business and best fit the conference theme.
The paper adopted a comprehensive approach by combining qualitative and quantitative research methods to examine factors that lead to succession success and the management of the succession process. A field survey was conducted to to collect data so as to be able to study in depth, the impact of value fit between successors and incumbents, as well as the value fit between successors and the organisation on succession success. It was found that successors who have a higher value fit with incumbents and the organisation are more willing to take over the business, and hence are more likely to succeed in family business succession.
It concluded that in terms of practical implications, for Chinese firms, it is imperative to achieve the transfer of values between the two generations through multiple approaches, such as "creating the common understanding of values", "integrating values in the education of successors", and "practising values in common experiences".
Associate Professor Tan Hwee Hoon said, "It is one of the first papers to examine the role of value fit between the successors and the various stakeholders. It is significant as values play a very big role in the Asian context and business families thrive because they can successfully build both families and business with timeless values such as respect, long-term sustainability. Data collection has not been the easiest during this COVID period and we are glad that this paper signals the start of focusing on culture and values. With the right values, many of the issues surrounding family businesses can be overcome."
The second submission by SMU was a case study entitled "Innovate or Dye: How Matex International innovated for sustainability" by Kenneth Goh, Assistant Professor of Strategic Management (Education); Interim Academic Director, Business Families Institute, Thomas Lim (Case Writer) and Juliana Koh (Research Associate).
With the raising of SMU BFI's profile on the global stage through its thought leadership in the international conference and winning of the best paper, BFI looks forward to the opportunity to develop future collaborations with international partners.