Digital Transformation and Business Innovation – Trends and Tools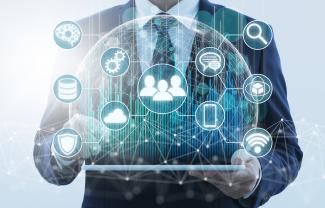 As part of an SMU-X Community in Practice initiative, a webinar titled 'Digital Transformation and Business Innovation – Trends and Tools' was held on 24 September 2021. Associate Professor (Education) at the SMU School of Accountancy, Yuanto Kusnadi delivered the session, which was specially curated for the SMU-X Retail Community of Practice members. About 80 participants attended the talk which discussed current trends in digital transformation and business innovation.
Digital disruption is defined as the change that occurs when new digital technologies and business models affect the value proposition of existing goods and services. Assoc Prof Kusnadi characterised it as a "危机 (wéi jī)", a chinese term which means 'crisis' but when translated connotes a danger that brings about opportunity. And digital transformation presents the opportunity for companies to leverage on new technologies to organise their businesses, and to define their strategic and competitive advantages.
When asked what the biggest hurdle is in terms of navigating digital transformation, most participants indicated "People" as the common problem, as they are naturally resistant to change. Others include Technology, Processes and Finance.
He shared important observations on digital transformation, a trend that currently is accelerating rapidly :
- How companies interact with customers has changed drastically with digital transformation.
- Employees need to improve their skillsets and companies need to recognise the changing needs of customers and learn how to fulfil them.
- Top management should set strategic goals and develop roadmaps towards intended goals.
- Strategies need to include a plan for agility to respond to sudden changes such as the pandemic, in order to serve customers better. This provides a resilience to changes, where new technologies can improve processes to be more efficient.
- Data analytics will help towards evidence-based decision making.
- It is important for businesses to understand the landscape and to embrace a digital culture, and have teams collaborate in new ways.
Assoc Prof Kusnadi went on to explain how digital transformation requires a framework. His advice for companies is to "start with the uncontroversial stuff" first such as getting employee buy-ins, before moving on to bigger changes. People are usually resistant to changes especially due to uncertainty, therefore plans need to be communicated clearly. Upskilling the workforce is another important factor, just as it is to foster a continuous learning mindset and be trained to use automation offerings, while embracing technology. Prioritising people and processes above technology would also create a digital culture that allows organisations to participate in the digital economy. He said, "Digital transformation is an ongoing process. It is a journey, not a destination, you will never be done. One thing for certain is that this change will speed up."
In summary, he shared the benefits of digital transformation– cost reduction, improved financial performance and profitability, and better customer and employee satisfaction.
For the second part of the webinar, he talked about the Business Model Canvas, which helps companies align their activities and understand potential trade-offs. The Canvas explains in a single page the core elements that drive the business and includes all key stakeholders in a business.
Assoc Prof Kusnadi illustrated the use of the Business Model Canvas through three case studies of companies that SMU-X students worked with. The students proposed solutions using digital transformation tools and improved existing business models using a simple visual representation of core activities, resources and partners. Partners included Digital Commerce Intelligence Pte Ltd, UOB Indonesia, PT Genesis Indojaya. Through the dashboards, companies were able to customise KPIs, visualise data collected, increase productivity and identify performance issues.
Concluding the session, Assoc Prof Kusnadi summised that technology disruption is happening much faster than expected. However, it is creating opportunities as well as challenges, and hence the urgent need to prioritise people and processes to start on the digital transformation journey.